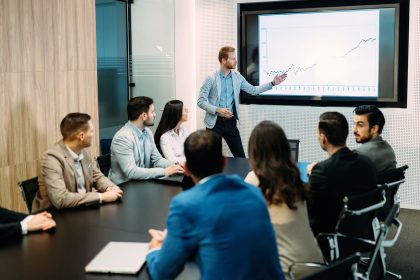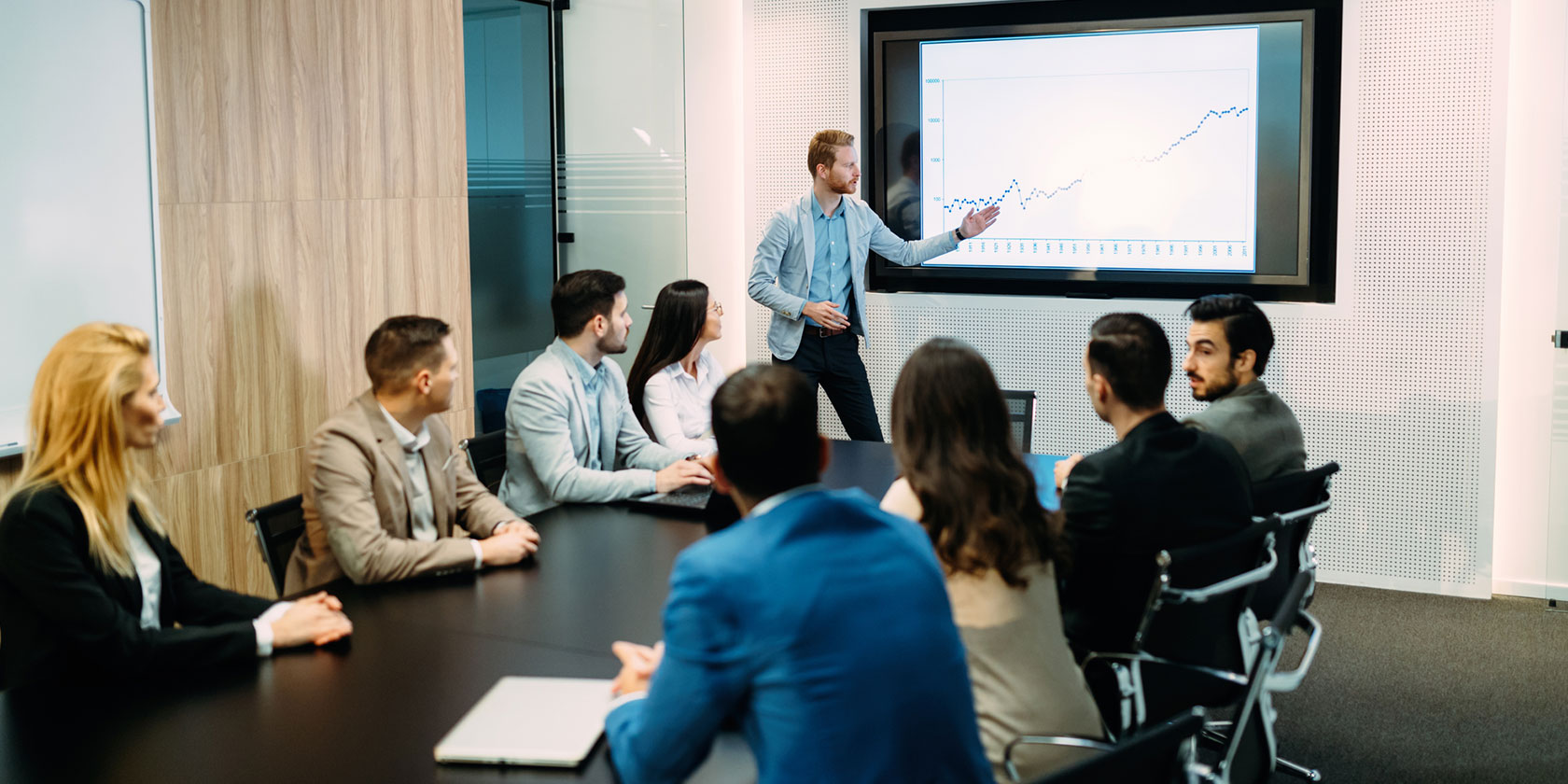 Pitch decks have been used to launch many of the most successful companies of the 21st century.
At its core, a pitch deck is about asking others to come along on your company's journey. That might include asking for investment or for potential employees to join the company and contribute to its success.
Let's learn more about the key principles in business plan pitch decks, and how you can build your own in less time than ever before thanks to templates.
What Is a Pitch Deck?
One of the key differentiators of the pitch deck format is that it makes an "ask" of the audience. If you're giving a pitch, the goal is certainly to persuade the audience to join in on your business's mission.
In reality, a pitch deck is basically a business plan PowerPoint presentation. The term "pitch deck" is most commonly applied to startups that are looking for funding. The idea is that your pitch deck will lead to action from the audience.
A pitch ultimately persuades the audience in a certain direction.
The Top 10 PowerPoint Pitch Deck Templates
When you're preparing to share your new startup with an audience, it helps to build a PowerPoint pitch deck. And if you're busy working to launch your company and build out its features, it's unlikely that you'll have time to build a startup pitch deck from scratch.
That's why pre-built pitch deck templates are so useful. Using a PowerPoint template gives you all the design elements that you'll need to design a pitch deck in less time than ever.
Best of all, using a startup pitch deck template can give you the ideas you need to launch your company. If you don't know what to include in your pitch, using a template that already has all the key slide concepts built out, is a huge help. You'll only have to fill in the placeholders with your company specifics to prepare for a pitch to investors.
Here are 10 of our favorite startup pitch deck presentation templates that you can use to springboard your company into growth mode.
Pitch Werk is one of the most complete pitch deck templates that you'll find for launching your idea. Showcasing growth in your presentation is key, and Pitch Werk has you covered on just that, thanks to slick charts and graphs you can use to show progression in user growth and participation.
Every new business plan should have a PowerPoint presentation that accompanies it, and this pitch deck template fits the bill perfectly. With more than 100 unique slide designs, there's no limit to the number of business plans that you can create thanks to this slick presentation template.
Fintech is short for financial technology, and it's one of the fastest-growing categories of startups. If your new company falls into this field, this pitch deck template might just be the perfect presentation option for you. Not only is it clean and slick, but it also features the data visualizations you need to show your new business concept to prudent investors.
If your startup seeks to solve a unique challenge, it might be difficult for a potential investor to understand exactly what it is that you do. That's why it's so helpful to use an infographic that explains your process and purpose.
This startup pitch deck has you covered for your business presentation thanks to the beautiful and easy-to-customize business plan infographics.
The best PowerPoint pitch deck templates are easily reused for pitches to multiple investors and audiences. One major reason to choose this pitch deck PowerPoint template over the others is because it includes 13 color schemes and 800 slide designs that you can use over and over.
That creates an endless sense of variety in your presentation while showcasing your business plans in a way that you can use with multiple investor audiences easily.
There are many options for creating a pitch deck template, but Nia is one of the most stylish ones. If your startup is visually focused (like fashion, furniture, or social companies) then a deck like Nia can really set your new concept apart from the crowd thanks to the beautiful slide designs.
Imagery takes center stage in Nia with simple business information complementing the image placeholders.
Manola is clean and simple and would feel right at home in any corporate environment. A pitch deck should serve to put the idea front and center, and Manola does a great job thanks to its simplicity.
With charts, infographics, and product imagery, it has all of the key essentials you've come to expect for your business in a solid PowerPoint pitch deck.
Latitud's minimalist style is the key to showing off your fresh startup concept. Again, it's all about using content and visuals that get out of the way and let your idea shine. You don't want an audience to be distracted with overly complex slide designs, so use a minimalist pitch deck like Latitud to ensure your audience focuses on the key factors in your new business plan.
Union is a pitch deck presentation that isn't afraid of being bold. As you check out the example slides, notice that less is truly more when showcasing a startup idea. You'll see the presentation slides that are crucial to telling the story of your startup like a timeline, pricing tables, portfolio imagery, and more.
All these are the vital elements that every investor will want to see as they weigh coming along for your growth journey.
Rounding out our selections, the aptly named Pitch Deck template is a great choice for your next startup pitch deck. This presentation really shines for its inclusion of a variety of "team slides," which can help you showcase the key members behind your big idea.
That personal touch can help investors feel a sense of confidence in the key faces that drive your business.
Four Key Principles of the Best Startup Pitch Decks
No matter which PowerPoint pitch deck template you use to show off your new startup, there are a few key principles that every pitch deck sticks to. Keep these in mind while you're building a business plan PowerPoint presentation:
They show your mission, and how you're different: Nearly every company's purpose is about solving a challenge in a market. Show you seek to solve that challenge, and how your approach differs from others who are out to solve the same challenge.
They create a fear of missing out: Above all, pursuing investments in your startup is about creating FOMO, or fear of missing out. You want the investors to be unable to imagine walking away from your idea.
They make a "big ask:" You aren't just showing off your startup for the sake of awareness. The key idea behind a pitch deck is that you're asking for something at the end of your pitch.
They show growth metrics: Part of positioning your startup as a success story is showing the growth trajectory that your company is on.
All-You-Can-Download Pitch Deck Templates
If you checked out all the pitch deck templates in this roundup, you may have noticed that they have a common source. It's an all-you-can-download service for creatives called Envato Elements. A subscription to Elements unlocks all the pitch deck templates featured in this tutorial, plus so much more. This includes graphics, stock photos, and icons you can use in your presentation.
The advantage of using a service like Elements is that it gives you the freedom to experiment in your designs. Because each additional template won't cost you more, you have plenty of opportunities to try new ideas and concepts for your pitch.
A successful pitch deck can be the difference between being funded and being forgotten. When you use a successful PowerPoint pitch deck template from Envato Elements, you increase the chances that you gain that key investor or team member you need to propel your business to success.
Image Credit: nd3000/Depositphotos
Read the full article: 10 Awesome Business Pitch Deck Templates to Wow Your Audience