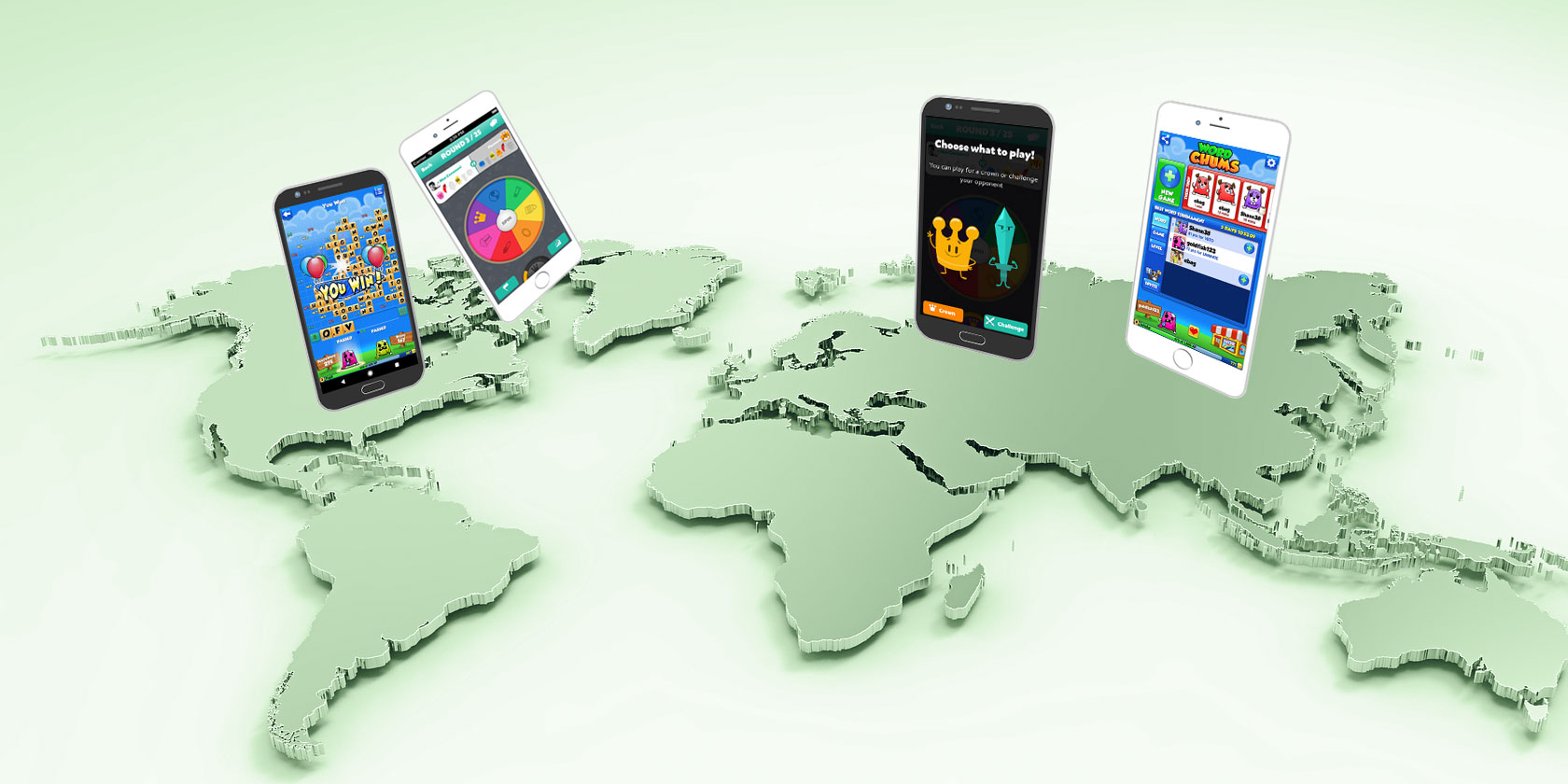 No matter how old or young you are, or how intelligent you think you may be, it's important to exercise your brain regularly. Thankfully, there are lots of fun ways to do that. One of which is to play multiplayer brain games with your friends.
These mobile games will test your gray matter, and let you show off your knowledge and skills to anyone willing to play with you. So, can you beat your friends at one of these awesome multiplayer brain games? They're all free to play.
1. Maze King
Mazes can make for great brain exercise game and the bigger the maze, the more challenging it is. Maze King is a great game for showing off your solving skills against others. Play through the Stage Mode to get the hang of the game, then head to the Multiplayer Mode to take on a friend.
You can invite friends with a tap that will send a link to the game via text message. Or, you can compete against a random player if you prefer.
Download: Maze King for Android | iOS (Free, in-app purchases available)
2. Chess Time
Chess Time is a terrific mobile option for playing pals around the world. The game offers different background colors to choose from, leaderboards by country and rating, and a timer to see how long the challenge lasts. You can also enable options such as the quick chat keyboard, coordinates display, and valid move color.
Connecting with friends is easy: You can search for a player if you know their username or send an invitation to them via email or text.
Download: Chess Time for Android | iOS (Free, in-app purchases available)
3. Chess With Friends Free
If you prefer to take on your Facebook friends in a game of chess, then Chess With Friends Free is the way to go. Search for one of your pals or find a player by username. You can enable chat notifications, show yourself available to other players, and make yourself visible on the leaderboards.
Chat while you play or just concentrate on the game. You can also discover a new opponent and view the leaderboard for the month.
Download: Chess With Friends Free for Android | iOS (Free, in-app purchases available)
4. Skillz – Logical Brain
Skillz – Logical Brain is an excellent way to train your brain alone, but is even better against others. The app has a variety of brain teasers for you to pick from or you can play a random game.
Start off level one by picking a friend, once you sign into Google (on Android). Then, show off your skills in puzzles and challenges that put your memory, reflexes, accuracy, and speed to the test.
You can type a message to other players who are waiting in rooms to play and see where you stand on the leaderboard.
Download: Skillz – Logical Brain for Android | iOS (Free, in-app purchases available)
5. QuizUp
QuizUp is an enjoyable trivia games with a huge variety of topics. You can pick from business, education, history, and science. Or see who knows the most about sports, games, television, and music. The trick is to answer quickly and correctly in a round of questions. Move up the levels as you annihilate your pals in this battle of wits.
You can connect easily using Facebook and then search for friends who have the game installed. After you play a round, tap the chat button to gloat to your buddy about how you just outscored them.
Download: QuizUp for Android | iOS (Free, in-app purchases available)
6. Trivia Crack
The original Trivia Crack is still around and still a blast. Your goal is to collect a character for each of the six categories: art, history, science, sports, geography, and entertainment. To do this, continue to answer questions correctly for the category you hit when you spin the wheel.
Log into Facebook to play against friends or connect to Twitter to invite others. Trivia Crack is a turn-based game, so you can take your spin when you have time. You can also chat within the game and share your level achievements to rub in your victories.
Download: Trivia Crack for Android | iOS (Free, in-app purchases available)
7. Trivia Crack Kingdoms
If you enjoyed the first Trivia Crack game, then check out Trivia Crack Kingdoms. In a royal battle against your buddies, find out who really is the brainy one in the realm of trivia.
Pick a channel topic such as sports, world history, food and drink, movies, or television shows. Then when you answer correctly, you earn crowns, striving to collect them all before your opponent does.
By connecting to Facebook, you can challenge your friends. Plus, Trivia Crack Kingdoms offers an in-app chat for a little trash talk.
Download: Trivia Crack Kingdoms for Android | iOS (Free, in-app purchases available)
8. Words With Friends
Words With Friends has been popular around the world for years. But if you've never tried it and you enjoy word games, then you must check it out. Gameplay is similar to Scrabble, where you create words with the letters you are given. The words must connect on the game board and longer words and letters with higher point values help you score bigger.
Like Chess With Friends Free and made by the same company, Words lets you play against your Facebook pals. Chat during the game, take your turn when you have a minute, and show off your smart skills with high-scoring words.
Download: Words With Friends for Android | iOS (Free, in-app purchases available)
9. Word Chums
For a Words With Friends style game with cute characters, try your skills at Word Chums. With the same type of Scrabble gameplay, a colorful interface, and a cheerful experience, creating words for high scores is truly fun. Word Chums also offers power-ups for replacing all of your letters and getting high-scoring hints.
You can play against your Facebook friends, other Word Chums players, or someone in your contacts list. The game has an in-app chat for some friendly ribbing during the competition.
Download: Word Chums for Android | iOS (Free, in-app purchases available)
10. Pictoword
For a different type of word game battle, Pictoword is a picture-based challenge. The concept is simple. You see two images that combine to form one word. You just have to figure out what that word is with the number of letter spaces provided.
Unlike the other games in this list, Pictoword lets you create a "family" to play against others. You will need to solve your way through many levels first, but this is great practice. Then, create your group, invite members, and chat during a break.
Download: Pictoword for Android | iOS (Free, in-app purchases available)
11. Infinite Word Search
Another brainy game to play against your friends is Infinite Word Search. The game is played in the same classic style of the word search puzzles you have seen all over the place. But Infinite Word Search lets you choose the topic for your puzzle with options like animals, countries, fashion, and many more.
If you think your word finding skills are better than your Facebook friends, connect and play a pal. In real-time gameplay, see who can find the most words the quickest. This adds quite a bit of challenge to the gameplay, especially if you are both looking for the same word at the same time.
Download: Infinite Word Search for Android | iOS (Free, in-app purchases available)
Facebook Games
Don't forget that there are tons of Facebook Instant Games worth playing as well. There are plenty to play alone, but what's the fun in that when you can outscore a friend and brag about it?
Pop open your mobile Facebook app and select Gaming from the menu. Or, when you are online on a desktop or laptop, click the Home button and pick Games from the left-hand navigation.
Here are just a few brainy games you can play against your friends:
On your mobile device or online, just choose a game and hit Play.
These Multiplayer Brain Games Are Extremely Entertaining
It's normal to love a game that you are good at. If you often outscore or simply outplay your friends, that's even better. With these games, you can sharpen your skills and prove that you're the smartest among your friends. So, let the brainy battle of wits begin!
For more fun games to play with friends, check out these cross-platform mobile multiplayer games.
Read the full article: 15 Multiplayer Brain Games to Play With Friends