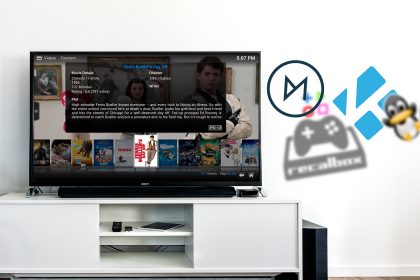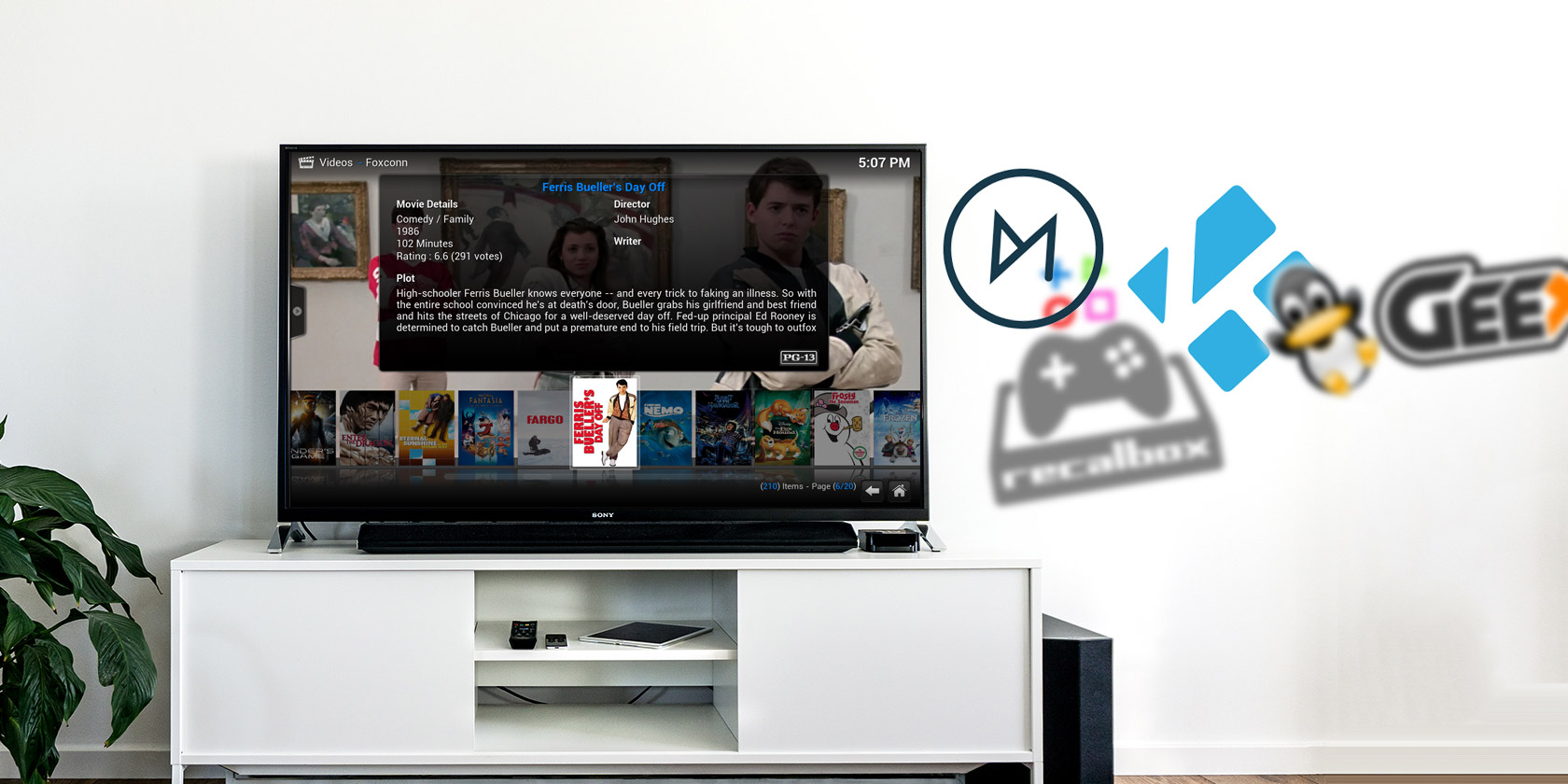 Since Microsoft abandoned Windows Media Center Edition, home theater PC (HTPC) builders have looked to Linux. While proprietary options are available, the best solution is to rely on Linux for your media center OS.
Looking for a Linux media center, or an alternative to the abandoned Kodibuntu? Try these open source HTPC operating systems.
7 Linux Media Center Kodibuntu Alternatives
The Linux scene is an ever-changing, evolving environment with new development teams releasing new distros every week, while others close. For example, Kodibuntu is a big name in the Linux media center arena, but it's pretty much a dead project.
It's time for you to move onto something new.
We're not just talking about desktop and server operating systems either. Linux-based media center distributions, with built-in media playback and library management tools, are also launched, updated, and abandoned.
We've compiled the following list of the best Linux media center distros:
GeeXboX
OpenELEC
LibreELEC
Recalbox
LinuxMCE
LinHES
DIY with Kodi
Let's look at each of them in turn.
GeeXboX is a full-fledged Linux media center operating system, a lightweight distro available for desktops and embedded devices. With a tiny footprint, you can run it straight from a flash drive or install it in the traditional way.
The latest version, 3.1, is only a 160 MB ISO. As a result, GeeXboX makes the perfect distro for booting off a USB drive or installing on older hardware. GeeXboX is based on Kodi, so you'll spot the familiar user interface.
Originally built to run XBMC, OpenELEC (Open Embedded Linux Entertainment Center) has been around for some years now, and has evolved to run Kodi. All you need to do is install the downloaded file on a bare hard disk partition. Once complete, your Linux HTPC system will be running Kodi.
With access to the full library of Kodi add-ons, you can configure your Linux media center exactly how you want. Need to stream video from a Netflix account? Install the add-on and you can. Want access to your favorite podcasts through your TV? They're available via Kodi, either as individual add-ons or via a podcast player.
Kodi even has live TV and DVR support, giving you the full media center experience.
Like OpenELEC, LibreELEC is a Linux operating system designed to run Kodi as the main user interface. With versions for 32-bit and 64-bit PCs, the benefit of this option is that it is easier to install.
Rather than download a disk image, LibreELEC comes with a USB/SD card writing tool. This guides the creation of installation media on USB or SD card, resulting in an easy install.
Once installed, you'll find the Kodi media center software is ready to use. All the usual Kodi add-ons can be incorporated to customize your experience.
LibreELEC and OpenELEC are also available for the Raspberry Pi.
Want to combine retro gaming with your Linux HTPC? Recalbox, a combination of the EmulationStation frontend and Kodi, is the perfect choice. Originally built for Raspberry Pi, it's a Linux-based operating system that can also be installed on 32-bit and 64-bit PCs.
By default, Recalbox boots into EmulationStation, but can be set to first boot into Kodi.
Combining Kodi and retro gaming on the same platform is a smart move. Connect a retro game controller to your computer to get the best gaming and media playback experience.
5. LinuxMCE: The Linux Media Center
LinuxMCE is a Linux media center hub with an automation twist. In addition to media metadata organization (found in other releases such as Kodi), there's an onus on streaming and automation. You can listen and view content in multiple rooms, control audio and video equipment, and play retro games.
Want to have a smart home, not just a media hub? LinuxMCE monitors sensors and security cameras, connects with lighting and climate controls, and more. It can even serve as a VoIP and network management hub.
Consequently, these added smart home features position LinuxMCE as a great alternative to pricier proprietary devices with home automation.
If all of that sounds more than you need, don't worry—you can easily ignore these functions. Instead, kick back and watch some movies, or even play some retro games! LinuxMCE includes Multiple Arcade Machine Emulator (MAME) for classic arcade games, and Multiple Emulator Super System (MESS) for home video systems.
LinHES stands for Linux Home Entertainment System and boasts a 20-minute HTPC setup. Highlights include full DVR, DVD playback, music jukebox, and metadata support. You'll also enjoy full video information, fan art, games, and access to your image library.
Like a beefed up Mythbuntu, LinHES is a beefed up HTPC. Because LinHES is centered on the DVR capabilities of MythTV, it's a bit more suited to non-DVR users.
On the downside, LinHES has a garish blue user interface by default, which might put some users off. Dig deeper, however, and you'll find a capable Linux media center.
7. Roll Your Own Linux HTPC With Kodi
If you've already installed a Linux operating system on your intended HTPC, you might not need to do much more. Rather than undo your hard work so far, you might opt to simply install Kodi.
Available from kodi.tv/download, you can have the popular media center environment installed in minutes. With various legal Kodi add-ons available, you can install YouTube, Amazon Prime Video, Netflix, even Plex on your Linux HTPC.
Arguably the best operating system for Kodi is Ubuntu for complete driver support and media playback. However, you might find your Linux media center OS of choice differs, determined by personal preference and hardware.
Build a Linux HTPC or Media Center Today
With nine strong options for your media center, it makes sense to find a Linux distro to suit your needs. Whether it's a HTPC, a media center, or a straightforward Kodi distro, you'll find your solution in this list.
Want to know more about Linux operating systems? Check our list of the best Linux distros.
Read the full article: 7 Awesome Linux Media Center Distros for Your HTPC