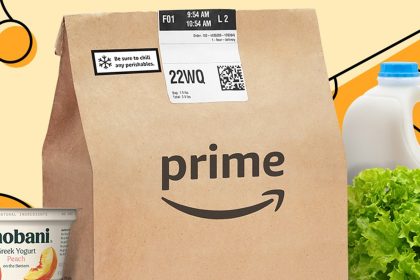 Amazon Fresh is now free for Amazon Prime members. Amazon Fresh formerly cost $ 14.99/month on top of the price of a Prime membership, but it's now included as an Amazon Prime benefit. Which means Prime members can get groceries delivered for free.
What Is Amazon Fresh?
Amazon Fresh is Amazon's delivery service for groceries. Customers place an order for groceries, including fresh produce, frozen goods, and household essentials. And it's delivered straight to their door within a couple of hours.
Amazon Fresh has been expanding of late, and it's now available in more than 2,000 cities and towns across the US. However, the $ 14.99/month fee to use Amazon Fresh will have put some people off using the service. Which is why Amazon is now removing that barrier.
How to Buy Your Groceries From Amazon
Amazon announced that Amazon Fresh is now free in a post on Day One. Turning Amazon Fresh into a Prime benefit means Prime members in more than 2,000 US cities can now get their groceries delivered for free from Amazon Fresh or Whole Foods Market.
Amazon's VP of Grocery Delivery, Stephanie Landry, said, "Prime members love the convenience of free grocery delivery on Amazon, which is why we've made Amazon Fresh a free benefit of Prime, saving customers $ 14.99 per month."
Prime just got even better. Now members get fast, FREE grocery delivery from @AmazonFresh and @WholeFoods. https://t.co/yYoeBccVBM pic.twitter.com/T7G2IbFZ59

— Amazon.com (@amazon) October 29, 2019
If you're a Prime member already using Amazon Fresh, you can continue using it for free. However, due to how popular Amazon thinks Fresh will now become, other Prime members will have to request an invitation to begin receiving Amazon Fresh deliveries.
When Amazon has the capacity to add you as an Amazon Fresh customer, you'll be notified. You can then start doing your grocery shopping on Amazon, and have it delivered to your door for free within the space of a couple of hours. As long as you pay for Prime.
Other Amazon Prime Benefits Worth Using
Amazon Fresh is just the latest in a long line of benefits for Amazon Prime subscribers. There's free shipping, obviously, but there are lots of other awesome Amazon Prime benefits you've probably overlooked. And we can now add Amazon Fresh to that list.
Read the full article: Amazon Fresh Is Now Free on Amazon Prime