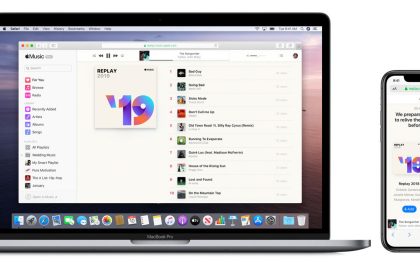 Apple has launched a new Apple Music feature. In a nutshell, Apple Music Replay compiles your favorite songs into playlists. Replay also provides you with statistics based on your listening habits. Providing a fascinating insight into your music tastes.
While we usually rail against companies collecting data on its users, it's one of the benefits of music streaming services. They can use this data to recommend new music they think you'll enjoy and build playlists around what you've already listened to.
And that's exactly what Apple is now doing with Apple Music Replay.
What Is Apple Music Replay?
Apple Music Replay is a new Apple Music feature which condenses your listening habits down to various statistics. The headline feature is a playlist full of your favorite tracks from any given year. Starting with your most played songs of 2019.
As well as playlists for each year you've been subscribed to Apple Music, you can view other statistics based on your Apple Music usage. This includes which songs you played on repeat and how many albums the songs you've listened to come from, etc.
Introducing Apple Music Replay. Your favorite tracks of the year — all in one playlist, updated weekly. See what songs, artists, and albums defined your year in music: https://t.co/YpdjyXnL85 pic.twitter.com/dn4BDApcJX

— Apple Music (@AppleMusic) November 14, 2019
However, unlike offerings from other music streaming services, Apple Music Replay is going to be updated every week. On a Sunday, your playlists and listening statistics will be updated, so you can keep an eye on your favorite tracks throughout the year.
To access your Apple Music Replay, go to replay.music.apple.com, sign into your Apple Music account, and click "Get Your Replay Mix". This will generate your playlists, which you can then share with others just like other Apple Music playlists.
From Spotify Wrapped to Apple Music Replay
While Replay will be a big hit with Apple Music subscribers, it's worth noting that Apple has blatantly copied this idea from Spotify. The streaming service has provided these annual roundups for years, as you can see from our guide to Spotify Wrapped 2018.
Read the full article: Apple Music Replay Highlights Your Favorite Songs