Nothing quite tarnishes your online presence like bad spelling and grammar. Not only are online content like articles and blogs judged for their clarity, readability, and error-free grammar, but even emails, work documents, and social media posts can't escape the scrutiny of the grammar police.
Luckily, proofreading tools like Grammarly can assist you with all of your written content. If you're using Safari as your browser, you can install the software's extension to assist you in writing on almost any website there is on the web.
Here's how to install and set up Grammarly's extension for Safari.
Why Should You Use the Grammarly Extension for Safari?
While you can copy-paste your content on Grammarly's online editor, why bother when you can save time by downloading the extension? With the extension, Grammarly will check your writing and offer suggestions in real-time.
Related: Is Grammarly Premium Worth It? Here's Everything You Need to Know
What's more, you can use it on most sites on the web, including Gmail, Facebook, and Twitter. You'll know that the software is working if you see a green Grammarly logo on the right-hand side of the text field.
How to Install Grammarly for Safari
Before downloading the extension, it's worth setting up a Grammarly account to save time. Grammarly's browser extension for Safari works in Safari 12 and later.
Here's how to install the Grammarly extension:
Open Grammarly on the Mac App Store.
Click Get > Install. Wait for the download to finish. Click Open.
A popup window will appear, reading Open settings to enable Grammarly. Click it. You will be redirected to Safari.

A notification banner on Safari that says New Safari Extension Available. Click View Extension….

You will be redirected to Safari's Extensions window. Tick the selection box for Grammarly, then click Turn On.
A notification window will appear from Grammarly saying You're all set! Click Ok, got it.
That's it! You should now see the Grammarly logo at the top of the Safari browser, and every text field on the web.
How to Use Grammarly for Safari
Using Grammarly is pretty intuitive. First, ensure that Grammarly is active by looking at the title bar. You should see the Grammarly logo. Then, go to any webpage and type any text in any comment or text field. Grammarly will detect errors for you by underlining them in red.
Hover your mouse over the word to see the suggestions. Click on the suggestion to replace the misspelled word, or Dismiss to ignore the suggestion.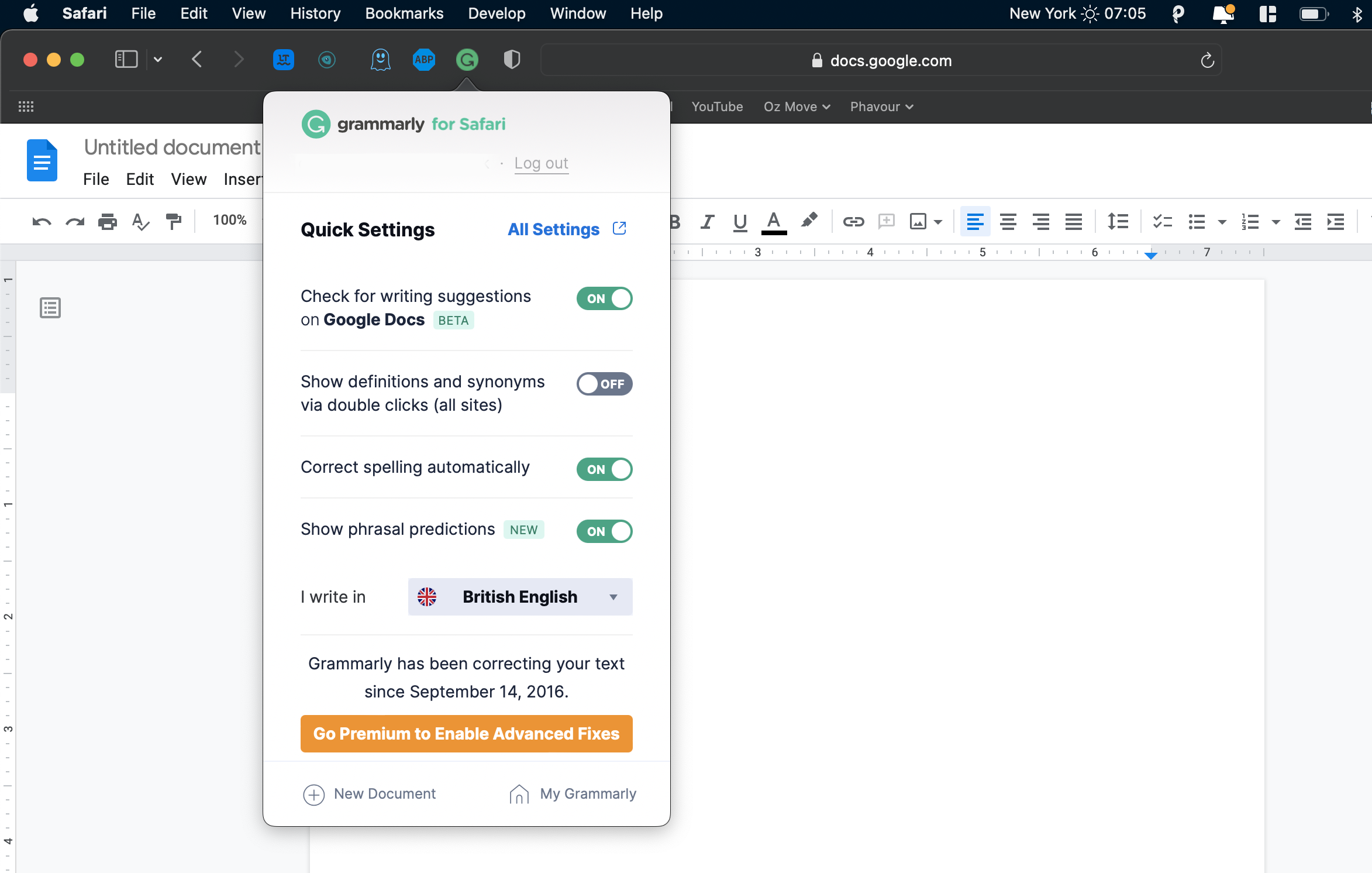 You can also click All Settings to be redirected to your Grammarly's Account Settings, where you can fully customize your Grammarly preferences.
All-Around Grammar Checker
Grammarly offers various products to ensure that all your written content gets checked, polished, and is ready to post.
With its Safari extension, you don't have to worry about committing errors on your social media posts and emails—Grammarly has got you covered!