Syncing your iPhone with a Mac is one of the ways to get your music and other purchased content up to date across your devices. Not everyone pays for an iCloud subscription to have all their content backed up on the cloud, after all.
Most people hate syncing their iPhones with a computer, thinking they need to use a cable. However, Apple gives you the option to sync or back up your iPhone over Wi-Fi as well, though it isn't enabled by default. So, here's how you can turn on Wi-Fi sync on your Mac to avoid using a cable altogether.
What Is Wi-Fi Sync?
Wi-Fi sync is a feature that allows you to sync your iPhone with a computer connected to the same local Wi-Fi network. It's a feature that has been around for years, but since iTunes no longer exists in macOS, many people seem to have trouble accessing it.
You can use Wi-Fi sync to wirelessly transfer apps, music, contacts, photos, etc., and you can even use it to back up the data on your iPhone locally.
Read More: How to Back Up Your iPhone to Your Mac
How to Enable Wi-Fi Sync on a Mac
First and foremost, you need to make sure your iPhone and Mac are connected to the same Wi-Fi network. Otherwise, your iPhone will not show up on your computer. Also, you'll need to use your cable as a one-time measure to enable this feature.
Follow these simple instructions to enable and start using Wi-Fi sync:
Connect your iPhone to your Mac using the included USB to Lightning cable and then launch Finder from the Dock.
Now, you should see your iPhone in the sidebar. Click on it to continue.
Scroll down to the bottom of the General section and enable the option to Show this iPhone when on Wi-Fi.
Click on Apply to save all your changes.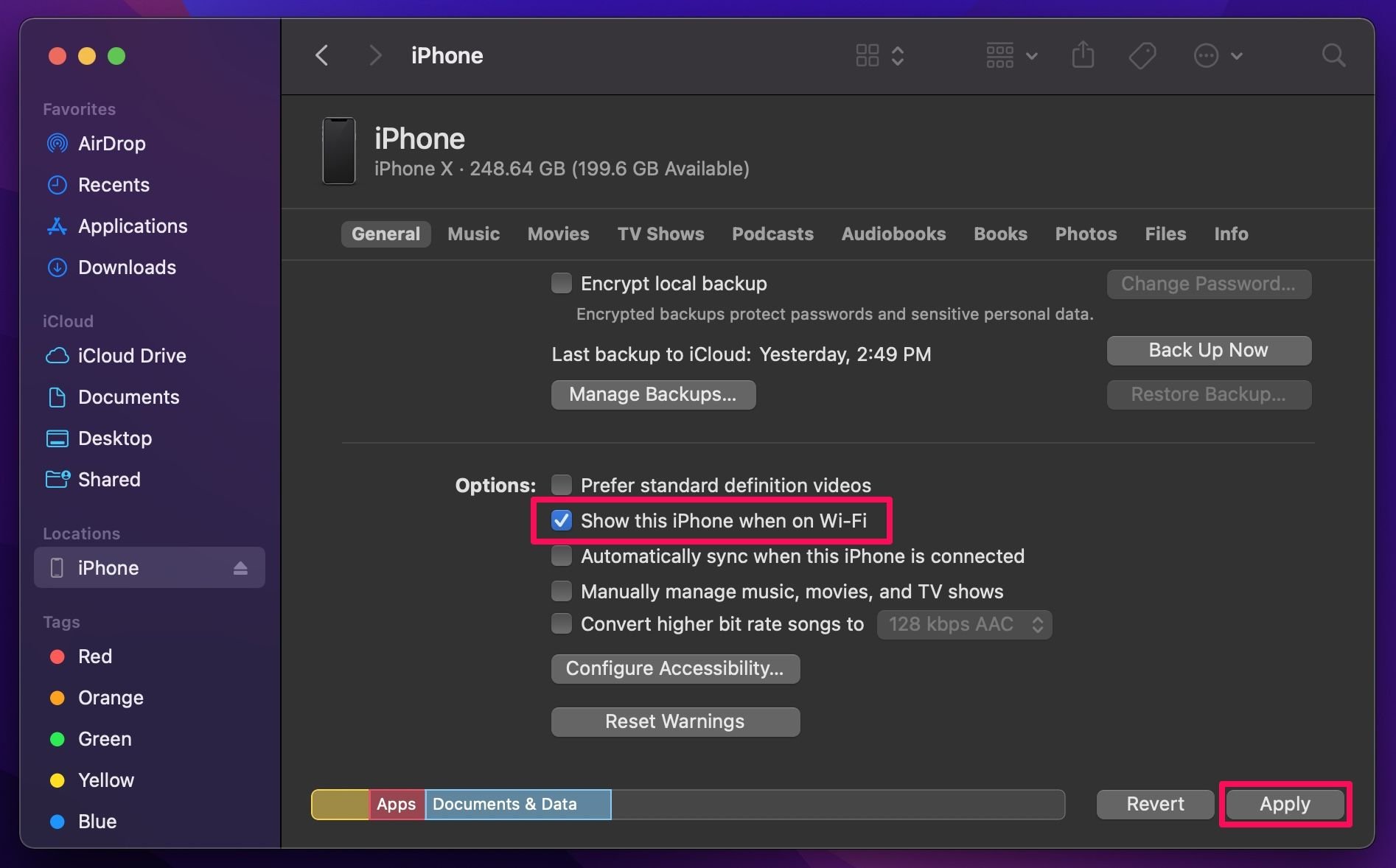 When you disconnect the USB cable, you should still see the iPhone on the Finder sidebar. If not, wait for a few minutes and check again.
Related: How to Change the Look of Finder on Mac the Easy Way
Wi-Fi Sync Can't Do Everything
Wi-Fi sync makes syncing and local backups a lot more convenient for sure, but it has its own limitations. For instance, you can't update or restore iOS or iPadOS over Wi-Fi. You'll still need to connect your cable to get this done.
Wi-Fi syncing isn't exclusive to Mac. If you're a Windows user, you'll find a similar setting in iTunes to establish a wireless connection.