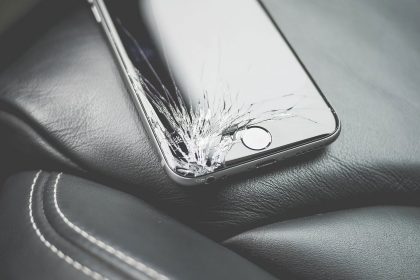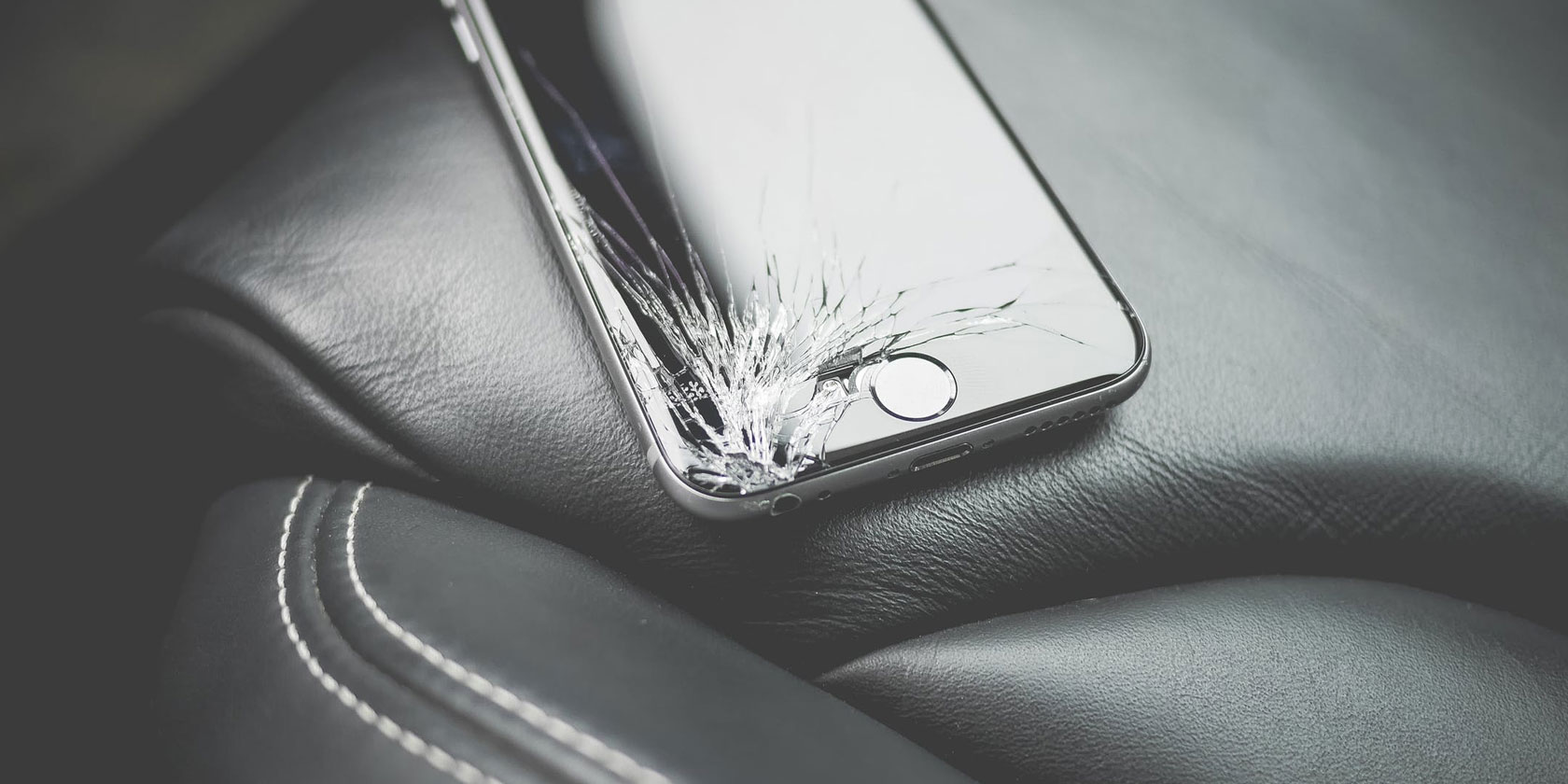 Staring at that cracked mobile phone display, you probably think the device is now useless. In some cases, you would be right—but that doesn't mean you can't still use it. Other devices can be connected, data can be recovered, and you might still be able to use the hardware buttons.
If you're wondering how you're going to deal with a broken smartphone display, these practical tips should ease your mind.
My Phone's Display Is Broken!
Smartphone display broken? This is a big problem. Over the years, smartphone manufacturers have removed hardware interface options to save space and cost. The result is a device that you can only interact with through a touchscreen.
So, what happens when the display breaks? Several "broken display" scenarios can be described:
A small crack in the screen
A crack in the screen, some loss of picture
Crack, loss of touch
A crack with loss of touch and loss of picture
An apparently perfect screen, no crack, but no touch sensitivity
Each of these will impact how you use your phone. None of them should necessarily result in you being unable to use the device at all, however.
Of course, the practical solution to a smartphone with a broken display is to repair it. However, several issues may prevent this, from a lack of warranty to replacement parts being unavailable.
If you cannot get the phone repaired professionally, it is possible to replace a damaged phone display.
The sections below will walk you through the options to accessing your phone despite a broken touchscreen display. With access achieved, you'll then be able to recover data from the device.
Revive Your Phone With a Keyboard and Mouse
Display powers up and you can see at least most of the screen, but can't use it? The answer here might be to connect a keyboard and mouse.
You have different options here, depending upon your smartphone platform.
Connecting a Keyboard and Mouse to Android
Your phone should accept USB devices via USB OTG support, although earlier Android devices won't necessarily support this. To use this, you'll need a USB OTG cable adaptor.
Two types are available: USB Type-C and Micro USB, each with a standard USB input port. Good options are the Cable Matters 6-inch L-Shaped USB-to-Micro-USB OTG Cable or the Cable Matters 6-inch USB-to-USB-C OTG Cable.
Cable Matters 6-inch L-Shaped USB-to-Micro-USB OTG Cable Cable Matters 6-inch L-Shaped USB-to-Micro-USB OTG Cable Buy Now On Amazon $ 6.99 Cable Matters 6-inch USB-to-USB-C OTG Cable Cable Matters 6-inch USB-to-USB-C OTG Cable Buy Now On Amazon $ 5.99
Take care to choose the correct USB OTG adaptor for your phone.
Once purchased, simply connect a keyboard, or a USB hub with keyboard and mouse attached. Our guide to connecting a USB keyboard to Android should help here.
Don't have a USB keyboard? While Bluetooth devices are supported by Android, for new connections you'll need to access the Settings screen. This won't be possible if the touchscreen isn't working. For existing Bluetooth keyboard pairings, however, it should be fine.
What if the display is completely dead? The best option here is to connect an external display to your Android device.
Use a Keyboard or Mouse With iPhone
The only way to connect a keyboard to your iPhone is via Bluetooth. As noted above, if the device hasn't already been paired, this is going to be difficult. Fortunately, connecting a Bluetooth keyboard to iOS is straightforward, which might make the workaround easier.
Control Your Phone Remotely
Remote control apps and services can help when accessing a phone with a broken display.
Remotely Access Android With Airdroid
Several remote access apps are available for Android, but the one you should be looking at first is AirDroid.
Download: AirDroid (Free, Premium options)
Once again, take note that this may not be possible if AirDroid is not already installed and set up. However, if you can get a USB keyboard working and set up AirDroid, remote access should be possible. You can also use AirDroid to move data from Android to your PC.
Other Android remote apps are available.
Remote Connect to iPhone
iOS devices can be remotely accessed. You have two options here: use remote administration tools via macOS or connect over VNC. The latter option is only available via Jailbreak, however, and as with Bluetooth, this can only be done with a working display. It's also risky, as jailbreaking can void the warranty and introduce security vulnerabilities.
Can Your Phone's Hardware Buttons Help?
In some rare cases, especially on older Android devices, you might get away with controlling the device using a button. When Android was first released it shipped with seven or eight hardware buttons for interface options. Most of these have since been replaced with gestures.
However, beyond using the damaged phone as a camera (hardware shutter buttons are unlikely to be lost), options are limited.
Broken Phone Display? Time to Backup Your Data
By now you have should settled on an option for accessing your broken phone:
USB keyboard and mouse
Bluetooth keyboard and mouse
Remote access from a PC
But what comes next? Should you continue your use of the phone via these methods? Well no—certainly not long-term. Instead, you should be looking at recovering data from the device.
The easiest way to do this is connect your phone to your computer via the provided cable. Browse the device like a USB drive, copy the data off. However, it isn't always as simple as that. Fortunately, both Android and iOS owners can rely on backups of their devices.
For Android users, a backup can be made in Settings > System > Advanced > Backup. If you have taken steps to save calendar events and contacts to your online accounts, these will also be backed up. When you switch to a new phone, if you sign into it with the same account your data will be restored.
On iOS, you can back up your iPhone to your computer (via iTunes), or to iCloud. Both are good options, although of course you may need to pay for iCloud if your backup is beyond the free capacity. An iCloud backup can be commenced in Settings > iCloud > iCloud Backup. Restore the back on a new iPhone by choosing Restore from iCloud Backup in the setup screen.
In addition to both backup options, it is wise to rely on a cloud storage sync service like Dropbox. This provides an additional layer of protection in the event of other backups and archives failing.
Switching to a New Phone? Unlock Your SIM Card
With these workarounds, we're working towards the situation that you're going to get a new phone. You've accessed the operating system, perhaps installed remote software, and retrieved data.
But if you need a new phone, your SIM card probably needs to be unlocked. Once that has been done, you're free to switch to a new device.
Carry on your journey of overcoming a broken phone display by learning how to SIM unlock your phone.
Read the full article: How to Use a Phone With a Cracked Display and Recover Your Data