Learn the basics of social media marketing for brands, startups, and individuals with these free online courses and guides.
A strong social media presence and a clear digital marketing strategy are essential for any brand today, be it a large corporation, a small firm, or an individual. Whether you're just starting or have already conducted a few social media campaigns, marketing is a game where you're a life-long learner. From the best articles to free templates, use these tools to level up your game.
1. Buffer Academy (Web): Best Articles to Learn the Basics of Social Media Marketing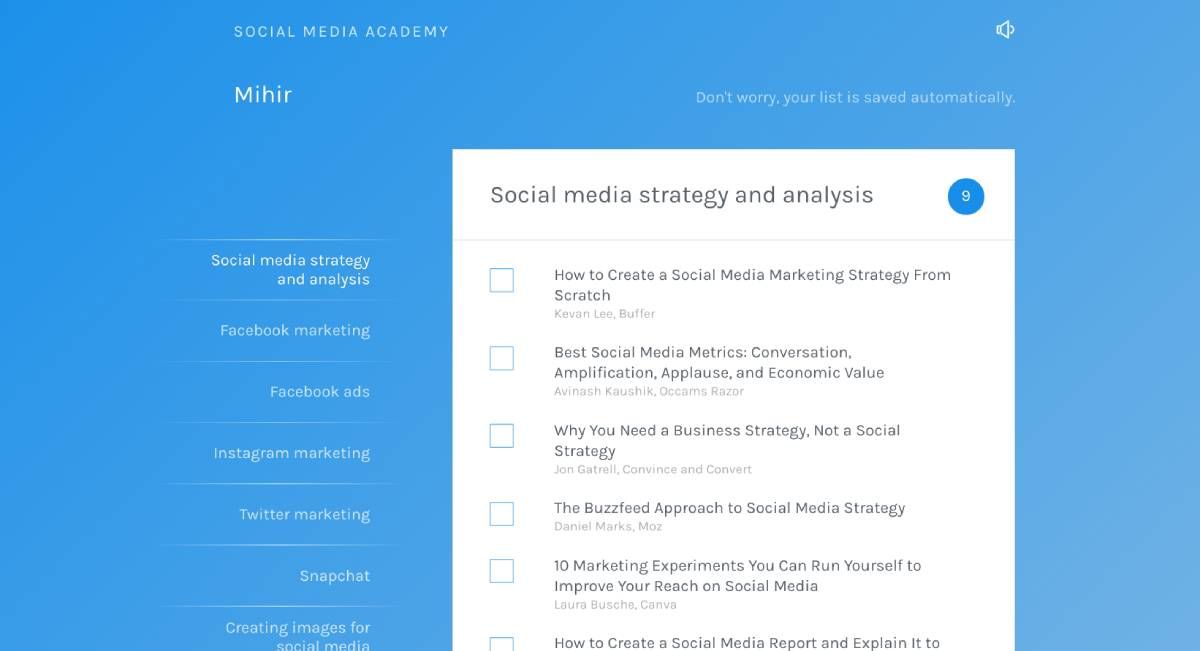 Content scheduling tool Buffer is one of the best ways to automate your social media posts. The same team is behind the Buffer Social Media Academy, which curates articles from experts in the social media marketing space.
The articles aren't only from Buffer; they span other product blogs and LinkedIn posts like Moz, Canva, QuickSprout, and Harvard Business Review. The value here is in finding the good ones and putting them into a cohesive reading list that takes you step-by-step to level up your marketing game.
Initially, you'll need to choose the subjects you're interested in, such as social media strategy and analysis, Facebook or Twitter marketing, creating images and videos, etc. Then, each sub-topic generates its own reading list, which you can peruse at your own time. Lists are saved at a unique URL for you, with a simple checklist format to mark what you've read.
Eric Schwartzman is a social media strategy and marketing expert with training seminars, books, and high-profile clients under his belt. You can now access his knowledge for free in a series of free online courses for social media marketing on Udemy. It's quite a library for you to learn from, but make sure you check out these:
You can find out more about him on Schwartzman's website, including several free practical guides on social media marketing. He also hosts multiple podcasts on the subject.
3. 30-Day Social Media Plan (Web): Beginner's Guide for Social Marketing Strategy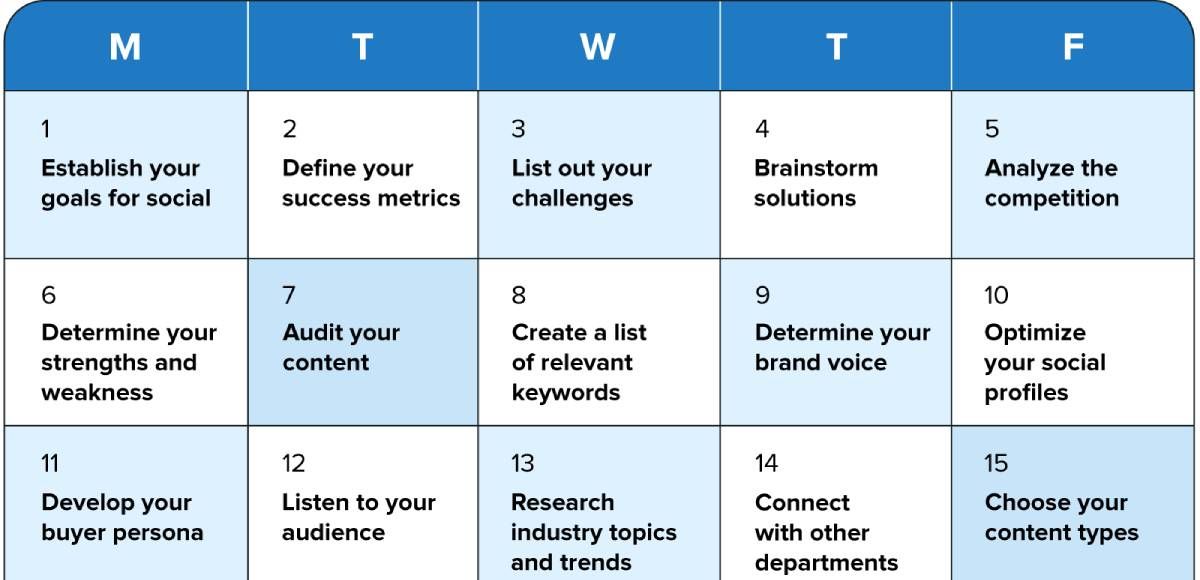 If you're new to social media marketing and don't know where to start, go with SproutSocial's beginner's guide to creating a social marketing strategy. It's a 30-day guide where you do one task each day to arrive at a clear social media plan going forward.
Through the guide, you'll learn key social media plan concepts like auditing content, creating a posting schedule, determining your brand voice, engaging with the audience, analyzing competition, etc. The article includes a short description of each task and a link to a larger article on the subject.
And no, you don't need to use SproutSocial to implement this. You can use any social media management app or your own set of tools to create your own plan with the advice in this guide. At the end of the article, you can download a worksheet (in Google Sheets) to share with your team as you go through each task of the 30-day plan.
4. Social Media Report (Web): Free Templates and Tips for Weekly Reports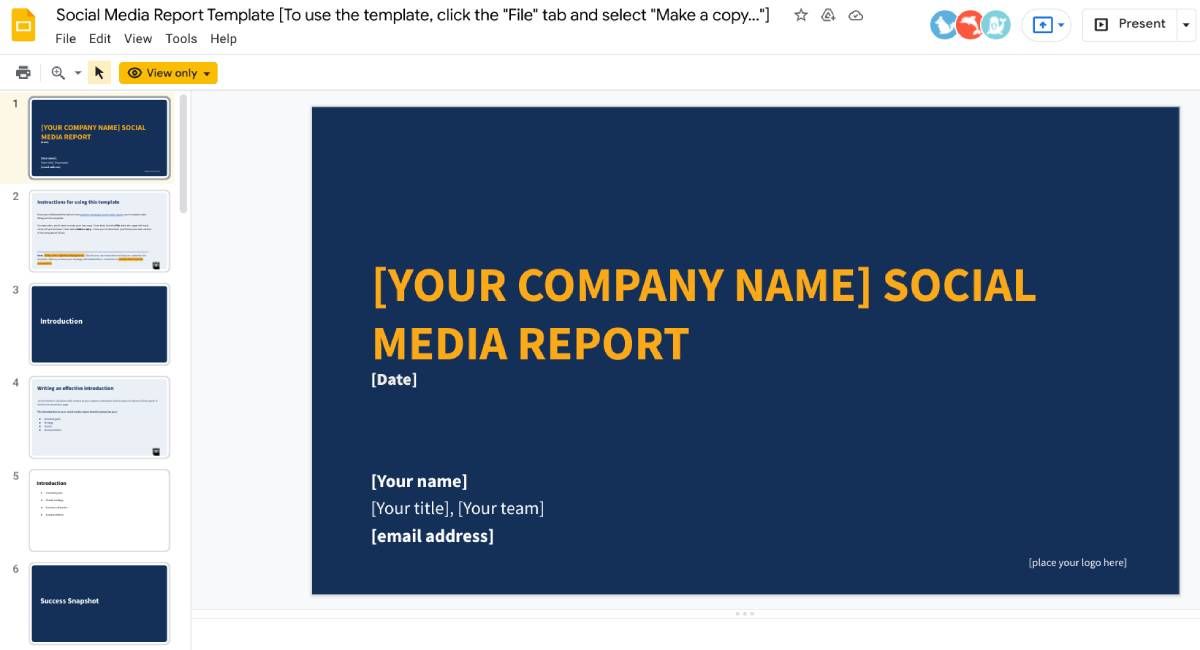 The social media report is a must-have arrow in any social marketer's quiver. In brief, it's a progress report that tracks all your statistics, includes analysis and strategy and future plans. However, too many marketers spend too much unnecessary time on this exercise. That's why we've rounded up three of the best free templates for social media reports in three different formats.
Hootsuite's Social Media Report (PPT): With a simple prompt on what to fill in each slide, Hootsuite's PowerPoint slideshow template is a great tool if you need to present your report to others. Read the full blog post for a thorough guide on what to include and exclude from your reports.
SproutSocial's Social Report Template (PDF): If your report is likely to be printed and circulated, go with SproutSocial's template. It includes built-in slots to place snapshots and statistics. Not only does it streamline what you need to do, but it's great for readers as well.
Socialinsider's Monthly Reports (Excel): Most of the social media report templates you find online focus on presentation. But data geeks know that the real power lies in the spreadsheet. Socialinsider offers an Excel template for social media reports that is perfect for anyone who values data.
5. Marketing School (Podcast): Short Episodes on Marketing FAQs With Brilliant Insights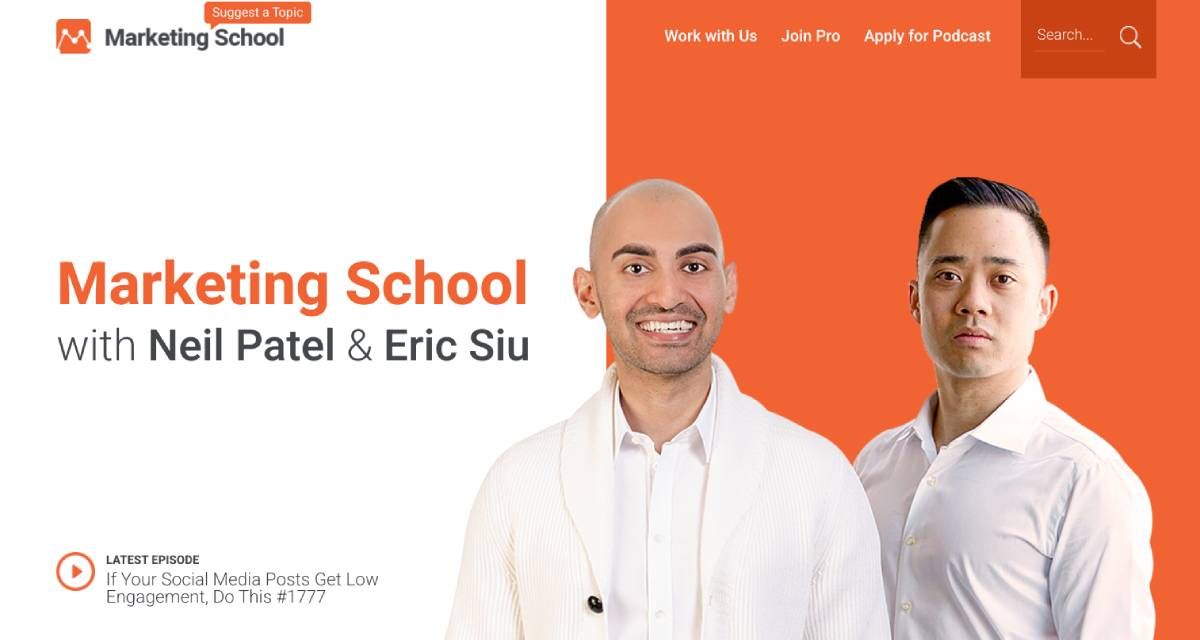 If you search for social media marketing podcasts, one name pops up in list after list: Marketing School hosted by Neil Patel and Eric Siu. While it's not only about social marketing, that's a subject that comes up often in episodes. Plus, since Patel and Siu have spent several years as leaders in marketing, their general advice is well worth listening to.
Perhaps the main reason for the podcast's popularity and devoted fan base is the length. Each episode is about five to seven minutes long and tackles one question or sub-topic. For example, what to do if your social media posts get low engagement, or is it too late to grow a Twitter following? These are available as descriptive titles for each episode, thus letting you quickly find a topic that matters to you and listen to it in 5 minutes.
Patel and Siu don't beat around the bush and give practical and actionable advice. Several followers note how they not only solve the problem, but their discussions serve as a boost of inspiration to take the day head-on.
Engage, Don't Just Broadcast
Going through the advice from these different guides, courses, and experts will give you a well-rounded education in social media marketing. But there is one common piece of advice they all agree upon: engage with your audience, don't just broadcast.
See, when you're making a social media campaign or a content plan, you think outwards and into the future. It puts you into a mentality of talking to people rather than talking with people. It's a potential trap anyone can fall into. But the beauty of social media is how much interaction it enables and how it gives your audience a voice. You need to listen and engage with them, not just talk at them if you ever want to be a successful social media marketer.
Visit www.judi-online-platform.site
Judi online terpercaya, Paiza88 Judi Online, Slot online, Slot online terpercaya, Judi Gambling, Casino online, Casino online terpercaya