If you're thinking about going off-grid, you're probably already thinking about a backup power source. Top of your list of considerations should be the Bluetti AC300 power station and the AC200 MAX, a heavy-duty yet flexible alternative that supports expandable battery modules.
What Is a Home Power Station?
Whether portable or requiring a bit more effort to position, a home power station can make all the difference between being caught out in a storm and getting through it comfortably.
Capable of powering most home appliances and with a service life measuring several thousand recharges, home power stations can cover power failure at home, or provide outdoor, off-grid power. This might be useful for an outbuilding, for van life, or general off-grid existence.
Devices like the Bluetti AC200 MAX and AC300 can be recharged from multiple power sources. Similarly, they can charge multiple devices simultaneously, output in DC and AC, and power any device under 2000W.
Bluetti—Where Have I Seen That Name Before?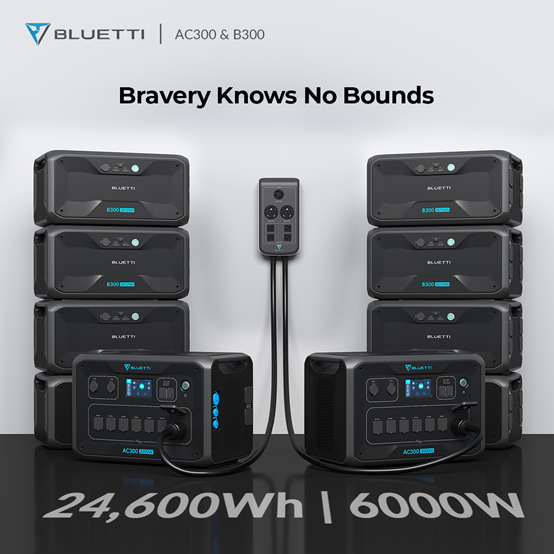 If you're not too familiar with portable power storage solutions but have heard the name Bluetti, it's probably something to do with their barnstorming crowdfunding performances. Over the past few years, several notable Bluetti power stations have been funded and released, to an amazing reception.
Most notably is the AC200, which was funded after raising a stagging $ 6.7M US dollars on the Indiegogo crowdfunding platform before its full release in July 2020.
Increasingly the "go-to" name for home, outdoor, off-grid, and van-life power storage, Bluetti has tailored its equipment for all aspects of modern life. In-home technology (including white goods), portable devices, computers, and consoles can all be powered. Electric cars can even be charged. And for the moments when the power cell has run dry, Bluetti devices have numerous recharge options, from traditional on-grid charging to renewables.
In 2021, the AC200 has been superseded by the AC200 MAX, which is set for release this summer alongside the AC300 modular power station.
Yes: You Can Solar Power the Bluetti AC200 MAX & AC300!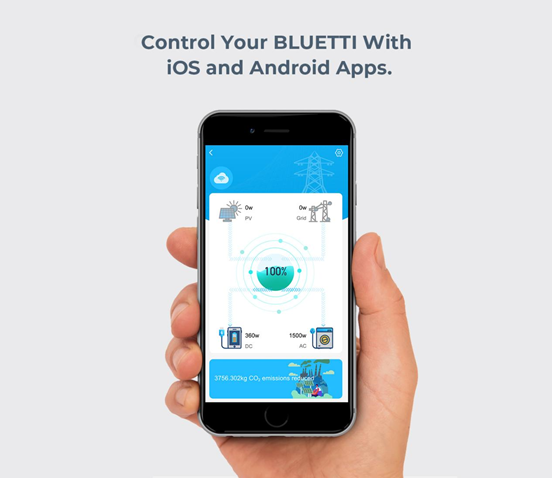 An increasing number of portable power solutions can be charged from solar panels, but none as impressively as power storage boxes from Bluetti
Solar power is possible with built-in MPPT controllers, which means you can simply connect the solar panel(s) and wait for recharge. And if it isn't quite light enough for solar power, the Bluetti AC200 MAX and AC300 can also be charged directly from mains electricity.
If that isn't convenient, electricity from diesel and gasoline generators and automobile batteries can charge Bluetti power stations.
Bluetti AC300 Specific Section
Following the success of Bluetti's first 3kW power center, the EP500 Pro, Bluetti is releasing the AC300. A more flexible flagship model, the AC300 is a rectangular box with lifting handles, ports, and space for a battery pack.
Unlike the AC200 MAX, the AC300 doesn't ship with a battery pack installed. Instead, the modular design lets you use one or more B300 battery modules. A removable battery makes the AC300 lighter; it also means that, if necessary, the battery can be replaced in the future should performance deteriorate.
Having multiple battery modules improves flexibility, too. You can connect multiple batteries simultaneously or ensure there is always at least one battery pack charged. This ensures continuous output from the Bluetti AC300, whatever the scenario.
The B300 Lithium Iron Phosphate (LiFePO4) battery pack delivers 3072Wh and supports various DC. 3000W continuous power is provided by the AC300, with double voltage (split phase bonding) support. Up to four B300 batteries can be attached to the AC300. Fully packed system power is 6kW or 24.6kWh.
The basic unit solar input is 2400W, while a full packed system can handle 10400W. Meanwhile, the basic unit's maximum AC input capability is 3000W.
Bluetti AC200 MAX Specific Section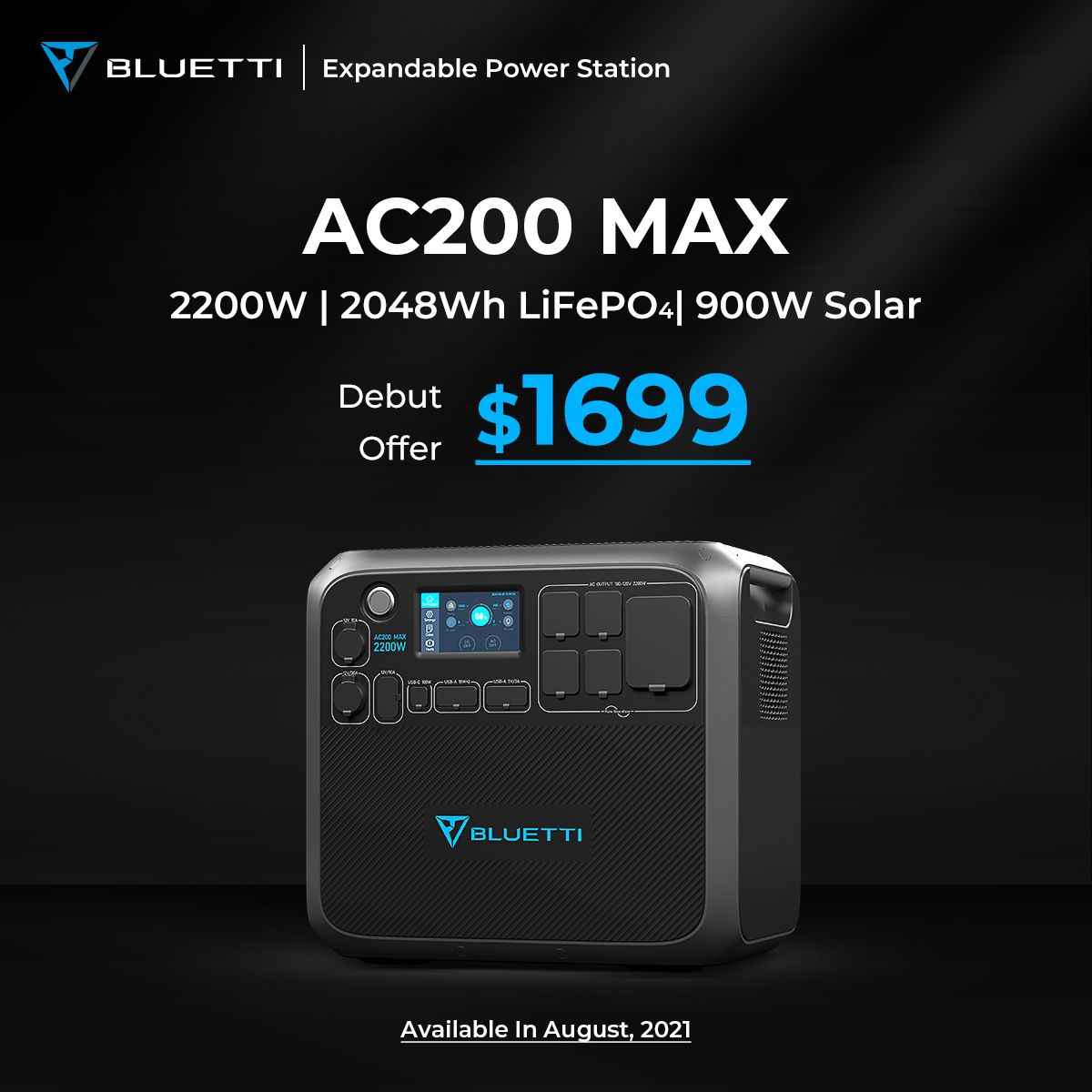 The AC200 MAX is essentially the successor to the AC200, which it closely resembles.
With a built-in Lithium Iron Phosphate (LiFePO4) battery capacity of 2048Wh, the AC200 can provide 2200W continuous output, with battery storage expandable up to two B230 or two B300 units.
A fully packed system boasts 2kW of power (8.2kWh) and can be recharged with 2800W of solar power (1400W for a basic system). The maximum AC input of a basic AC200 MAX unit is 1000W.
In addition, the AC200 MAX supports mobile connectivity. It has built-in Bluetooth so you can connect your smartphone (Android or iPhone) and use the new Bluetti app to monitor charge and manage power distribution remotely.
Meanwhile, onboard control is available using the touchscreen display. This lets you check the charge, configure settings, check for faults, and analyze usage.
It costs $ 1,699.
About The B230 and B300 Battery Units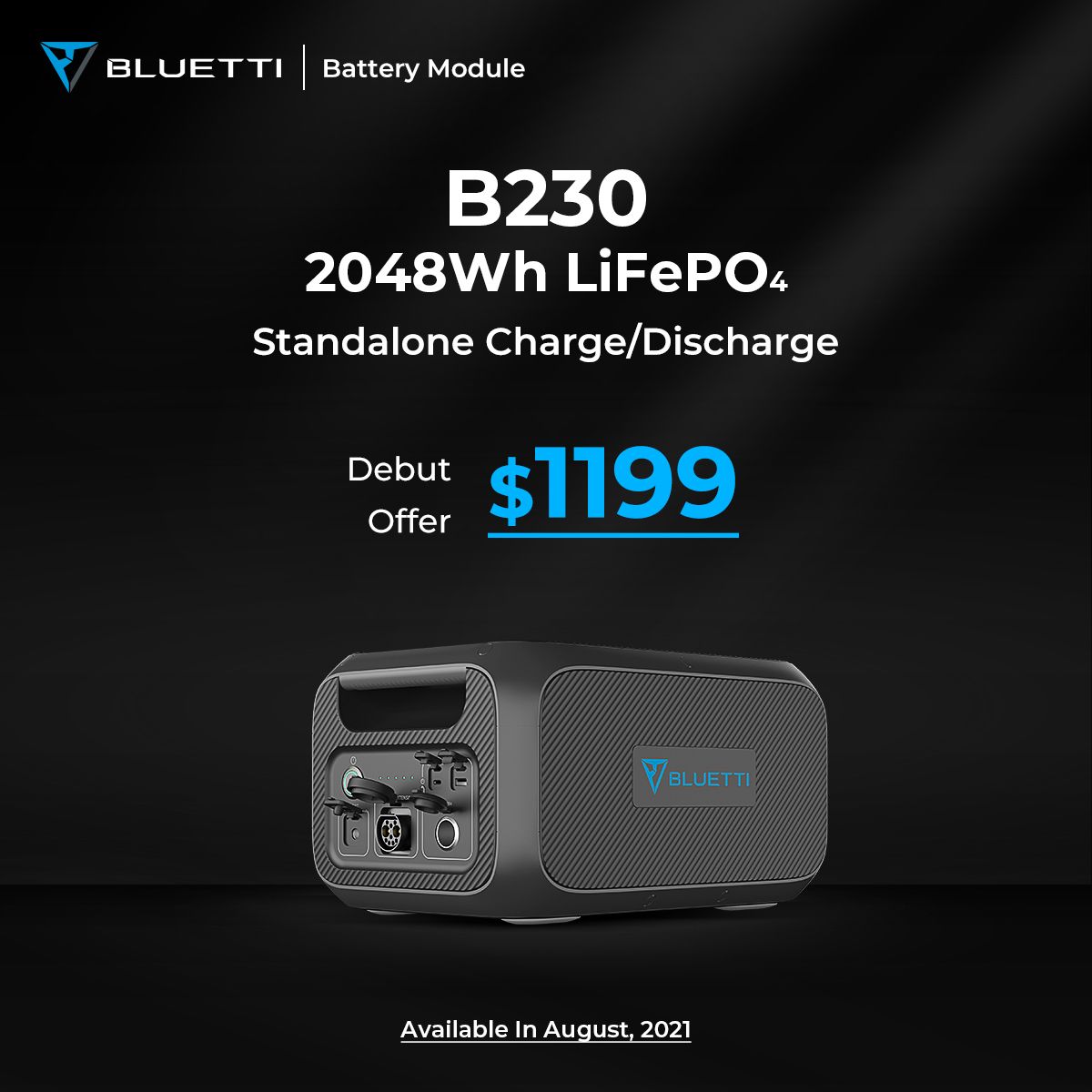 As noted, the AC300 comes with no built-in battery; the AC200 MAX can support up to two additional batteries. But what do these power cells add to the mix?
The Bluetti B300 LiFePO4 battery pack has a 3072Wh capacity and can handle 700W input from solar panels. It has a maximum AC input capability of 500W.
Meanwhile, Bluetti's B230 battery pack has a 2048Wh capacity, 500W solar input per battery, and 500W maximum AC input for recharging.
The price of the B230 is $ 1,199 and the B300 is $ 1,599. The AC300 and the B300 is available for a bundle price of $ 2,899.
What Can You Power With a Bluetti Power Center?
Thanks to the myriad ports on the Bluetti AC200MAX and AC300 units, you can connect a variety of devices for power and recharge. Capable of charging USB-dependent electronics over USB-A and USB-C, these Bluetti power supplies can recharge anything from a phone to a Tesla vehicle or e-Bike. Furthermore, they can run anything from ovens and home heating to washing equipment, lighting, PCs, and beyond.
This flexibility makes the Bluetti range vital to everyone, whether preparing for power outages, living life on the road, or going completely off-grid. Just charge the battery from a reliable source and the power can be distributed as and when necessary.
And of course, if you don't have a standard power supply, the Bluetti AC200 MAX and AC300 can be charged from a solar panel input.
Where Can You Get a Bluetti AC200 MAX or AC300?
Bluetti has previously relied on crowdfunding to raise initial investment costs for many of its portable power stations. This time, however, things are a bit different.
Orders for the power stations and the corresponding battery expansions can be placed at www.bluettipower.com. The AC200 MAX and B230 battery packs can be ordered from August; the AC300 and B300 are available to order from September 2021. With an expected two-week turnaround for the AC200 MAX and B230 battery modules, orders for the AC300 and B300 should have a slightly longer three-week wait. There is no crowdfunding or long lead times with these devices, and they come with a two-year hassle-free warranty.
More information can be found about Bluetti's new power centers by joining the official Facebook Launch Group for the AC300 and AC200 MAX. Why not also subscribe to the mailing list at www.bluettipower.com?
The Ultimate Disaster Preparation
The new generation of Bluetti storage solutions are ideal for most of the home, external, and off-grid power requirements you're likely to face. From smartphones to electric cars, and with the benefit of swappable batteries, the Bluetti AC300 and AC200 MAX offer unmatched, flexible, and portable storage.
And if you don't feel as though you've got enough power with the AC300 and AC200 MAX, Bluetti might just have something else for you. Later this year, it is expected to reveal details of its AC450, an immense 4500W backup power solution. What ports, connectors, and expansions it has isn't currently known, however—the AC450 is steeped in mystery and isn't set for release until the end of 2021
If you can't wait that long, the AC300 and AC200 MAX should be enough to power all your vital appliances, systems, and technology.