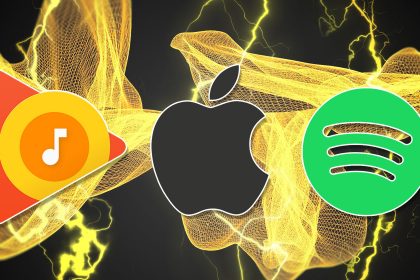 There are lots of music streaming services around, and three of the biggest are Spotify, Apple Music, and Google Play Music.
Right now, each service competes with the others on pretty equal footing. The problem is, you only need to subscribe to one of them.
So, in this article we take a closer look at the price, audio quality, library, and features of each service to help you choose the best one for you.
Price
All things considered, price is the biggest determining factor for most people's purchase decisions. However, Spotify, Apple Music, and Google Play Music all costs around the same price.
Spotify
Spotify offers a range of tiers:
Free, ad-supported
$ 4.99/month student subscription
$ 9.99/month individual subscription
$ 14.99/month family subscription
The free tier is ad-supported, meaning you need to listen to adverts between every four or five songs. You also get a limited number of skips, can't download songs for offline listening, and are restricted to shuffle mode when listening to albums on mobile.
Any of the paid premium tiers are what you think of as Spotify proper. You get unlimited access to Spotify's catalog, ad-free, with the ability to download tracks for offline listening on any device.
You can sign up for a recurring monthly subscription or just get a single month at a time. You can also pay for a full year up front, but won't save any money doing so.
The $ 14.99/month family tier unlocks all the premium features for up to six connected accounts, including your own. Each user needs to live at the same place, so make sure the addresses in your Spotify accounts match up.
Finally, higher education students can get up to 50 percent off their premium subscription along with free access to Hulu and SHOWTIME. Spotify uses SheerID to make sure you're eligible and limits student subscriptions to a maximum of four years.
Apple Music
Apple Music has three similar paid plans:
$ 4.99/month student subscription
$ 9.99/month individual subscription
$ 14.99/month family subscription
Instead of offering a free tier, Apple Music has a three-month free trial. After that, you need to start paying, but at least there are never any ads or other limitations.
Apple's regular tier is just what you'd expect. For $ 9.99/month, you get access to the full library, on any device, with the ability to download songs for offline listening.
The family plan is the same as Spotify's. For $ 14.99/month, six people (including you) get unlimited access to Apple Music. The catch is you all need to link your Apple ID accounts in the same Family Sharing group.
Apple Music offers a $ 4.99/month plan for students. This is only for college students and Apple uses UNiDAYS to verify your eligibility. Unfortunately, Apple Music limits student discounts to 48 months, which is half of what Spotify gives you.
Google Play Music
Google Play Music only has two paid tiers on offer:
$ 9.99/month individual subscription
$ 14.99/month family subscription
What's really different about Google Play Music is its free offering. This doesn't let you stream anything from Google's music catalog, but you can upload 50,000 of your own songs to stream from any device.
A subscription to Google Play Music gets you all the same benefits as other services: unlimited access to Google's catalog, the ability to download music on any device, and an entirely ad-free experience. You can get a free 30-day trial to test it out.
Just like Spotify and Apple Music, the family subscription links up to six accounts together. For this to work, you all need to live in the same country and be part of the same Google family group.
Unlike Spotify or Apple Music, there's no student discount available for Google Play Music.
Winner: Spotify
If you're just one person signing up, all three services have the same asking price. That said, Apple Music gives you the first three months for free.
Family subscriptions are the same across each service, with small logistical differences in the way you link accounts together.
Students should go for Spotify, which gives you a discount for twice as long as Apple Music while getting you free access to Hulu and SHOWTIME.
Finally, if you don't care about ads or other limitations and just want to listen for free, Spotify is the only option.
Audio Quality
Not all music files are created equal. The higher the bitrate of a file, the better it sounds. If you're paying for a music subscription, here's how to make your music streaming app sound better. Even if only audiophiles will be able to tell the difference.
Spotify
Spotify streams tracks at 160 kbps by default, but with a premium subscription you can turn on an option to stream at 320 kbps. This is about the point where, at least on standard audio equipment, it's nearly impossible to tell the difference between a compressed file and the original.
Apple Music
Apple Music streams songs at 256 kbps, switching to a lower bitrate by default when you're using cellular data. Most people listening to music with computer speakers or earphones won't hear any difference between this and Spotify's higher bitrate tracks.
Google Play Music
Like Spotify, Google Play Music also streams tracks at a maximum bitrate of 320 kbps, despite Google limiting YouTube Music to 256 kbps. If your internet connection is slower, Google Play Music automatically streams at a lower bitrate.
Winner: Spotify and Google Play Music
Both Spotify and Google Play Music stream at 320 kbps. If you really care about audio quality, go with one of them. Although you probably won't notice a difference between that and Apple Music unless you've got professional quality speakers or headphones.
Library and Selection
There's no use paying for a music service if it doesn't have the artists you want to listen to. Granted, there's little chance of that happening these days, with each service offering millions of the world's most popular songs.
Spotify
Spotify boasts over 50 million tracks in its library. Assuming each track is three minutes long, that's over 285 years of non-stop music, with almost everything you'd ever want to listen to.
Over the years, several big artists have kept their music off Spotify. Sometimes its because they signed exclusive deals with competing services, but other times its because they disagreed with Spotify's free service.
However, these days, pretty much everyone has relented. Tool, Taylor Swift, Beyonce, and The Beatles are all on Spotify now, even though they weren't before. It seems the only big star missing at this point is Jay-Z.
Apple Music
This is where Apple Music shines. Artists have rarely taken issue with the service since it doesn't offer a free tier, and now Apple Music offers 60 million songs to enjoy. There is a large amount of overlap with Spotify, as both services have veered away from exclusives.
Google Play Music
Once again, Google Play Music comes up short with an offering of 40 million songs. Most major artists put their music on every streaming service, but there's a bigger chance of missing out on your favorite new releases with Google Play Music.
Winner: Apple Music
While there are some variations between the different libraries, for the most part, you won't notice it. Artists rarely offer exclusive albums to different streaming services these days, and when they do it's normally only for a couple of weeks.
That said, Apple Music has 10 million more tracks than anyone else so it's a clear winner.
Features
There's more to a music streaming service than just getting access to a lot of songs. The best features help you discover new artists, keep up with what your friends are listening to, and hand off music to all your other devices.
So let's see how the features from these three services stack up.
Spotify
Spotify has phenomenal tools for discovering new music, and the best social sharing options. Every week, you get new tracks to listen to in the Release Radar, and Spotify uses its massive amount of listener data to create personalized playlists for you.
Spotify also links with Facebook to show what your friends are listening to right now. You can share tracks on any social media service, send them directly to other Spotify users, and even create collaborative playlists.
Finally, Spotify also has the best handoff capabilities, letting you seamlessly transfer music from one device to another without skipping a beat.
Apple Music
There are plenty of Apple Music features worth using, including the Beats 1 radio station. Before Apple Music launched, Apple hired Zane Lowe to curate the station. If you like the nostalgia of listening to a proper radio station, then Beats 1 might be a big feature for you.
Although Apple Music doesn't link directly with other social media platforms, you can follow friends using their Apple ID account. This shows a more general overview of what people are listening to, rather than giving a by-the-minute rundown, like Spotify does.
Surprisingly, Apple Music doesn't offer much in the way of handoff. You can send music to a HomePod, but it's not possible to handoff music between other Apple devices.
Google Play Music
When you sign up for Google Play Music, you also get free access to YouTube Music. This is fantastic for music videos and you can use it for listening to music regularly as well.
Google Play Music is generally more limited in features than Spotify or Apple Music. It offers online radio and music discovery playlists, but they don't match the quality you get from other services.
Winner: Spotify
Spotify's playlists and social features are commonly regarded as the best available, possibly thanks to the head start it had over Apple Music and Google Play Music. What's more, it works equally well on all platforms and transfers music between devices wonderfully.
If you like the ease of having a radio station to throw on, Apple Music with Beats 1 is a good choice. Whereas if you watch a lot of music videos, Google Play Music with YouTube Music is a great option.
The Final Verdict
When comparing these three music streaming services, the truth is that Spotify, Apple Music, and Google Play Music all offer pretty much he exact same thing.
For any advantages one service has, it usually has disadvantages too. If we had to choose, we would say Spotify is probably the best all-round option, despite having a smaller library than Apple Music.
The fact is there is no bad choice; all of the major players offer brilliant music streaming services. And depending on your specific needs, any one of them could be the best music streaming service for you.
Read the full article: Spotify vs. Apple Music vs. Google Play Music: Which Is Best?