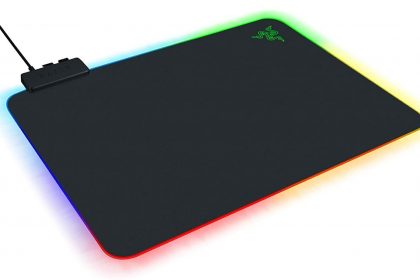 It's a shame to have a top-of-the-line rig, an expensive mechanical keyboard, a customizable DPI mouse, but a hand-me-down mouse mat from years ago.
Mouse pads are very important. Upgrading to a good gaming mouse pad can help kit out your desk, improve mouse performance, and could even save your wrists from RSI!
Let's explore the best gaming mouse pads to finish off your gaming desk.
FAQ
Q: Is It Bad to Use a Mouse Without a Pad?
It's not bad in terms of doing damage to the mouse. You can still use a mouse without a mousepad without worrying about doing something horrible to either the mouse or the desk.
However, it's potentially bad in terms of performance. A desk may not offer the right amount of friction for pinpoint-accuracy in an FPS, and the surface may not be ideal for precise movements.
Q: Why Do Gamers Use Mouse Pads?
When you use a gaming mouse pad, you ensure nothing gets between your hand movements and what appears on the screen.
Gaming mousepads are made of special materials that allow the mouse to glide around the pad, as well as maximising the signal between the mousepad and the mouse for pinpoint-accurate movements.
Q: What Size Mouse Pad Is Best for Gaming?
The right-sized mousepad is the one that your budget will allow. A mousepad is better than no mousepad, so even if you can only afford the smallest in the range right now, you should definitely consider getting it.
That being said, if money isn't an issue, it really is a case of bigger is better with gaming mousepads. Having a larger mousepad ensures that you have more space to do large, sweeping motions withour your mouse falling off the edge.
A word of caution, however; be sure to note the measurements of the mousepad you want and compare them to your desk. The last thing you want is a mousepad larger than your gaming space!