The simplest productivity hack to stay organized and get things done is to create an action plan for the day. These apps and tools are the best free day planners, online or offline.
Day planners are handy to tackle overwhelming to-do lists that span weeks and months of tasks. Planning a day includes other rituals, like prioritizing a to-do list, scheduling meetings, figuring out the people you need to finish your tasks, reflecting and reviewing, and journaling. Find the right planner for your approach, and you'll find a way to calmly and efficiently execute actions every day.
1. Crush Entropy (Web): Best Free Day Planner App for Time Blocking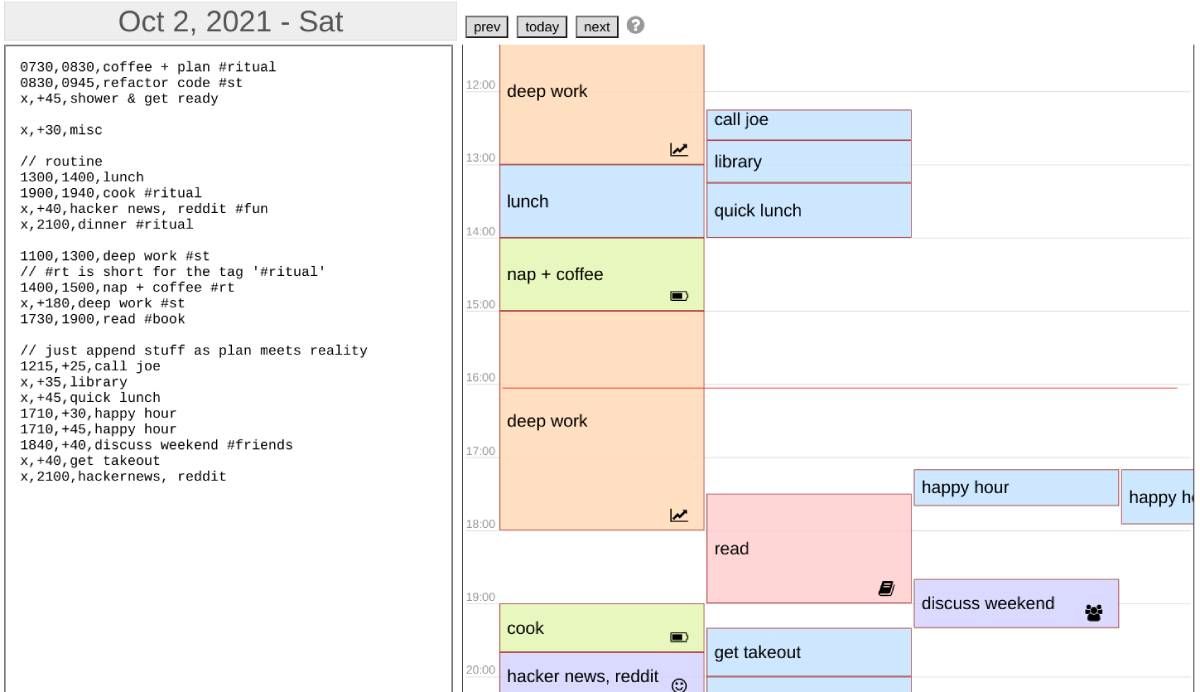 Crush Entropy is a fantastic day planner that lets you plan a schedule in simple text, and turns it into a visual dashboard on a day calendar. It might seem a little geeky at first, but it's easier than it looks. It works without registration, too, if you want to try it out.
The app relies on the principles of time-blocking for better focus and Neil Fiore's concept of "Unscheduling." In essence, you have to block an amount of time on your day's calendar for each task. But first, start with non-work stuff you want to do and block that time. Then, in the remaining time, add work-related activities. LifeClever explains it succinctly.
Crush Entropy uses these bedrock ideas to turn a notepad into a daily visual planner. In the notepad, you'll write simple things like "0730, 0830, coffee + plan #ritual" which blocks that morning hour for that activity and turns it green to indicate a ritual. Different rituals have different colors.
Text additions become easier with shortcuts. Using "X" as the start time tells the app to start this task whenever the last activity ends, and "+20" (or any integer) means it'll last 20 minutes from the start time.
Crush Entropy also lets you change your schedule on the fly, as a normal day does throw up unexpected tasks. When something comes up, don't worry about rescheduling your day. Just add it as another line, and the app shows it as a second column, appended to the tasks for the first. This part is a little overwhelming at first, but you'll soon get the hang of it and be more productive because of it.
2. Your Trail (Web): Daily Dashboard of Goals, Tasks, Journal, and Water Intake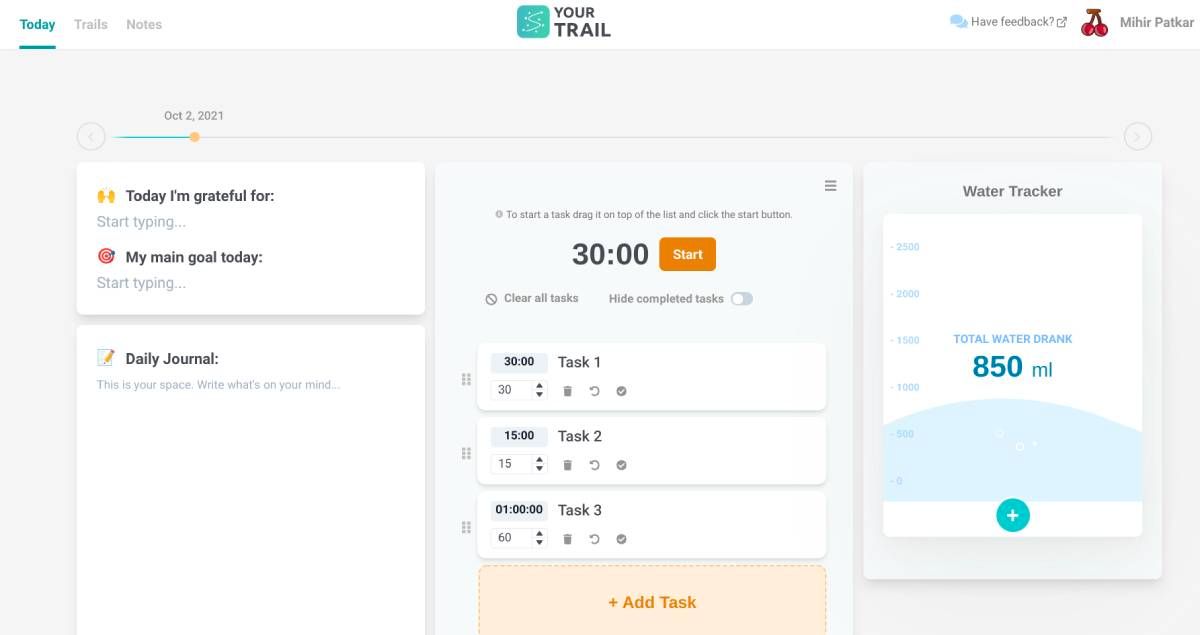 Your Trail mixes several popular productivity mantras for daily success into one simple dashboard. It has a few other features of a productivity suite too, but the dashboard is where it shines.
In the first pane, you can use it for daily affirmations. There's a space to write what you are grateful for today to practice daily gratitude and set one goal to accomplish. It also has a journal to log your thoughts. And since it's an always-present journal, it's a nice change to write thoughts as you go through the day, rather than at the end when you're reflecting. The last pane is a simple tracker for daily water intake.
The middle pane is to use time-tracking for your to-do list. Add tasks that you need to get done today and assign an amount of time to it. Whenever you're ready to start a task, drag it to the top of the list and click the timer. Your Trail will keep you on schedule to finish that task and issue a notification when time's up.
The app also includes a "Trail" to chart long-term goals. Here, you're encouraged to set a goal and break it into small, achievable targets. Add these targets to your timeline to create a visual timeline of how you progressed.
3. Todayist (Android, iOS): Set Self-Growth Intentions to Boost Daily Productivity
Image Gallery (3 Images)
Todayist is a daily planner app for mobiles that asks you to focus on yourself, not on the work. By prioritizing self-care, it seeks to make you feel better, with the idea that if you feel better, then you'll work better.
So every day, you will set a new intention for the day, prompted by three choices from the app. Todayist then lets you add tasks for the day (which works like a regular checklist). Your final day planner screen keeps the intention at top, and suggests practical ways to stick to it.
For example, let's say the intention is to be more mindful. Todayist then tells you why mindfulness helps, and offers a tip like "pick something you do all the time, and try to do it as if it were the first time." It's simple and useful advice, rather than theoretical information.
In the free version of Todayist, you can only choose one area of self-growth. If you're looking at it as a day planner, the best will be to go with Productivity as your area. Try it out with that, and if you like it, the premium version lets you set unlimited areas.
Download: Todayist for Android | iOS (Free)
4. Printable Daily Planners (PDF): Free Paper Planners for Daily Productivity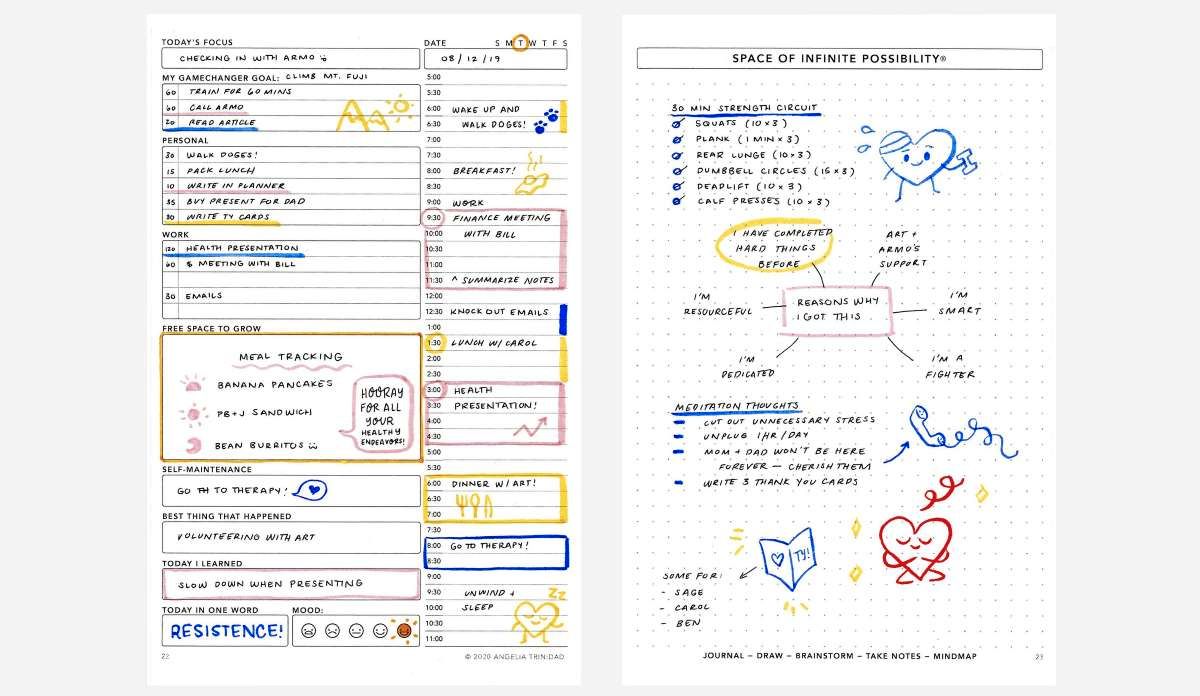 The best productivity tool doesn't have to be digital. If you prefer a pen and paper, then download some of the free printable productivity templates available on the internet. There's a large variety of daily planners, but two of them stand out.
Passion Planner's Daily Layout can be used as a one-page or two-page sheet, with the second sheet being a blank space. The first page will make you clarify the day's focus, ascertain goals for the day, set a mantra, add some self-maintenance and learning, and track your mood. Along with all this, it has a half-hourly breakdown of the day to fill in tasks. As you can see from the image above, it's a fantastic daily planner to use as creatively as you want.
Blue Sky's Daily Schedule is a simpler planner for those who want to keep it to tasks and time blocking for work. The daily schedule takes you from 7am to 7pm, taking up half the page. In the other half, you can set today's top priorities, make a to-do list, add notes, and track your water consumption for the day.
5. The Daily Mini-Journal (Web): 5 Minutes to Plan Your Day, and Reflect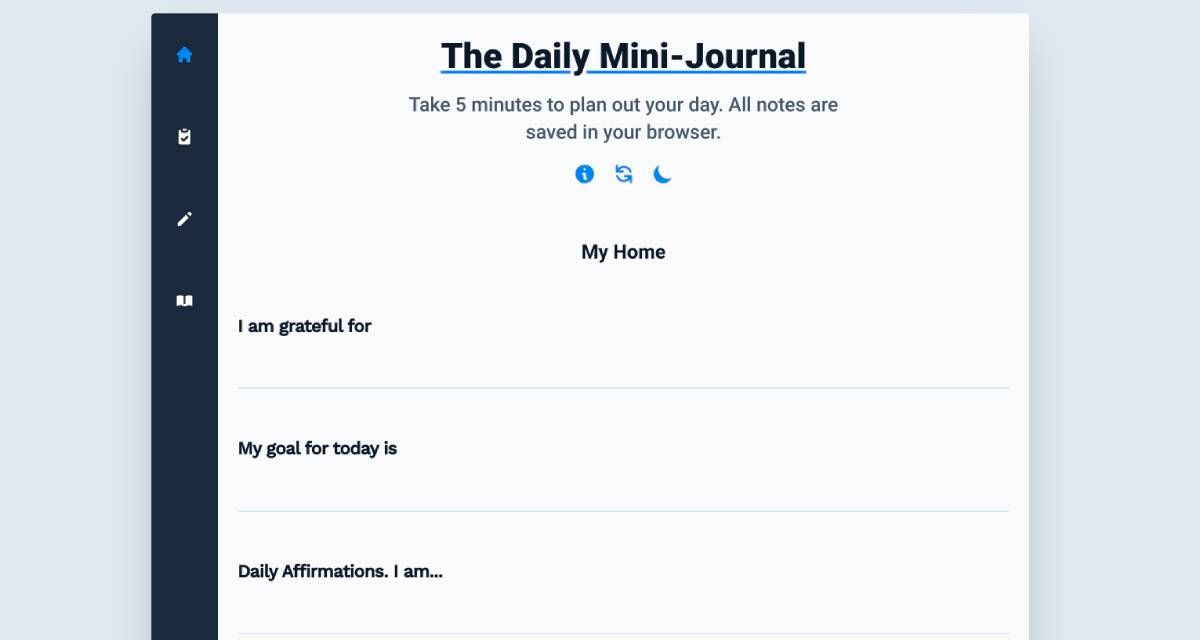 Task overload is often about visual overload. When you see too many things in your to-do list app, it paralyzes you. The Daily Mini-Journal (TDMJ) divides the day planner into different self-contained spaces, while incorporating healthy practices like reflection and a daily journaling habit.
The four sections of TDMJ are Home, Task List, Notes, and Review. Go through them step by step to come up with goals for the day, and practice some self-care by noting gratitude and affirmations. You can follow it up with a simple task list, and save notes. Finally, reflect upon how you worked by noting what went well and what could go better.
All of this data is stored in your browser cache offline. TDMJ is the sort of app that is ideal for someone who wants to start each day afresh with a new plan that you set in five minutes. It's not for those who want a powerful task manager and a recurring daily planner.
Plan Your Day in the Morning or the Night Before?
Now that you have the tools to plan your day, don't think this means you need to do it every morning. The "planning" is an activity that clarifies your day's actions when you're overwhelmed.
In fact, several productivity experts recommend planning your day the night before. It lets you start the next day without feeling overwhelmed and avoids feeling hurried in the morning. It's an excellent tip for those who aren't early risers or morning people.