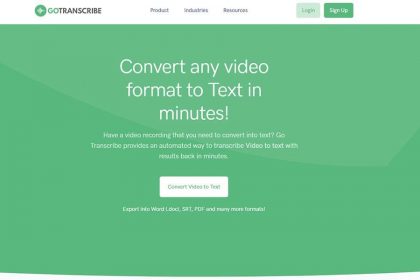 Do you often forget one crucial point while noting down another in a meeting memo? Transcription tools are here to help. As it automatically turns multimedia files into text format, everyone in the meeting can concentrate on the conversation only.
Here are some of the top video meeting transcription tools that will surely boost your productivity.
For those who want to have effective audio transcription, Sonix is the right choice. It offers a highly accurate transcription service. It's particularly suitable for podcasters.
The app can provide accurate transcriptions of audio/video files in more than 40 languages. You can use its comprehensive multi-user permissions for smooth collaboration.
Related: Ways to Effortlessly Transcribe Your Podcast for Free
This online tool lets you upload an audio/video file and provides transcription within a few minutes. The app comes with a browser-based editor where you can edit transcripts in a Word document format. It also offers word-wise timestamps, multitrack upload integration with apps like Zoom and Adobe Premier.
If you are new to transcription, go for Inqscribe. This cross-platform app lets you play audio/video files and shows transcripts in the same window. Using its editor is similar to using a word processor.
Its pitch lock feature prevents the voice from getting distorted. Here, you can also include custom snippets with one stroke, edit the timestamps, and export subtitles.
This app supports QuickTime and Windows Media Player compatible files and plays them from your HDD, CD, flash drive, server, or URL. This Unicode compliant app lets you export the transcriptions in Plain text, XML, Final Cut Pro XML, HTML, Spruce STL, Subrip, WebVTT.
Otter is the app that records audio and provides its transcripts in real-time. It works perfectly well with prerecorded audio and video files.
This online app also has iOS and Android compatible versions that you can use on smartphones as well. Its AVI (Ambient Voice Intelligence) technology allows its service to get better with use.
It makes collaboration easy through integration with third-party tools like Zoom. This smart tool can even identify the speaker by recognizing their voice. If you want to use it for academic purposes, try the dictation feature. It offers you searchable transcripts that save your time.
oTranscribe is an open-source entry in this list that you can access directly from your web browser. You can access both audio/video player and text editor from the same window and spare yourself from switching tabs. It also has interactive timestamps for seamless transcript navigation.
Now, no more toggling between mouse and keyboard, as it provides hotkey control for the process. Since this tool saves transcription in RTF file only, you need to copy it to save in other formats.
Are you looking for a tool for speedy audio transcription? Express Scribe is here for you. It's a free cross-platform audio player software that can also transcribe audio recordings.
You can also edit the transcripted text using its searchable editor. It supports most multimedia file formats. You can use either a dedicated foot pedal or hotkeys to navigate this software.
Related: The Best (Free) Speech-to-Text Software for Windows
It can automatically receive and load the file using email or FTP. Besides supporting different playback speeds, it can transcribe encrypted dictation files. This app is compatible with integration with analog and digital voice recorders.
Want to get hold of an app that lets you transcribe, edit and collaborate at the same place? Trint is not just an app for quick and accurate transcription. It also comes with additional useful features.
This app is secured, user-friendly, and compatible with an array of file formats. Using its hotkeys to rewind, fast-forward, and pause the audio, you can assess the audio and timestamped transcription side by side.
Also, emailing the completed transcription to others is just a click away. You can use the app to transcribe video or audio to more than 50 languages. Moreover, the tool can accurately differentiate between UK and US English.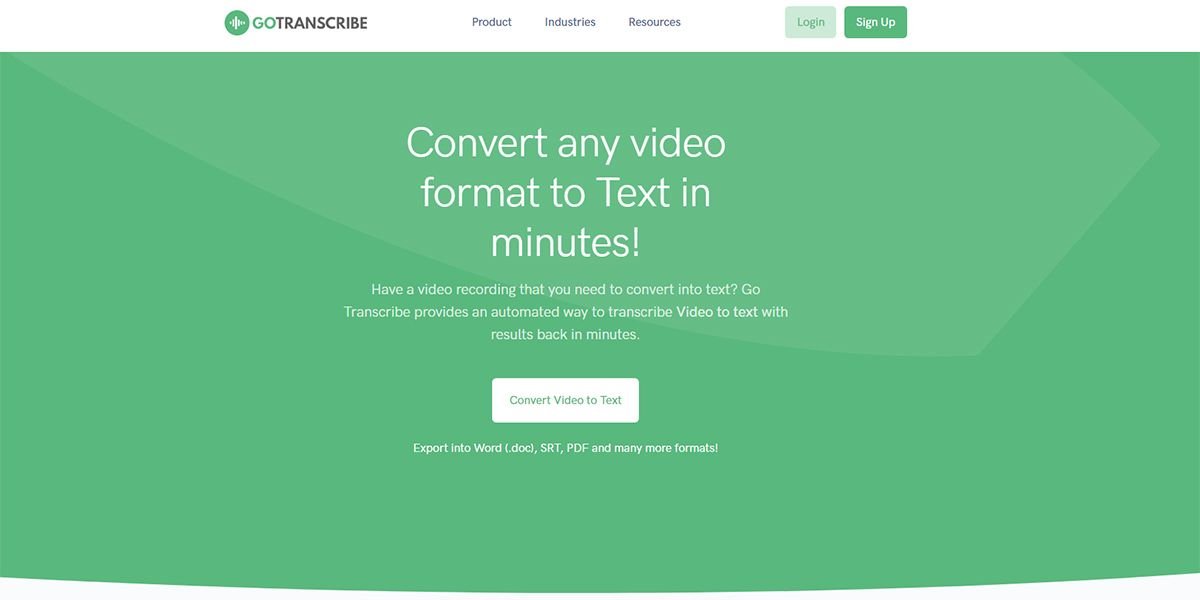 Go Transcribe is the video-to-text transcription app that delivers output in minutes using the latest automated technology. You can easily edit the transcriptions provided in SRT, DOC, PDF, and other popular formats. Upload videos of 3GP, AVI, FLV, M4V, MP4, MPEG, MOV, MPG, etc., and let the app automatically transcribe audio to texts.
Since you need to upload your video to fully-secured cloud-based servers, your data remains safe and protected. It also supports editing, searching, and sharing the resultant files with others. This app also offers features like unlimited storage, email support, public transcription links, and timestamp by paragraph.
Happyscribe is not only an automatic video transcription software, it can transcribe fast audios and video files to get into accurate and readable text. You get features like advanced punctuation and adding speaker names with a click. Besides, when a new speaker talks, the tool transcribes it in a new paragraph.
You can use this tool to transcribe audios in more than 60 different languages. For videos with terminologies and acronyms, add them to tool vocabulary so that the tool can transcribe it properly.
Temi is a transcription software for video files that offers a high level of accuracy. However, for maximum quality, you need to ensure supreme audio quality. Also, make sure the audio has a clear accent and minimal ambient noise.
This user-friendly tool also allows you to review and adjust the playback speed as your choice. As this app can identify the difference between speakers, it can add label each person's audio accordingly. You can also add custom timestamps to each word.
360converter is a video transcriber that offers both online and offline functionalities. It allows adding files from local storage, Dropbox, Google Drive, or the internet in general. After you select the language and specify the required section of the video, the tool will deliver you with transcription quickly.
You don't have to upload files to the cloud. So you can stay sure about data confidentiality. The supported video formats are MP4, 3GP, 3GPP, MOV, WMV, AVI, OGV, etc. The offline version also allows you to transcribe anytime, anywhere.
Turn Video Meetings Into Editable Documents
Whether you are a professional, journalist, researcher, or vlogger, video transcription apps will come in handy as they save your time and effort. Go through the features of the above-mentioned apps to select the one you need.
Transcripts of meetings are truly helpful in remote and hybrid work setups. Moreover, video meeting transcripts add value to your Zoom meeting sessions.