If you use Google Docs as your primary word processor, you'll wonder where these productivity apps, add-ons and extensions were all your life.
Google Docs is still the king of online document editors. But if you're using it as is, you're merely scratching the surface of what it can do. From making your own wikis to adding an index and bookmarks to a document, these apps will help you supercharge your Google Docs into a productivity beast.
1. gSweets (Google Docs): Slash Commands Keyboard Shortcuts for Google Docs
Google Docs is a fantastic app, but it has recently been outpaced by new online productivity suites like Notion and Confluence. One of the best new features is slash commands, where you can quickly do several things by typing a backslash followed by a keyword. gSweets brings that ability to Google Docs for free.
Install the gSweets add-on and you'll see a perennial prompt at your cursor that asks you to type a slash to see a list of commands. The commands can be entered by keyword, or you can browse the menu without leaving your keyboard.
Currently, gSweets supports Heading (six different sizes), bulleted or numbered lists, typing an emoji, dividers, inserting tables, links, or images, adding an image from Unsplash, and adding a GIF from Giphy. It's super simple and will let you do a lot more with Google Docs that previously required multiple steps of clicking around.
Download: gSweets for Google Docs (Free)
2. Search & Navigate (Google Docs): Auto-Navigation, Bookmarks, and Advanced Search
Lengthy Google Docs can become messy and difficult to handle. You'll find yourself scrolling up and down to locate what you need, whether it's a section or some image. The Search & Navigate add-on makes it much easier to browse your document.
Search & Navigate automatically detects headings and sub-headings in the document and turns them into a navigation sidebar. You can thus click headings like links to jump to that point. Similarly, the add-on detects all images (with captions) and tables in your document, again letting you jump to them in a jiffy.
The add-on's search function is also more powerful than the Find function of Google docs. Any word or phrase you enter will search for text, bookmarks, images, tables, and headings and show them in a list of results instead of clicking the "Next" button over and over.
You can also add bookmarks within the document too. Highlight any word and add a bookmark, renaming it to function as a note. Search & Navigate is a fantastic add-on to improve citations and bibliography.
Download: Search & Navigate for Google Docs (Free)
3. You Need a Wiki (Web): Make Google Docs Into a Wiki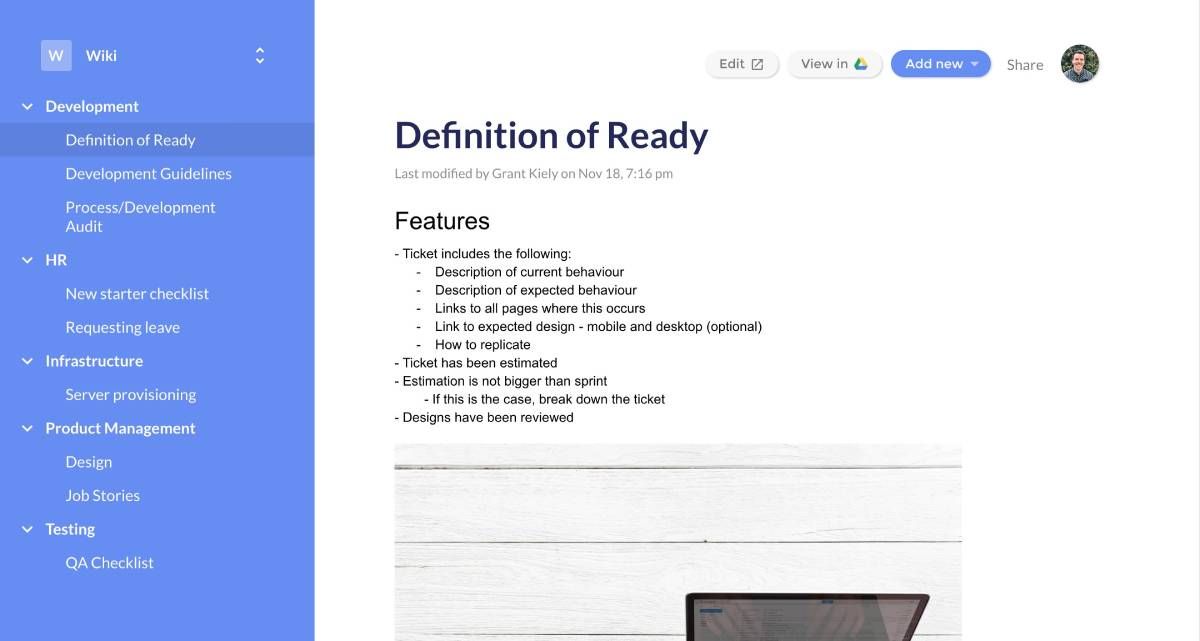 If you need to share documentation with your team, You Need a Wiki (YNAW) is a simple site to turn Google Docs into a basic free wiki. Others will read it when you share the link with them, but they can't make changes (unless you opt for the paid tiers).
YNAW works with Google Sheets, Slides, and Forms too, but you're going to be using Docs for most of it. It's basically like turning a folder on your Google Drive into a beautiful page to share with your team. You can add any Google file or a direct URL as an individual page on a sidebar or create a sub-folder in YNAW. This sub-folder can have its own files and links.
To make any changes to a document, click the Edit button to open it in Google Docs, add or remove whatever you want, and close the doc. Refresh YNAW, and the changes will show up immediately. Within the doc, you can link to other files in the YNAW folder of your Google Drive, creating the kind of cross-linking you often see in Wikipedia.
The free version only gives you one wiki and one person who can make changes. The premium version ($ 10 per month) adds a few abilities like 10 users who can edit the wiki, unlimited wikis, a custom domain name and sidebar color, and in-page search.
YNAW is great for someone who is comfortable with Google Docs and wants a simple wiki. But if you want more advanced features, you're better off with the best sites to create a Wiki page.
4. Collate (Chrome): Copy Any Text on the Web to Automatically Paste to Docs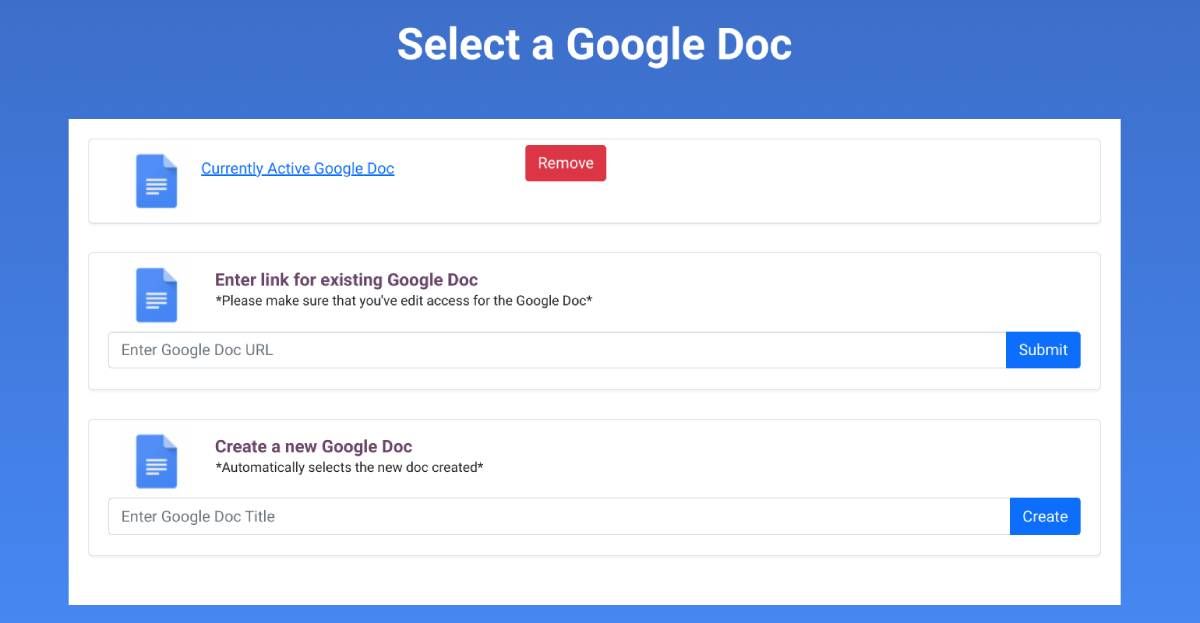 Students and researchers often use Google Docs as a data dumping station. But the process is convoluted. When you read something interesting, you copy and paste it to the Google Doc (after hunting around for that tab), then go back to the original tab to copy the link and again to Docs to paste it.
Collate makes this whole ordeal much easier. Open the extension's page in a new tab and point it to an existing Google Doc or create a new one. That's it; the setup is done! Now when you find interesting data on the web, highlight it and press the Collate icon. It'll be automatically added to the said Google Doc, complete with a link to the original page.
You can make it even faster by adding a keyboard shortcut. It's one of the nifty hidden settings to manage Chrome extensions. I found Ctrl+Shift+C to be a good combination, but you're free to pick anything that doesn't overlap with a universal shortcut.
Download: Collate for Chrome (Free)
5. Solo Mode, AuthorViz, DocuViz (Chrome): Essential Tools for Frequent Google Docs Collaborators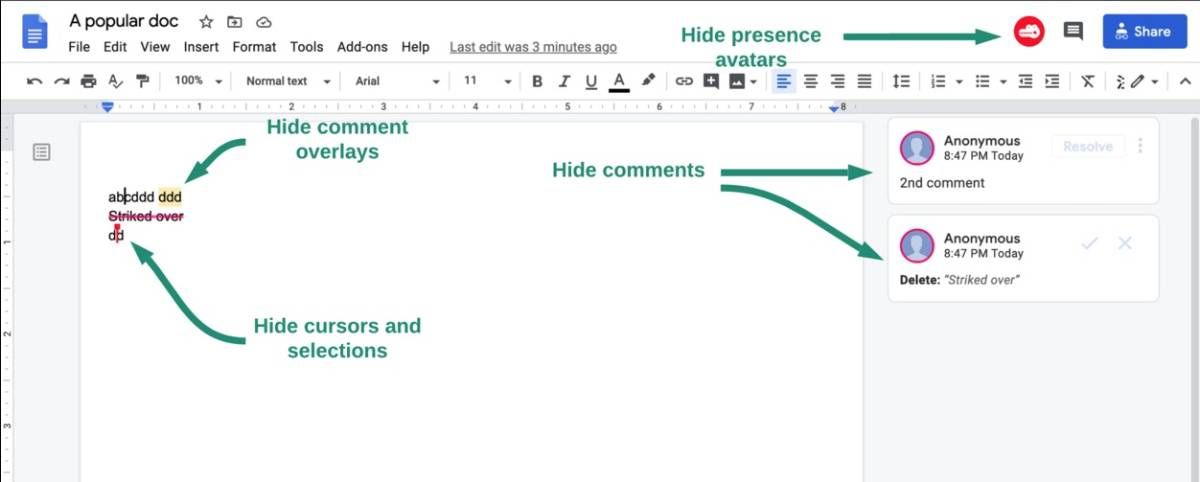 Google Docs is excellent for collaborating with other writers in real-time. But this can also be distracting, not to mention it becomes a little difficult to keep up with version history. Chrome users can use three handy extensions to make it easier to collaborate on Google Docs.
Solo Mode is a distraction-free writing mode for Google Docs. When your collaborator makes changes to the Doc in real-time, you can see it happening in a differently colored cursor. Solo Mode removes that distraction so you can concentrate on writing.
Download: Solo Mode for Chrome (Free)
AuthorViz is a similar extension but more to see what each contributor added to a file. Each collaborator's text shows up as a different color (which you can also get when you review a file, but not after you accept changes).
Download: AuthorViz for Chrome (Free)
DocuViz is an extension to chart the contributions by each writer statistically. You'll see a graph of "distance" or "time" spent on the document to ascertain how much writing was done by whom.
Download: DocuViz for Chrome (Free)
Explore More Google Docs Add-Ons
It's always surprising that more people aren't aware of the Google Workspace Marketplace. This collection of add-ons works with Docs, Sheets, and Slides to extend the ability of Google's office suite. Plus, these aren't browser extensions; they plug into the app itself. That means you can use them on both your computer and phone. So do yourself a favor and explore the marketplace to find some excellent tools to power up Google Drive.