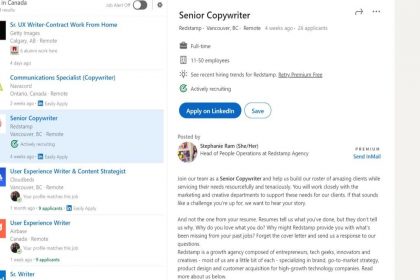 LinkedIn is a place where professionals can create portfolios, search for jobs, and expand their network. Organizations also use this platform to find the right candidate for a role.
Most of the features of this platform are free. And whether you're new to the workforce—or have a decade's worth of experience—you can use them to help land your dream role.
In this article, we'll show you seven free LinkedIn features you can use to help with your job search.
1. Searching for and Saving Jobs
Before starting the job hunt on LinkedIn, ensure your profile is updated with a photo and bio. To go the extra mile, you can add a cover story that injects personality to your profile.
You can search for jobs based on your experience, industry, and remuneration. To look for openings posted on the platform, follow the steps listed below.
Log in to your LinkedIn account and click Jobs. The left panel has different tools to assist with your job search. The middle section shows your recent searches and related opportunities.
Enter the job title and location in the search bar and click Search.
Narrow down the result by adding additional filters such as experience level or company name. If you prefer working from home, you can add the Remote filter.
If you like a job, you can save it and later revisit it by clicking the My Jobs section.
How to View Your Saved Jobs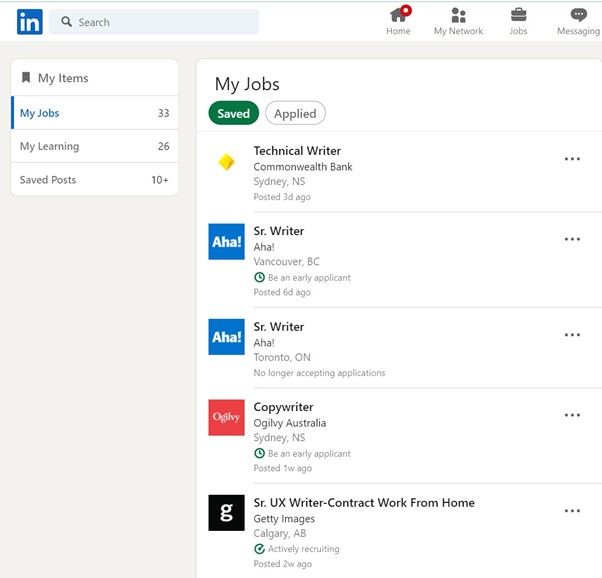 To look at your saved jobs on LinkedIn, select Jobs > My Jobs. Besides seeing your saved jobs, you can also check the status of any LinkedIn Premium courses you're currently working through.
In this section, you can also see if a recruiter downloaded your resume. This makes it easier to follow up with companies that have already considered your application.
2. Directly Applying for Openings
Some companies allow you to apply for a role directly via LinkedIn, rather than signing up for a job portal.
To apply for jobs on LinkedIn:
Select the role and click Apply on LinkedIn.
Select your resume and click Apply. This action also shares your profile with the company.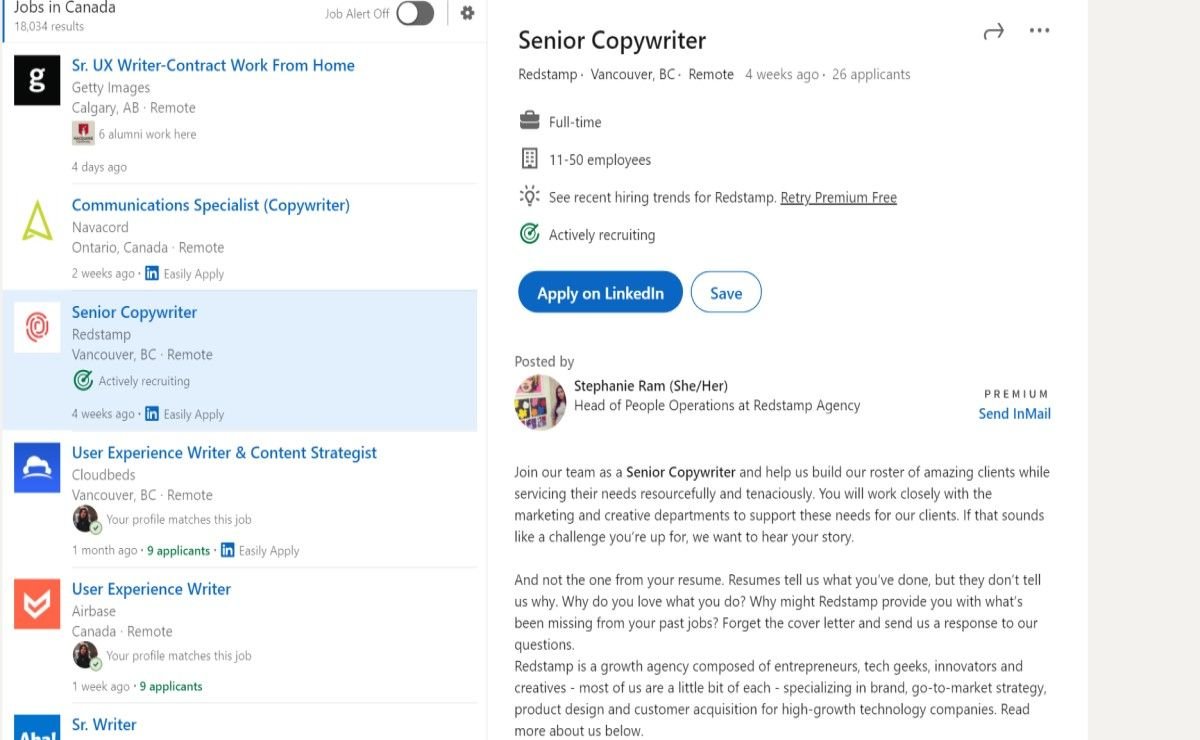 3. Managing Job Alerts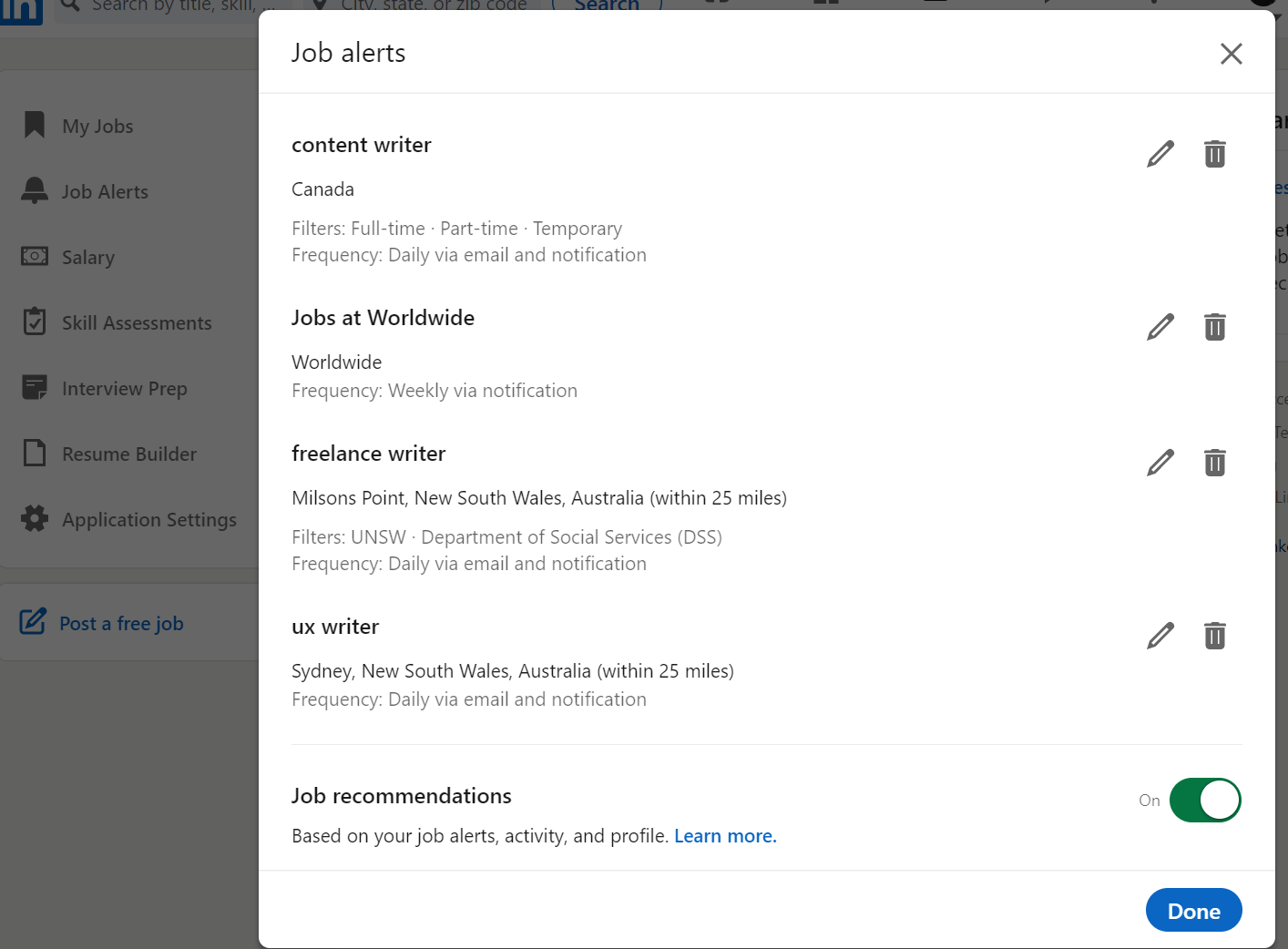 To keep abreast of the new openings in the market, it's helpful to set job alerts. You can create multiple alerts based on different regions or job types. You can also choose to get these alerts delivered via email, and view recommendations by enabling the Job recommendations option at the bottom of the window.
To create new job alerts on LinkedIn:
Click Jobs and then select Job alerts.
Click the Edit button and set the frequency and notification options.
Click Done.
4. Uploading Your Resumes
You can easily apply to a diverse range of jobs by uploading more than one version of your resume to your LinkedIn account.
To upload your resume:
Click Jobs > Application Settings.
Select Upload resume and choose your resume.
To delete or download a resume, click the ellipsis, and select the relevant option.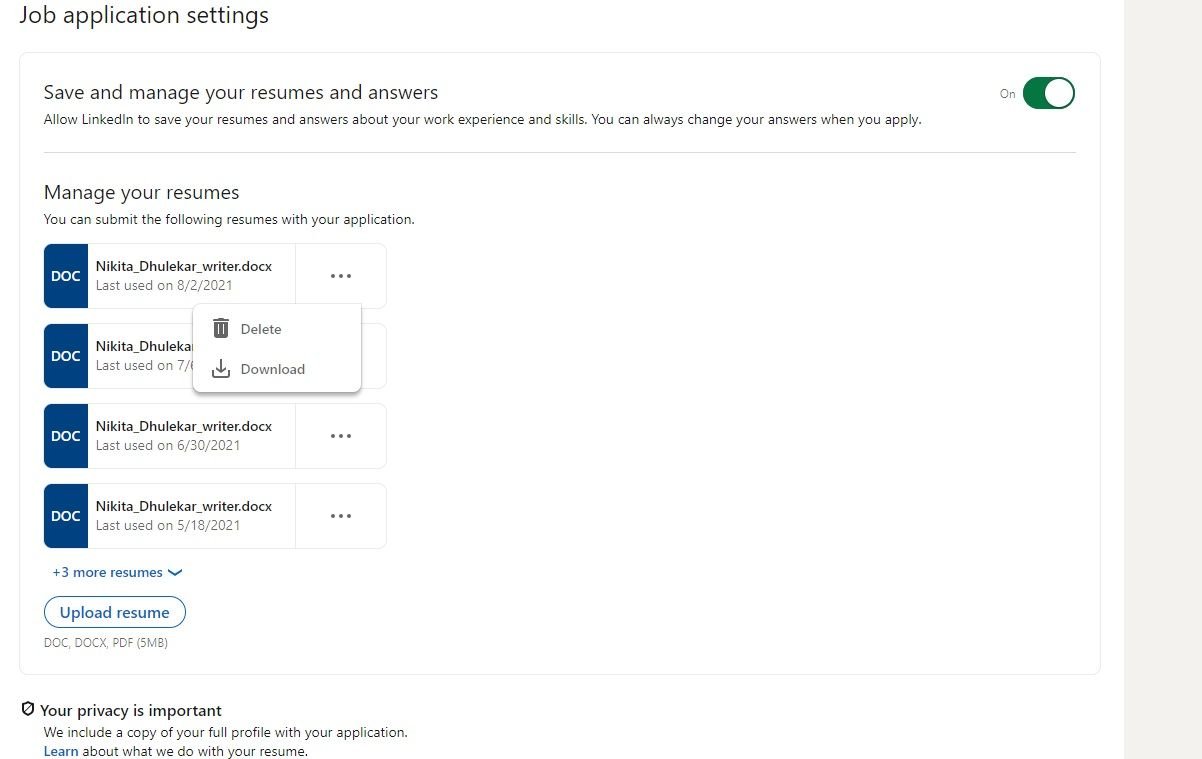 To delete or download a resume, click the ellipsis, and select the relevant option.
You can convert your LinkedIn profile to a resume with the Resume Builder if you've curated it well. If not, you can always upload one from your computer; the builder will help you finetune this.
To upload a resume, go to Jobs > Resume Builder > Upload a resume.
5. Viewing Median Salaries
Money isn't everything, but it's still an important consideration when searching for your next job. The LinkedIn Salary feature enables you to view detailed salary insights based on your role and location. You can also explore other popular skills in a specific region and details of the corresponding yearly salaries.
Navigate to the LinkedIn Salary website and enter the job title or company and location. Then, you'll find the median salary for the role and list of companies offering that role.
At the time of writing, LinkedIn Salary isn't available in every country. But if you're in the US, UK, or Canada, you can use it.
6. Taking LinkedIn Skill Assessments
If you want to stand out from other job applicants, you can take the skill assessment test and share the results on your profile.
In the header, click Jobs and then select Skills Assessment. The tests and categories are displayed.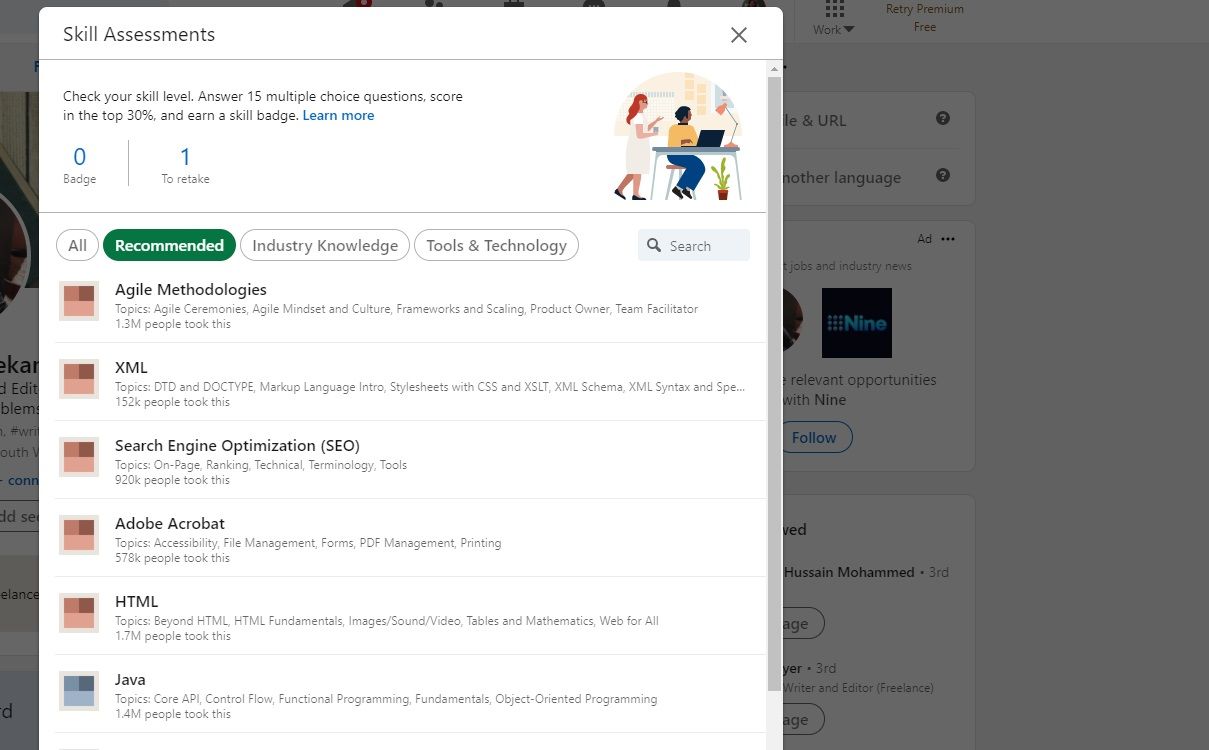 Choose a test that interests you. The style and duration of the test are displayed, and you'll also see other useful information that you need to know. Your final score is not displayed on your profile, unless you want it to be.
If you are not confident about the topic yet, but you'd like to get an idea of the questions, click Practice.
When you get the minimum score required to pass the test, you earn a badge. This will appear on your profile and catch the attention of recruiters.
7. Preparing for Interviews
Once your profile is selected for a role by an employer, the next step is preparing for the interview. Familiarising yourself with the company and potential questions can help you gain confidence. To explore this feature on LinkedIn, click Jobs and then select Interview Prep.
You can click a question and view the rationale behind the questions and tips to frame your answer. However, to view the answers, you can upgrade to Premium.
You can also practice the response by either writing it or recording your video. This response is for your reference and is kept private.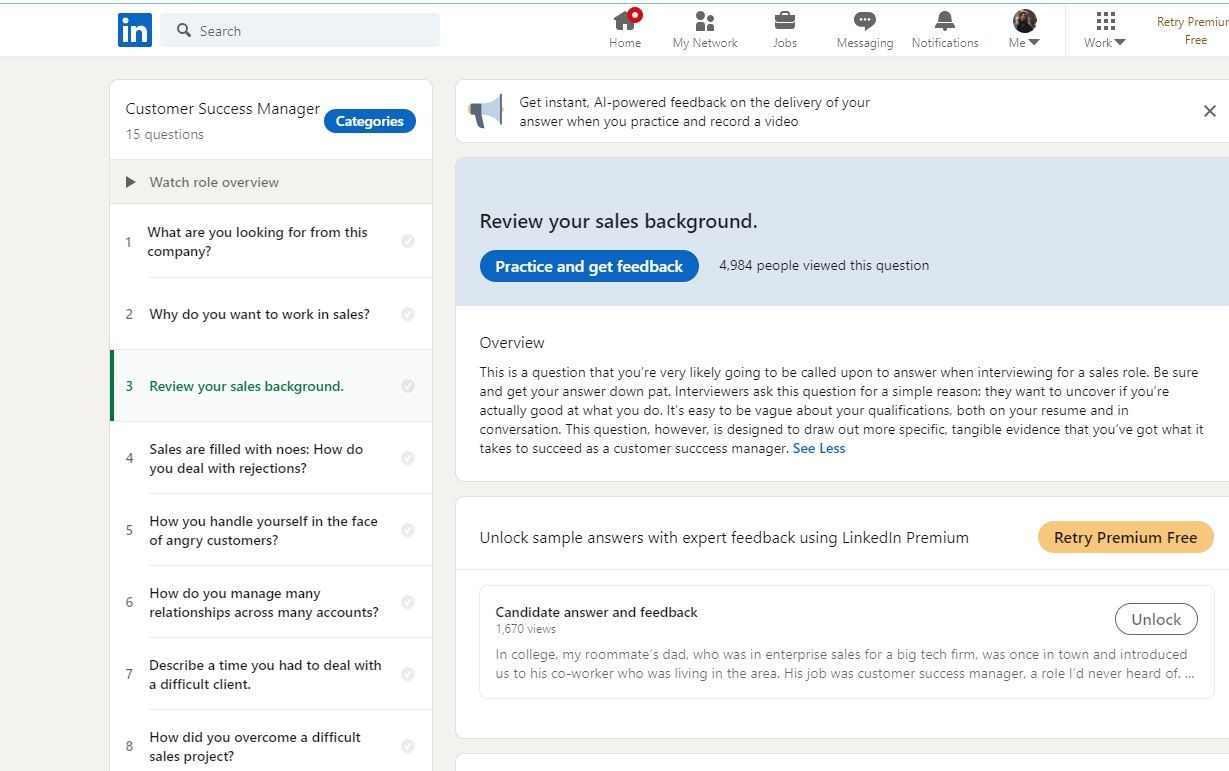 The questions differ based on the industry you are applying to. To view the questions and responses for a specific industry, click the Categories option.
Leveraging LinkedIn to Find Your Dream Job
LinkedIn serves as a powerful platform for employers and organizations to find the right candidate. Having a complete and updated profile enables you to apply for a job efficiently.
However, LinkedIn is not the only way to look for employment. Reaching out to your friends for a job referral, or directly contacting recruitment agencies with your resume, are also effective. Moreover, you can upload your resume on different local and international employment portals.
Now that you understand more about conducting a successful job hunt on LinkedIn, reach out to your dream companies.