Doodling lets you tell a story easily and effectively, but perhaps you don't have the talent to bring your ideas to life.
That's where Blush steps in. By taking the difficulty out of creation, Blush lets you tell the stories you want without needing to rely on your unreliable hands to do so.
What Is Blush?
Blush is a free online design tool that allows you to create completely unique illustrations. There's a wide range of design options available, all featuring insane amounts of customizability. No matter what you want to create, Blush allows you to do it.
The process is easy, powerful, and surprisingly fun. Best of all, Blush covers everything that you create under its license, meaning that you're permitted to use every graphic that you create without the need for attribution—even if it's for commercial purposes.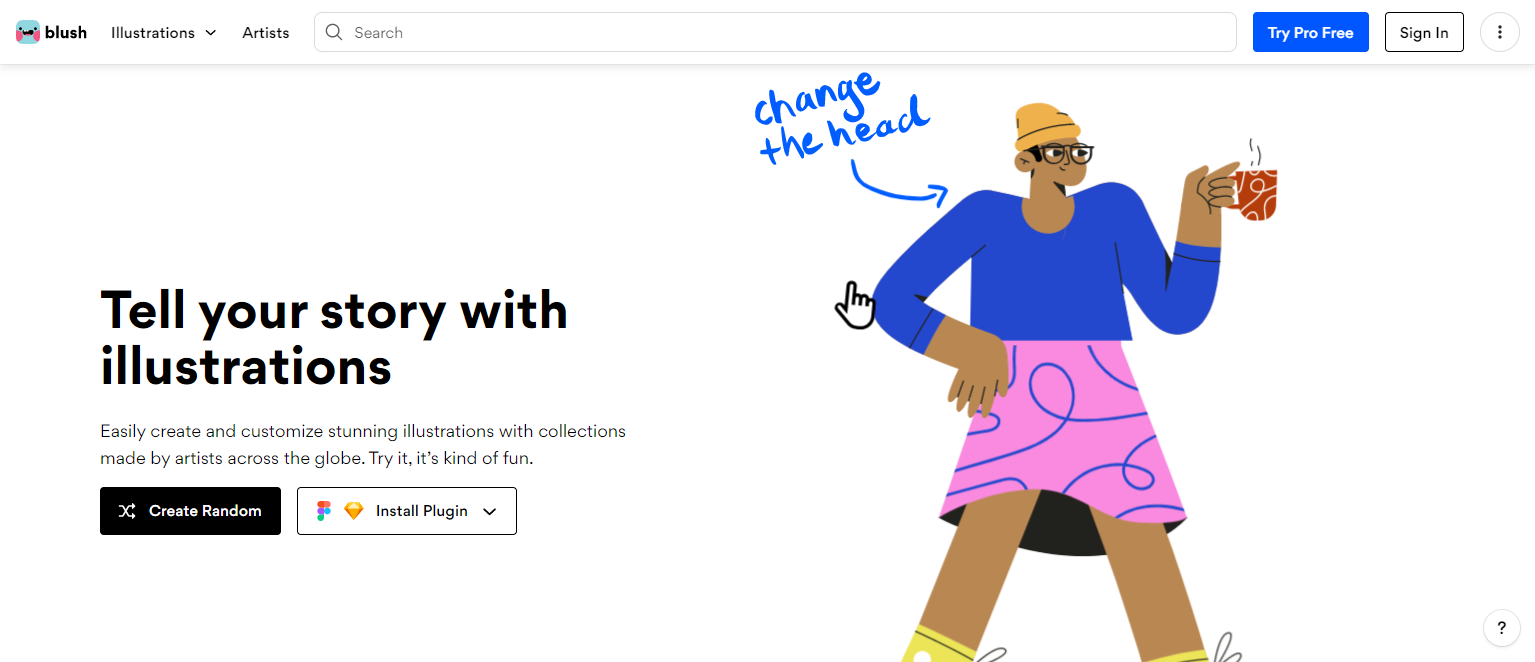 Blush is free for all, though it does come with several extra features available only to those who are willing to upgrade to its Pro plan, which costs $ 12/month.
Blush is even available as a plugin for Figma and Sketch. This means you can seamlessly test and expand on your illustrations, all without having to worry about working awkwardly between two programs.
Related: The Best Figma Features All Designers Should Be Using
How Does Blush Work?
Getting started with Blush is easy. If you can't decide on a design, you can simply click on the Create Random button, and Blush will automatically do most of the work for you.
But let's say that you want to start from scratch. First, you need to pick a style for your illustration. There's a huge range of collections available, each featuring different styles and themes, so pick whatever catches your eye.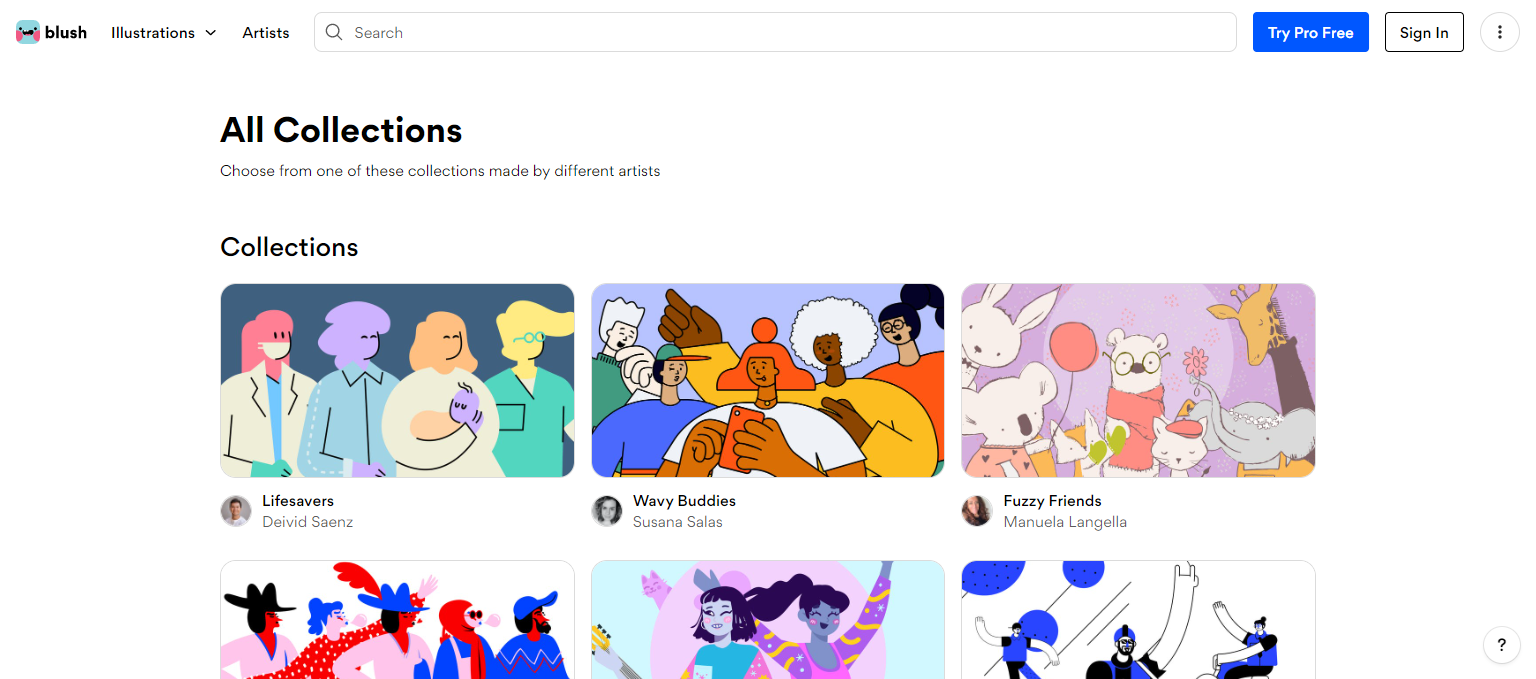 There's the option to sort through the illustrations by category, as well. Say that you're looking to create an illustration featuring a cat—you could look through the collections that feature animals.
In terms of illustrations, there's a huge range here. People of all shapes and sizes, families, plants, animals, and even cities are present.
Related: Essential Tools, Software, and Services for Illustrators
Once you've chosen a collection, you'll notice that there are a variety of different characters and scenes to choose from. You don't need any editors or fancy software; once you pick whichever scene or character that best captures your artistic vision, the left side of the screen will give you various customization options to choose from.
You can mix and match these freely. Most collections have an impressive number of different hairstyles, skin tones, and facial features that you can choose from to really capture your idea. Upper and lower body options are also common, so you can create something that is truly yours.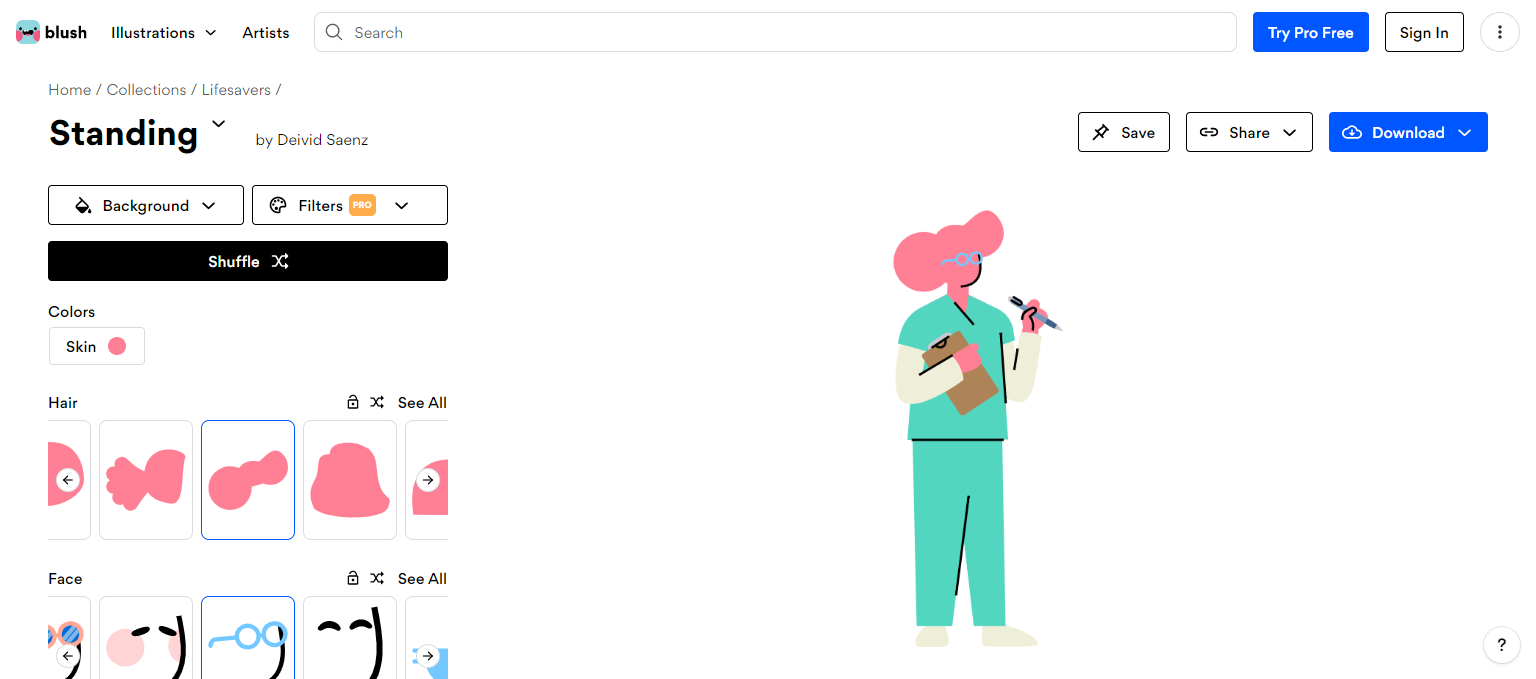 And if you can't decide how you want the illustration to look, you can shuffle the design with a single button, creating a character completely at random. You can even lock certain aspects of the character, such as their clothing, perfect for quickly creating a crowd of people in uniform, for instance.
If you absolutely love the options a collection is giving you, you can even look into the artist who created it. Some artists have multiple collections that you just might be able to use.
Once you're happy with your creation, you can save and share it. If you've created a Blush account, you can save up to five designs for free and come back to edit them later. Otherwise, you can share them with others by either grabbing a shareable link or downloading the image yourself.
When sharing your design via a shareable link, you can make it view-only, or can give others access to the editor in case you want to collaborate. When you download your design, you can choose from PNG and SVG file formats, though the latter is only available for Pro users.
Other people's creations are also shared among the community. You can open these and edit them yourself, altering fine details or large swathes at your leisure.
What's Included in Blush's Pro Plan?
If you've already given Blush a go, you probably noticed that there are plenty of features that are unavailable to free users. While downloads remain unlimited no matter your plan, free users can only save up to five designs for later use, for instance.
This changes if you switch to the Pro plan. You gain access to unlimited saved designs no matter how complicated they may be, as well as a host of other features.
Some options within collections require a Pro plan, meaning that some characters, scenes, and spot illustrations are unavailable to free users. The Pro plan removes this limitation, giving you unfettered access to Blush's growing library of over 10,000 illustrations.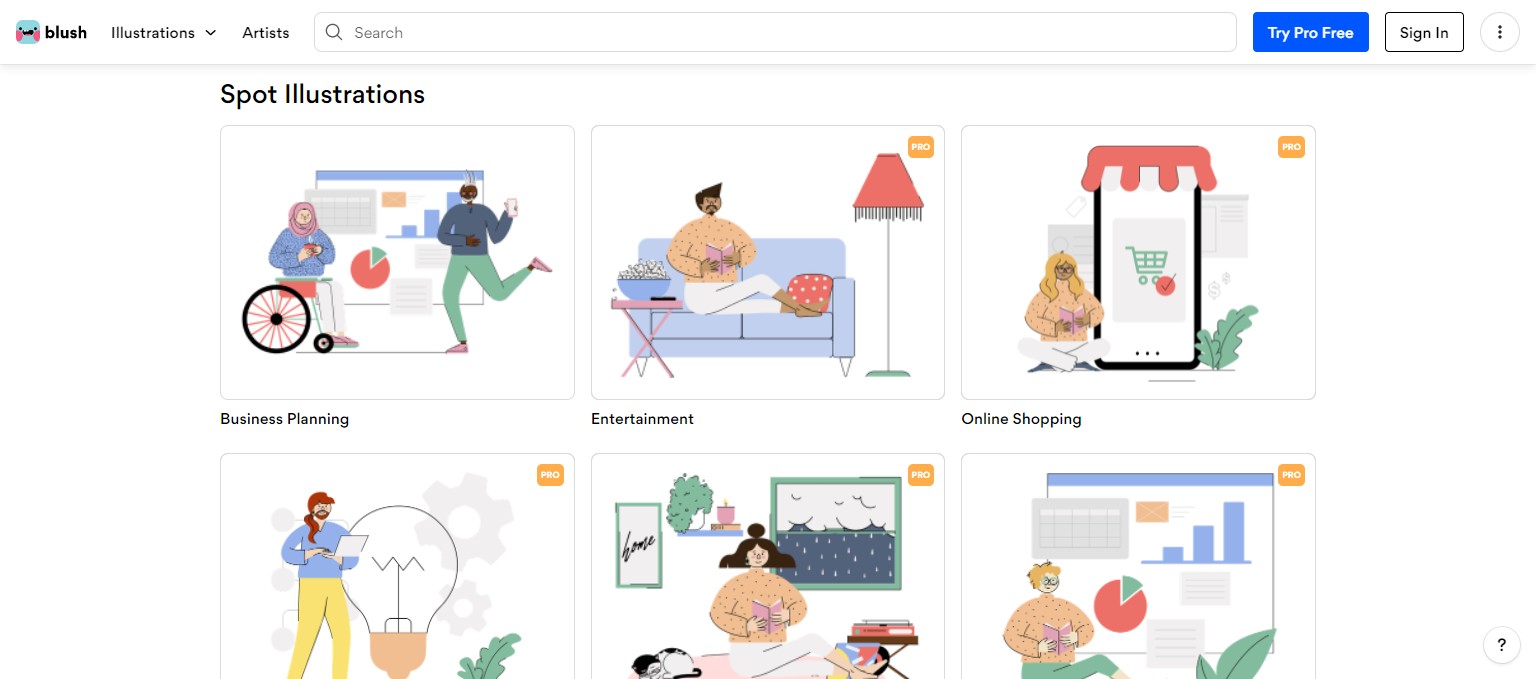 Blush's Pro plan also gives you access to more tools. Normally, the colors available for things like skin and hair are predetermined by a particular collection. But with Blush Pro, you can pick any color you want. Color filters are also available only to Blush Pro users and are a great way to add even more of your own personal touch to the illustrations.
Download options, as briefly mentioned before, are also expanded with Blush Pro. Normally, free users can only download a small PNG of their creation, at around 250 x 400px.
Blush Pro allows users to download much larger PNGs, and unlocks the option to download your work in the SVG file format. SVGs never pixelate and give absolute control over every layer of the illustration, so they're definitely the way to go if you're a power user.
Related: Free Stock Sites to Download Copyright-Free Illustrations and No-Attribution Vectors
Using Illustrations Really Lets You Stand Out
Using Blush is a phenomenal way to create a design, and fun to boot. It's easy, quick, and has a big impact on your end results. The best part is, you don't need to be an expert in illustration or graphic design to use it.