Pinterest is a visual discovery site primarily built to help users find photos of things they like, including home decor ideas, delicious recipes, landscaping ideas, and more.
While most users are used to saving Pins to their boards, you can also download a Pinterest image to your computer or smartphone and save it for offline use.
Here's what you need to know about how to save pictures from Pinterest…
Pinterest Download: How to Save Pictures From Pinterest on the Web
Pinterest's website does not provide a direct download option, so you have to use the native download feature of your browser.
Follow these steps to download an image on the Pinterest website: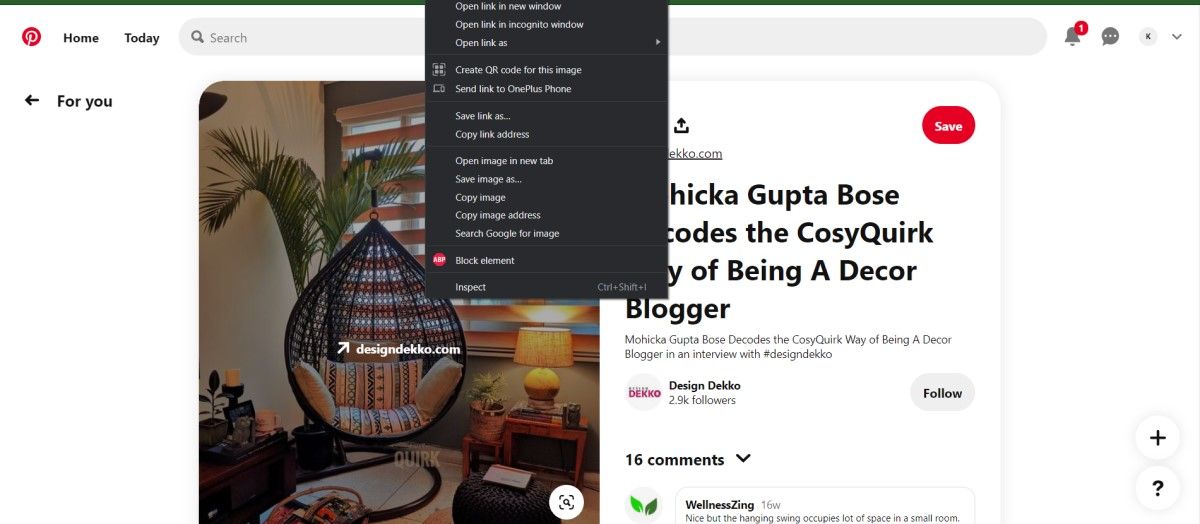 Log in to your Pinterest account. If you don't have one, then first create your Pinterest account.
Search for the image you want to download, and right-click on the picture.
From the drop-down list, select Save Image as an option.
Select the required folder path where you want to save the image, and click on Save.
How to Save Pinterest Images on Android
You can download Pinterest images on Android with the help of the Pinterest mobile app.
Image Gallery (3 Images)
If you have the app and you're logged in follow these steps download an image from Pinterest:
Open the Pinterest app on your mobile device and log in to your account. In the search box, enter the image query and choose the picture you want to save.
After the picture selection, tap the three-dot icon on the top left corner of your mobile screen.
From the menu, select Download Image.
You will be prompted with a pop-up message from Pinterest asking your permission to access your device's gallery. Tap Allow to save the image in your phone gallery.
After the image is downloaded, you will receive a confirmation message at the bottom of the screen, indicating that the image has been saved.
Related: You Can Now Embed Pinterest Pins in Word and OneNote
How to Save Pictures From Pinterest on iPhone
Steps for downloading images on iOS are very much similar to Android.
Image Gallery (3 Images)
Open the Pinterest app on your iOS device and navigate to the image that you want to download.
Once you have found the required image, tap it.
Tap the three-dotted icon on the top left corner of your mobile screen.
From the pop-up menu, select Download Image.
Image Gallery (3 Images)
In case you receive a permission error for your iPhone, open phone settings, and click Privacy. Under privacy, tap Photos and choose Pinterest.
You will be asked for permission to access your photos. Select All Photos. Follow the steps above to be able to download the photos on your device.
Can I Download All the Images From a Pinterest Board?
You can download multiple images from Pinterest Boards on a PC, but you will need to install and use a Chrome extension called Image Downloader.
You can then follow these steps to download all the images on the board: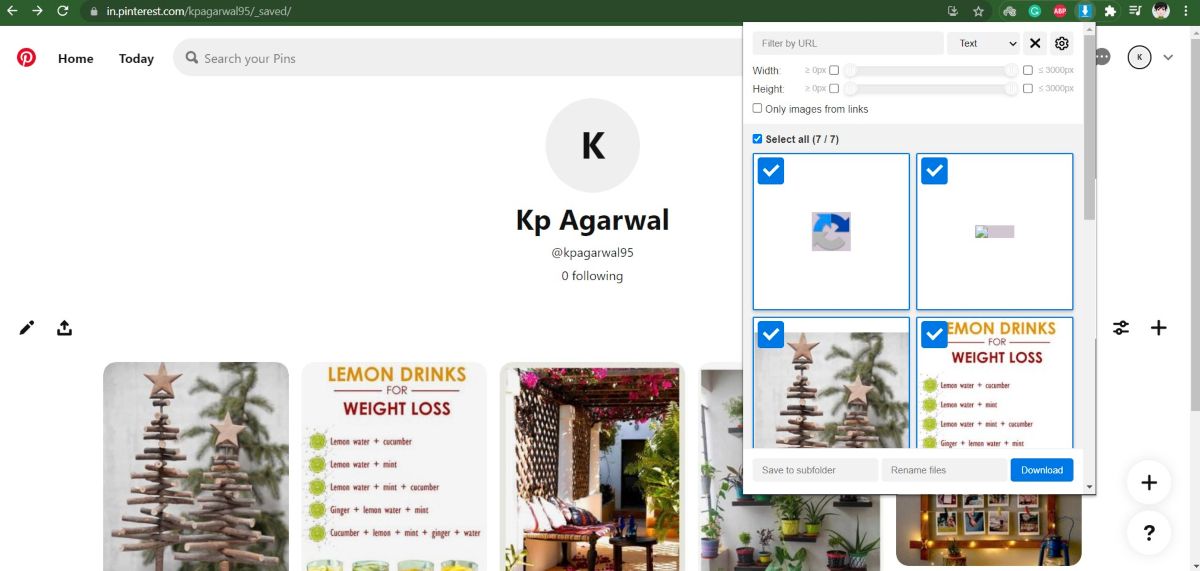 Open Pinterest and navigate to the board from where multiple images are required to download.
Click the Image Downloader icon on the top right corner of your chrome extension bar.
You can select multiple images or Select all to download the images.
Finally, click Download, and click Yes to confirm the download.
Depending on your Google Chrome settings, you will see multiple pop-up windows requiring your permission for each download. To prevent this, go to your Chrome Settings, and click Advanced. Uncheck Ask where to save each file before downloading.
Now repeat steps 3 and 4 to download the images and when the chrome extension asks to continue the download, click Yes.
Pinterest Images and Copyright
Pinterest images are protected by copyright and can't be reused by any means. The content on Pinterest can be saved for personal reference, but you are not allowed to post it elsewhere.
If you still want a Pinterest image for commercial or personal use, you have to get permission from its copyright owner. Most pictures from Pinterest are easily available for licensing online with minimum charges and can be paid for via a credit card.
Related: The Best Pinterest Alternatives to Use Instead
Save and Enjoy Pinterest Images
With the feature to download images on Pinterest, you would not have to take screenshots every time you want to save an image. Follow the simple steps to download a sharp Pinterest image.
Use these images to explore new ideas and add creativity to your various projects.