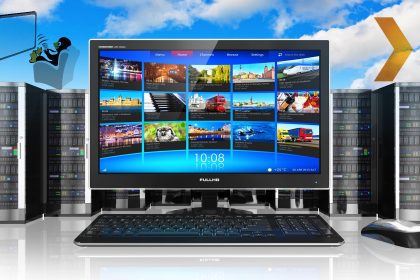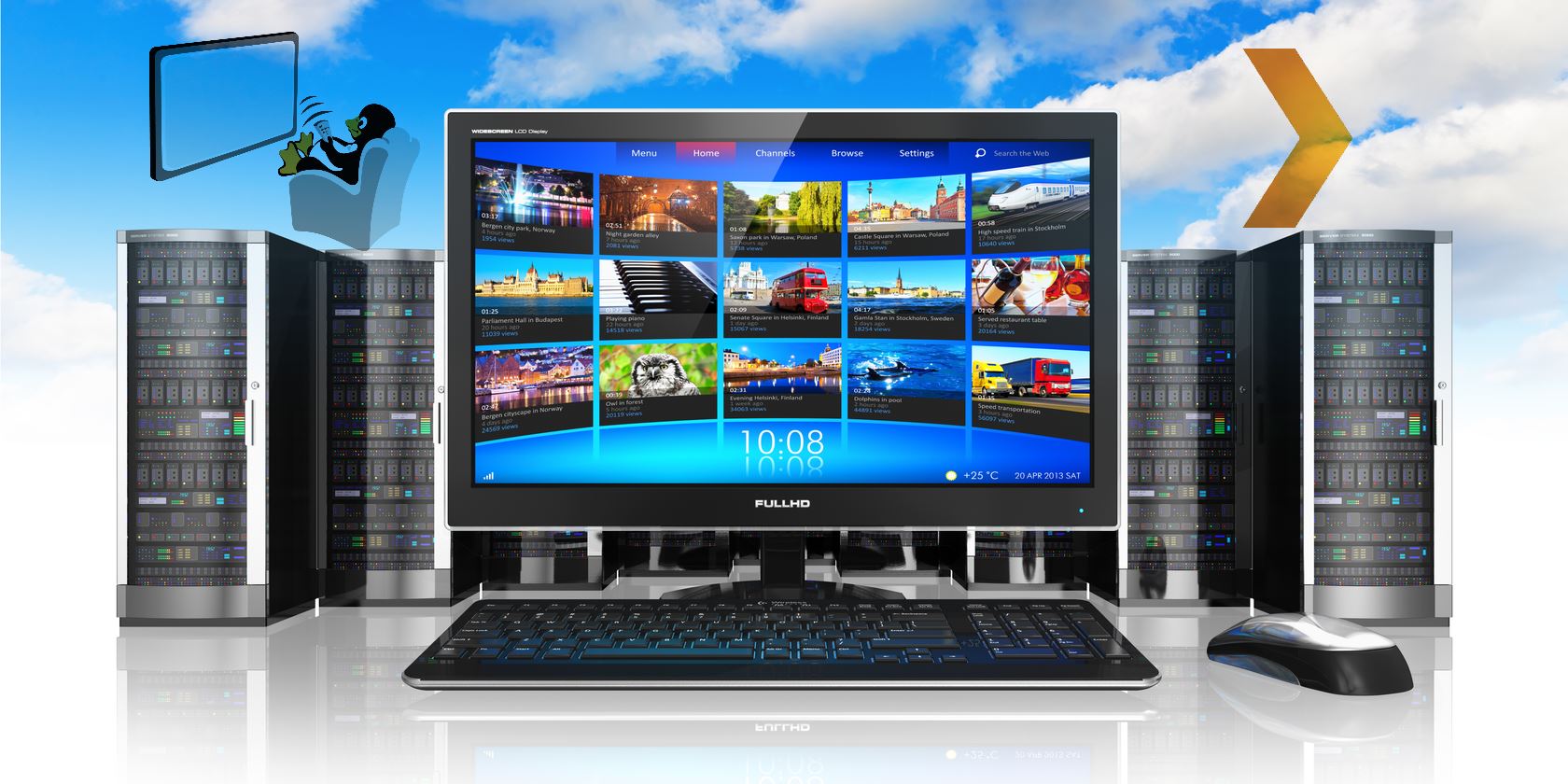 Ask someone how to watch video online and they will likely point you to any number of streaming services. But these aren't the only ways to enjoy content on all of your devices. If you have a large library of music and video, you can set up a media server of your own.
Creating a server delivers many benefits. There's increased data control, more privacy, and a general lack of surprises. As a Linux user, you probably have an idea of the value of setting up your own system.
And you're in luck. There are no shortage of both free and proprietary DLNA server programs for the Linux desktop.
What Is the Best Media Server for Linux?
The answer to this question depends on the functionality you're after and the reasons you use Linux. If you want a fully-featured media server for Linux that looks and feels like Netflix, you need look no further than Plex. You get to keep control of your collection while using a service so familiar-feeling that friends and family won't need hand-holding. Emby's another option that probably won't disappoint.
If you use Linux because you want to stick with free and open source software, then you're going to need a Plex alternative. In that case, check out Jellyfin. Your biggest setback will likely be the smaller number of supported platforms.
Both Plex and Jellyfin prioritize streaming video. If music's more your thing, check out either Subsonic or Madsonic, again based on whether you trust proprietary software or prefer code you can set your eyes on.
Want to get more technical? Have at it. Gerbera is a UPnP server intended strictly for in-home use. TvMOBiLi is a paid DLNA server with iTunes integration. OpenFlixr is an all-in-one solution with a more automated experience. The options abound. To recap, you've got:
Plex
Emby
Jellyfin
Subsonic
Madsonic
Gerbera
TvMOBiLi
OpenFlixr
Now let's break down these Linux media servers and see which most appeals to you.
Plex has been heralded as a do-it-yourself Netflix. It's a simple media server program that sports an excellent interface. Plex features installers for Linux, FreeBSD, and even an official Docker container. For client devices, Plex supports an array of hardware including Windows 10, macOS, Android, iOS, Amazon Fire TV, and Roku. Kodi users benefit from a Plex for Kodi addon.
The Plex media server for Linux software makes the files in your linked movie, TV, and music folders accessible on other devices. Linux doesn't have a dedicated Plex Media Player app, but you can view content in a web browser like you would on YouTube and Netflix.
The Linux installation is incredibly simple. If you need a server, these NAS, DIY, and prebuilt options are excellent for Plex.
Best for: Media server novices and pros alike. It's truly one of the best media server apps available, and one of the top media streaming tools for Linux.
Emby is similar to Plex in its functionality. Whereas the Plex install and configuration remains beginner-friendly, Emby is a bit more complex. This is largely due to Emby's immense customization options. Because it features tons of settings for database and metadata management, Emby is tailored for power users.
Understanding the differences in Plex and Emby will help you decide which option is best. What Emby lacks in client compatibility and ease of use it compensates for with its range of skins and metadata options.
Although Emby isn't quite as established as Plex, it's certainly a phenomenal media server software option for Linux. Emby hosts dedicated installers for Debian, CentOS, Dedora, OpenSUSE, Arch Linux, Docker, and Ubuntu. Additionally, it's available as a manual download for a smattering of Linux operating systems.
Best for: Power users seeking customization options.
Plex is great, but while parts of the service are free to use, you're not free to view the code and do with it what you wish. This limits what you can do with the service, and it means that you have to trust that Plex isn't amassing data about you in the background.
That's a hard pill for many Linux users to swallow. Jellyfin is a free and open source Plex alternative for Linux and other operating systems.
Jellyfin is actually a fork of Emby. This means the functionality is largely the same up until the point where Emby became a proprietary project with secretive source code. If you were only using Emby because it was an open source project, Jellyfin may just be your new go-to media server.
The downside? Jellyfin doesn't yet have client apps for as many platforms.
Best for: People who want a free software Plex alternative
Subsonic uses the tagline "easy listening." It's a music-oriented server software but retains compatibility with videos as well. Highlights include a bevy of music features like a podcast receiver, Sonos integration, a jukebox mode, and downsampling as well as conversion on the fly. You'll also find support for lyrics, album artwork, and tags.
For Linux, Subsonic is available for Ubuntu, Debian, Fedora, and Red Hat. You can find client apps for Android, iOS, BlackBerry, Windows, Roku, Sonos, macOS, and a web app as well. The UI isn't great for video, but performance is superb.
Best for: Music aficionados. While Subsonic is great for video and music, its transcoding, Sonos support, and jukebox aspects posit Subsonic as superb for music junkies.
Like Emby, Subsonic was open source before it became proprietary. Madsonic is a fork of Subsonic's open source code. So similarly, it's a music streamer with support for video. Not only does Madsonic function extremely well as a Linux streaming media server, but it's a solid entry as a local media jukebox.
Features like bitrate limiters and resampling make Madsonic an awesome audio-centric media server. Like Subsonic, Madsonic boasts Sonos support, metadata aggregation through Musicbrainz, Last.fm, Echonest, and IMDB, and high scalability. You can manage over 100,000 files with ease.
Although Madsonic is fairly intuitive, there's a REST API for app, script, and addon creation. Plus, there's LDAP for customized access. You can see a breakdown of differences in Madsonic and Subsonic.
Best for: Music junkies.
Gerbera is a media server software option that's build on MediaTomb. It's a UPnP server for Linux home network streaming and other platforms. Unlike server options such as Plex, Emby, Madsonic, and Subsonic, Gerbera is limited to in-home streaming.
Gerbera supports media transcoding on the fly, and may transmit to clients running on mobile devices. Loads of devices are UPnP compatible, such as game consoles and devices running XBMC.
However Gebera is not a substitute for a remote Linux media server. If you need your media on the go, opt for a different option. Nevertheless, Gerbera is a lightweight, intuitive UPnP media server software option for Linux.
Best for: In-home streaming using UPnP.
OpenFlixr is a little different than most of the Linux media server software solutions. Instead of another media server software, this is an all-in-one media server that focuses on automation. There's Plex Media Server included, as well as torrent and Usenet automation programs such as CouchPotato, Headphones, and SickRage included.
Just as OpenFlixr differs in its purpose, so too does its installation. OpenFlixr is a virtual appliance so you'll need an application like VirtualBox or VMWare Fusion. But you can run OpenFlixr as a virtual appliance on Linux, and it's an excellent way to cobble together an out-of-the-box media server.
Best for: Media server power users. OpenFlixr requires more advanced knowledge of virtual machines. Also media server users that value automation.
TVMOBiLi is another superb Linux DLNA server software application. Although it's high performing, TVMOBiLi remains intuitive to set up and run. It's as simple as specifying your media folders. Like Emby and Plex, TvMOBiLi allows remote access.
Linux installers are available for Redhat, Debian, BSD, Synology, and QNAP devices. There's also an Arch Linux Raspberry Pi installer.
Among its plentiful features, TVMOBiLi offers iTunes integration and stellar support. It's cross-platform, lightweight, and simple to set up. However, TvMOBiLi is paid. Although there are free services, like Emby, Plex, and Madsonic, TVMOBiLi does offer great support and notably iTunes integration.
This feature auto-populates TVMOBiLi with the database contents from your iTunes library.
Best for: Apple users who want iTunes integration, and media server beginners seeking premium support.
The Best Media Server Software for Linux
There are many Linux media server options. Which route you take depends on what you seek in a media server.
Subsonic is superb for music but lacking when compared to Emby or Plex for video. Similarly, Jellyfin does handle music but Madsonic is a music-first player.
You may consider a hybrid Ubuntu media server that uses Plex or Emby for videos and Subsonic or Madsonic for music. Though you're not limited to Ubuntu. If you're setting up your own server, there are easily a dozen Linux server operating systems that make for excellent choices.
Read the full article: The 8 Best Media Server Software Options for Linux