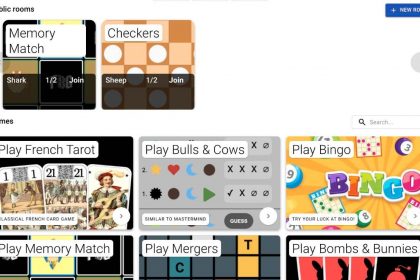 So you love board games but are far away from your friends to play with? These free board game apps let you play online on computers or phones, and even with video chat.
For this list, we're looking beyond Board Game Arena and the other popular sites to play board games online. The idea is to find sites that let you do a little extra, like playing with strangers, having a video chat while the game is on, and even finding communities for regular online board gaming.
1. FreeBoardGames (Web): Quick Board Games Online Without Sign-up or Registration
Try sharing a game link with someone, only for them to face a prompt asking them to sign up. Chances are, they won't bother, and that's the end of a quick game. The barrier of sign-ups and registration is a major deterrent to playing online. FreeBoardGames ends that, offering an array of board games with no signup or registration.
You have four options with each game:
Play against a friend online by sharing a link
Create a public room where anyone can join
Play locally with a friend on the same computer, going turn by turn
Play against the computer
You can share links quickly on WhatsApp or Facebook, or simply by copy-pasting the URL. Also, there's a chat window on the side to talk with your opponent.
Currently, the games available are French Tarot, Bulls & Cows, Bingo, Memory Match, Mergers, Bombs and Bunnies, Secret Dracula, Checkers, Chess, Soup of Letters, Four in a Row, Tic Tac Toe, Hangman, Sea Battle, Mancala, Secret Codes, Estate Buyer, Cornerus, Take 6, Zoo Parade, Rota, Reversi, and Nine Men Morris.
2. Bord Game (Web): Board Games With Video Chat
The pandemic got everyone used to the idea of video calling, so why not play board games the same way? Bord Game is again a no-registration way to play board games online with two to four players on a video call.
The site only offers four games: Ludo, Snakes & Ladders, Chess, and the little-known Indian game Ashta Chamma or Chowka Bhara. When you create a game, you get a unique password. Share the link and the password with others so they can join the game. The video calls show up in a pane on the right, along with the game dice.
Bord Game's mechanics are a little unpolished. The game itself is like a free-form 3D object, with moveable 3D game pieces that can overlap. At first, it can get a little confusing, but give it some time and you'll get accustomed to the operations.
3. Fun Node (Web): Multiplayer Online Board Games Between Computer and Mobile
Of all the online board game sites we tried, Fun Node was the best at working perfectly on both computers and phones or tablets. If you plan to play with people who will be using different devices, this is the one to use. And again, you don't need to register.
A common problem with board games is that they don't adjust well to mobile screens. Fun Node has a set pattern that works well, as well as board icons and play buttons large enough so that you don't tap something accidentally.
Fun Node has a large and varied mix of board games, card games, and dice games, going from two players up to 10 players. The chat next to your game can sometimes feel odd if you ignore the settings: it's set to global, in-game, or private messages between players. Make sure you switch to what you want.
4. VC Game Night (Web): Video Chat on Computer While Playing on Phones
Image Gallery (3 Images)
VC Game Night (VCGN) is another app born from the needs of social distancing. However, unlike the other apps here, this one requires two devices: your computer or iPad or a video call, and your phone to play the game.
Use any of the best video conference apps on your big-screen device and invite your friends, just like a normal video call. Then start VCGN on your phone, and create a new game. It currently supports Poker, Cards Against Humanity, Taboo, Apples to Apples, and Celebrity. All of these games are optimized for phone screens.
The two-device setup actually feels nicer as you get to see your friends in the video call better, which is crucial for games like Taboo and Poker. Each game has a few customizations and limitations from the original game, but the basic rules are pretty much the same. The good part is how smoothly they work and mimic the experience of playing in real life.
5. WeTableTop Online Events (Web): Find Open Online Board Game Nights and Events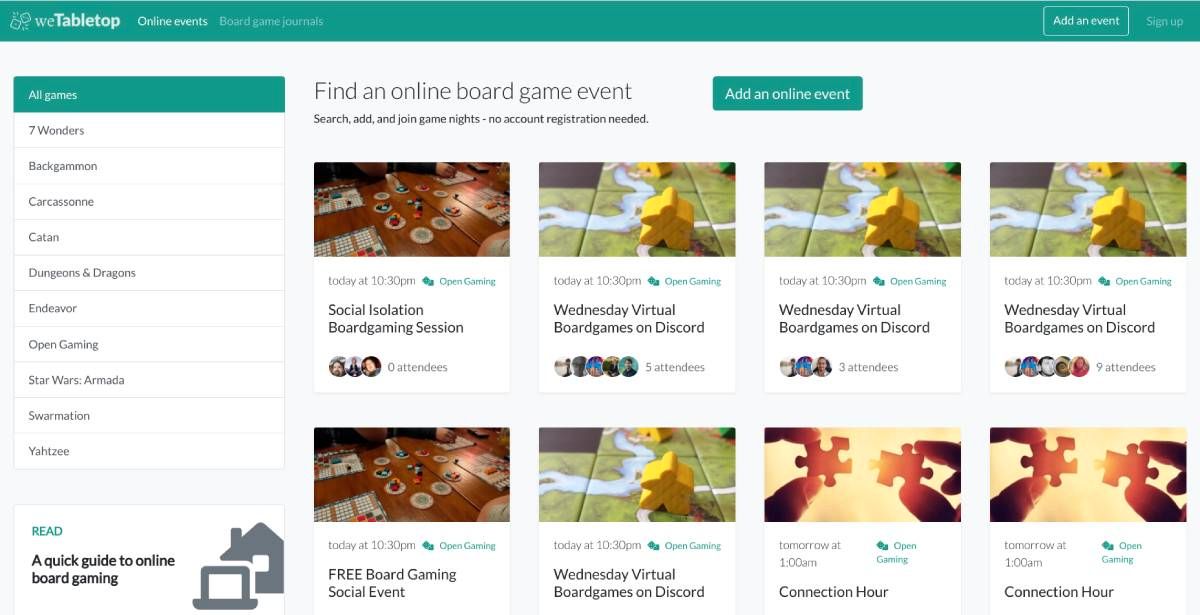 WeTableTop is a directory of event listings for local tabletop, card, and board games. Like most others, during the pandemic, WeTableTop pivoted to becoming a directory of online board gaming events for players to find kindred souls on the internet.
Browse the directory, search for your favorite game, or check the most popular games listed in the sidebar (7 Wonders, Backgammon, Carcassonne, Catan, D&D, Endeavor, Star Wars Armada, Swarmation, and Yahtzee). You'll almost always find something for the next day. You can also host your own event and create a listing on WeTableTop for free.
Most of the events require BoardGameArena or TableTop Simulator, one of the essential tabletop gaming software. You'll also need a Discord account as most online board gamers prefer that for chat. Do read WeTableTop's quick guide to remote board gaming to know more.
Don't Forget to Check Official Game Sites
These sites give you various ways to play board games online with friends or strangers, even while video calling or chatting. But sometimes, the virtual version of a board game doesn't match the real one you played on. After all, there are many complications with licensing and copyrights, and sometimes recreations don't follow the original's rules.
So if you have a favorite game and prefer to play it the official way, check out their official website. Games like Catan, Monopoly, and Uno all have official versions that you can play for free or for a small price. While they don't support video chat, you can always set up a second device for a dedicated video call with your friends while you play.