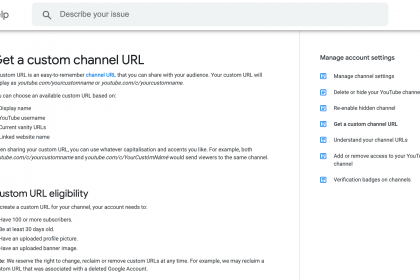 YouTube allows content creators to create their own custom URLs that make remembering and accessing their channel easy for viewers. Although this feature can help you grow your brand's awareness, you have to manually make the switch in the Studio.
Here are all the requirements to set up a custom URL for your YouTube channel, and how you can get one created in a few minutes.
Why a Custom URL Is Important
YouTube automatically produces a URL for each channel when it's created. It contains a unique ID randomly mixed with numbers and letters, at the end of the URL.
Related: How to Set Up a YouTube Channel for the First Time
These default URLs are almost impossible to remember, but you can actually change them to your brand's name, or something more memorable. This will make your channel look more professional and help people remember how to access it.
This is what a common YouTube channel URL will look like:
https://www.youtube.com/channel/UCjdbIyuiqLEpAsZkjI2bDhA

The mix of letters and numbers at the end of the URL is what you can change out to be more recognizable. Note the unique ID is UCjdbIyuiqLEpAsZkjI2bDhA.
A custom YouTube channel URL might look more like this instead:
https://www.youtube.com/c/TomBilyeu
Not only do you have the name of the brand at the end of the URL, but you also have a "c" in place of the word "channel". A custom URL makes it much easier for people who want to visit your YouTube channel to remember how to get there.
What's Required to Get a Custom URL
If you just started a YouTube channel today, you won't be able to get your custom URL quite yet. You need to meet the minimum requirements to be able to apply.
Have at least 100 subscribers in your account.
Account must be at least 30 days old.
An uploaded profile picture
An uploaded banner picture
YouTube wants to make sure you are a committed content creator before it hands out more custom URLs. Having the proper pictures in place and creating a small following will help show the platform you're committed to your brand.
On top of meeting these requirements, your custom URL needs to be based on four different elements. These include: your display name, your YouTube username, current vanity URLs, or a linked website.
You can use any capitalization variation of your custom URL as well. Any of the variations will lead people to your YouTube channel.
Related: The Best Video Editing Apps for YouTube
YouTube does reserves the right to reclaim a URL for any reason. If your custom URL happens to be the same as a deleted account, YouTube can reclaim it, and you won't be able to use it. These situations are rare, so you shouldn't worry about it too much.
How to Create a Custom URL in YouTube
YouTube will send several notifications to inform you that you are eligible to receive a custom URL after you meet the requirements. Your channel dashboard may contain a notification, your basic info settings might have one, and one will be sent to your email address on file.
Here is how you can create a custom URL in YouTube:
Open YouTube Studio, and click Customization.
Select Basic Info.
Click Set a custom URL for your channel.
Enter your custom URL.
Click Publish, and then Confirm.
Once you confirm the URL, you won't be able to edit it at a later time. If you want to change it for any reason, you'll have to claim a new one. You also won't be able to transfer the URL to any other channel if you create a new one.
Adding a Custom URL to Your YouTube Channel
You don't have to settle for a chaotic mix of numbers and letters for your YouTube channel URL. You can create a custom URL, as long as you meet all the requirements, so people can easily access your content and remember your brand.
The YouTube Studio has several tricks up its sleeve that can help you become a better content creator, if you are willing to learn.