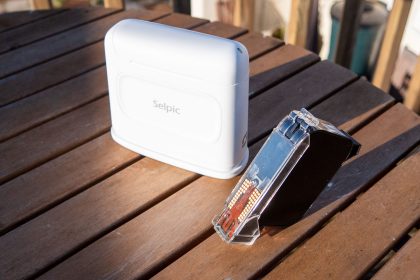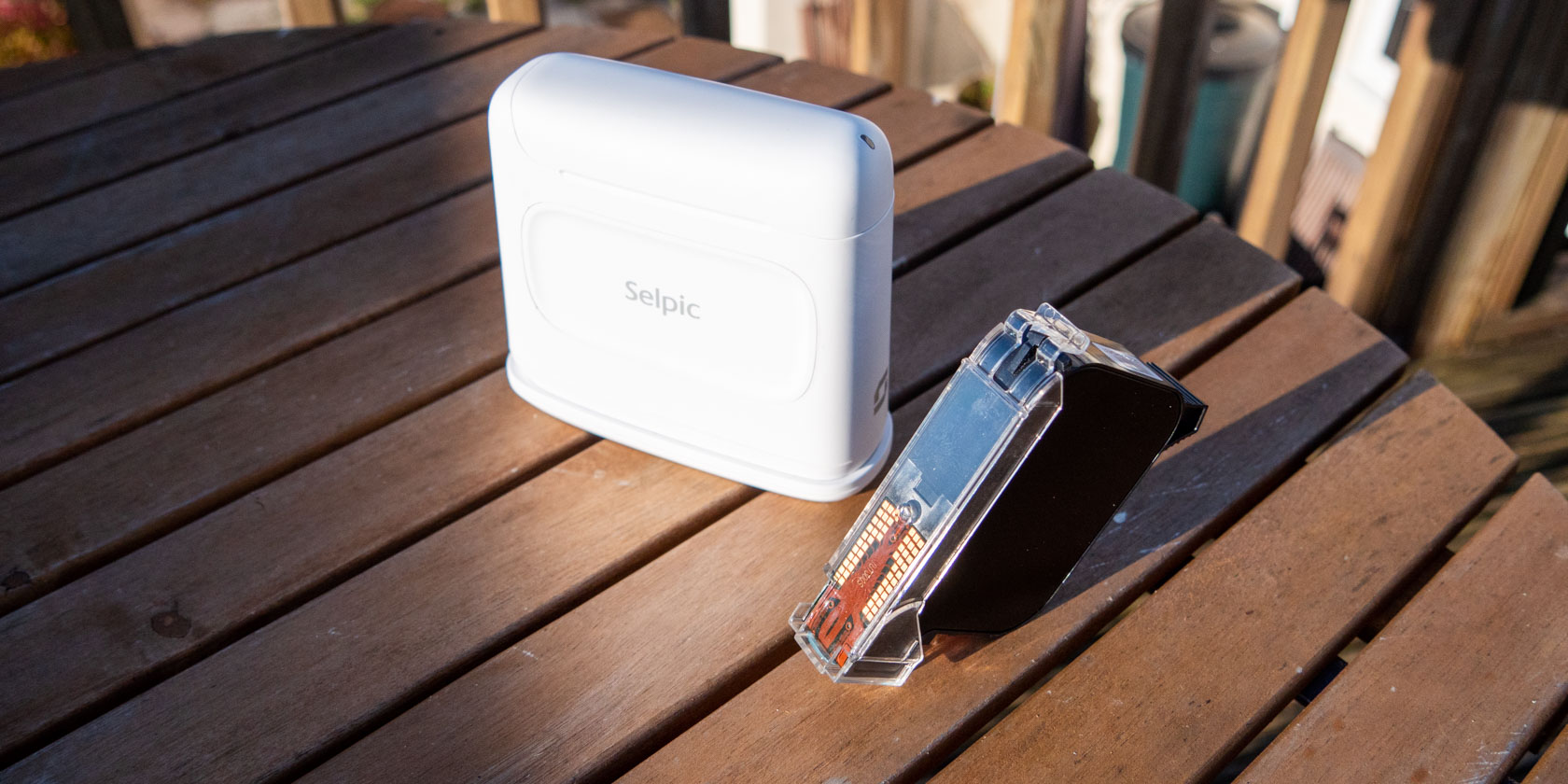 Our verdict of the

Selpic S1 Portable Printer

:
A handy printer that can really work on almost any surface and at any angle. It's a little pricey, but if you're quick, you can get the upgraded S1+ model with larger print head for $ 150 on the new Kickstarter.
Selpic S1 is a portable quick-drying printer that can print on pretty much surface, even if it's not flat. It's great for craft projects, small businesses, or just labeling all the things.
The Selpic S1 is available to preorder now for $ 250 and shipping soon, but Selpic are also Kickstarting the larger S1+ model with shipping due by the end of the year, with early bird pricing from $ 149 (if you're quick).
Design and Specs
The Selpic S1 measures 1.5 x 4.3 x 4.7 inches (4 x 11 x 12cm), and weighs a minuscule 13.6 ounces (386g), making it just about pocket-sized.
The S1 model squirts out ink from a half-inch print head, while the S1+ can print twice as high.
Inside the box you'll find the Selpic S1 main body, a magnetic cover that attaches to the base to protect the print head, a starter ink cartridge, and a micro-USB charging cable. The internal battery should give you around 6 hours of printing, with 72 hours standby time.
To print whatever is currently loaded, you just press the P button on the side. The LED on top turns green to indicate it's ready. Then swipe the printer across your surface. An optical sensor ensures the print comes out correctly, and can operate at up to 30mm/s, which is much faster than you can reasonably run it along a surface.
Like all printers, the real sting is in the price of the cartridges, at $ 80 each. Six colors are available, but you can only print in a single color at a time. Selpic claims the 40ml cartridges can print up to 900 A4 pages at 5% coverage, though this is a curious measurement since it can only print a half-inch line. Still, if you're looking to compare like for like, 900 pages is the number you'll want. As a small manufacturer, no official recycling program is available, though your local recycling center may accept them as generic inkjet cartridges.
Selpic App
Creating and uploading your prints is done using the Selpic app. You'll need to connect over Wi-Fi to the ad-hoc network broadcast by the Selpic device (and initially use the password 12345678). This is annoying to do every time you turn it on, and we can't help but feel Bluetooth would have been a better solution. That said, once connected it worked reliably, albeit somewhat slow to upload.
The app allows you to design a print using a number of key components:
Multilingual text. As long as you have the right input method and fonts on your phone, you can print any language you like.
Time and date stamp.
Weight display, designed to be used with industry-standard USB and Bluetooth scales, which act as input devices.
Auto-incrementing numerical counter, which adds one each time the label is printed (or any other increment you want).
Code128 numeric barcode.
QR code.
Custom image.
All design elements can be mirrored, for printing on the reverse of a clear object, or color inverted. Any number of the same element can be added, resized, or rotated.
Note: at the time of review, the iOS app was unable to upload custom images. We've been promised this should be fixed by next week with a new firmware update. 
It's clear from that feature list that the software has been designed with small businesses in mind, despite the Kickstarter being marketed with a more crafty angle.
The app is relatively easy to use but suffers a little on a small mobile screen, especially because it's locked to landscape view. In order to accommodate all the design tools needed, a small toggle switch sits at the bottom of the screen. This toggle changes between component-specific settings, like font and font size, to the generic component controls like rotate and delete. And of course, tapping on a text entry form brings up the keyboard, which then obscures more than half of the total screen real estate. Hopefully, the app will improve in time. Switching to a vertical view to make use of a smaller keyboard would be a great start, even if it meant having to scale down the print preview.
Having said all that, it's still infinitely more functional than your basic label printers.
The only thing you might expect it to be good for, but actually isn't, is printing addresses. There's no import or mail merge functionality, and even if there were, the print head is too small to print a full address at once.
While we have yet to hit a maximum printing width, we should note that longer labels take a long time to upload from the app as the file is rasterized. If you try to write a really long label, it can feel like the app has crashed.
What Can The Selpic S1 Print On?
We tried on a variety of surfaces, with overall great success.
Obviously, flat card and paper was easy. No issues there, and the QR code was successfully read by my phone.
On skin, we couldn't get anything useable, just a large smudge.
On a wine glass, we managed a perfect print, despite the curved surface and optical difficulty. The quick-drying ink didn't wash off under running water, and needed to be scrubbed off.
A bigger print on a mostly clear plastic box didn't go as well but was still acceptable. Keeping the printer straight at this sort of angle was difficult, and some sort of optical sensor error left one of the letters skipping.
Printing inverted text on the inside of our polytunnel door was also mired by a small smudge, but still legible.
On rough but otherwise flat wood, the print was perfect. I can see gardeners making great use of this for plant labels.
Overall, I'm really impressed with the "print anywhere" claim. Most of the printing hiccups we did experience would likely be perfected with repeated use. There's a knack to printing well that you'll learn.
Should You Buy the Selpic S1 (or Back the S1+)?
The Selpic S1 is the sort of gadget that you're bound to find a use for around the home, but at around $ 250 for a starter pack plus $ 80 for additional cartridges, I expect you'll want to know beforehand precisely what your use cases will be to justify the cost. If you find yourself writing the same message repeatedly on something that otherwise can't be fed into a traditional printer, then this may be the perfect gadget for you.
If you're a home user that just wants to put text labels on all the things–storage boxes, personal possessions and such–you might want to stick with traditional tape-based label printers (or a pen!). Changing the text often and uploading it to the Selpic each time gets tedious after a while. For English text anyway, the ease of typing on a physical keyboard and hitting the print button is faster. The results aren't nearly as impressive, but those sorts of labels tend to be functional rather than attractive. The real power of the Selpic is repetitive printing and otherwise awkward surfaces.
There are also obvious benefits for small businesses and craft sellers, that need to print serial numbers, tickets, or barcodes onto packaging. It's a handy little device.
We'd recommend backing the Kickstarter now to get early bird pricing on the S1+ model with one quick-drying cartridge for just $ 149 (but be quick, there's a limited number available at that price!). As with all Kickstarters, there's always a risk involved, but in this case we think it's minimal. The technology works, it's just question of whether Selpic can meet their shipping targets.
Thanks to Selpic, we have an S1 model to giveaway to one lucky reader. Just enter your details in the widget below to be in with a chance of winning. Good luck!
Enter the Competition!
Read the full article: Selpic S1: Print Anything, Anywhere