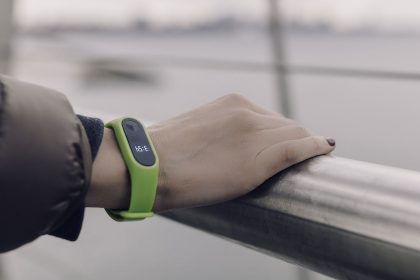 Google's parent company, Alphabet Inc., has acquired fitness tracker giant, Fitbit, for $ 2.1 billion. Add this to a vast number of subsidiaries including YouTube, Android, and Nest. It's led many to question whether Alphabet Inc. needs regulation.
But there's another major concern: what happens now to Fitbit users' private information? Can you trust Google with all that personal data? And exactly what does Fitbit know about you anyway?
Why Has Google Bought Fitbit?
Let's tackle this first because it's what will determine how personal details are used. Why exactly did Google want to purchase Fitbit?
Google, after all, already offers something similar. Google Fit is the firm's answer to Apple Health, software intended to act as a fitness tracker for devices running Android using the Wear OS. Anyone using both Google Fit and a Fitbit will notice similarities between the two interfaces, with dashboards displaying active minutes, heart rate, calories burned, sleep patterns, and more.
However, while Google has an operating system, it didn't have wearable technology. Until now.
That's why this purchase was so important: Google assures users that it's a chance to invest more in Wear OS, and push for wearable tech innovation. It says its principles—"to enhance [your] knowledge, success, health and happiness"—are aligned with the Fitbit brand.
Fitbit is the major rival to the Apple Watch. It makes sense for Google, Apple's major rival, to acquire Fitbit.
But that doesn't stop people worrying that Google only bought it because it wants to learn more about users. Google knows a lot about its audience already, including your interests, location, and when you're online. The company's revenue largely comes from selling information on, notably for advertising.
As a former member of one of Google's own privacy teams, Alphabet acquiring Fitbit is almost certainly motivated primarily by the data about users' lives that the product produces.

— Irenes (many) (@ireneista) October 28, 2019
The more it knows about your everyday activities, the more valuable you are to Google.
Ironically, while researching this article, an ad about support socks appeared, a product I'd bought as a consequence of an exercise regime. It ably demonstrates how personal information can influence what's displayed online.
What Does Fitbit Know About You?
If Google knows so much already, what other data does your Fitbit account contain?
You've surrendered a lot of private information to Fitbit; partly in setting up the smartwatch and app, and partly due to its functionality. Fitbit claims this is all to further the service, i.e. make it more personal and useful, while maintaining security. Every company says something similar.
Fitbit knows the name, email address, password, date of birth, gender, height, and weight of all its users. Those are necessary to sign up. Many of us also add in profile information to build up a more accurate picture of you, like your food and water intakes, sleep cycles, messages on discussion boards, and female health.
In addition to this, Fitbit also collects:
Number of steps
Active minutes
Calories
Heart rate
Operating system
IP address
Credit card information (for those paying for add-ons)
Distance travelled
Location
Fitbit may receive personal details if you connect to Facebook, your smartphone's own Health app, or—get this—Google. This means a more well-rounded profile of you can be inferred. This is without considering a change of policy which could potentially allow Google to collate more information from Fitbit users (though this hasn't been announced).
They also collect anything related to life coaching, like messages sent between the two parties, events in your calendar, and any notes your coach makes about you.
Wait, Does Fitbit Know Where I Live?
Many don't realize this, but yes, Fitbit knows your location. That is, if you grant it permission and you've a device with the capability. And even if you don't, the service can infer where you live by your IP address.
Android OS 6.0 (owned by Google) made it necessary to turn on location services to sync your Fitbit device with its apps. Fortunately, this data isn't always collected: it's only when you're recording an activity with GPS. Your whereabouts can be ascertained from this signal, plus proximity to cell phone towers and Wi-Fi access ports.
To check if the service can access your location, go on Settings > Apps > Fitbit > Permissions (Android) or Settings > Privacy > Location Services (iOS).
That all sounds worrying, doesn't it? And yet it's what you'd expect from wearable fitness trackers.
Should You Be Worried About Google's Acquisition?
Whenever a business holding a lot of data about its users is sold on, questions will naturally arise over privacy. This could be why Facebook pulled out of negotiations to buy Fitbit before Google's bid; as it is, Facebook's been plagued by too many scandals recently.
Who would be interested in information collected from Fitbit? Insurers would surely like to know how fit you are. Shops could advertise exercise equipment if you're on a health drive. As physical fitness can affect mental well-being, your employer might be interested in your daily activities.
Fitbit nonetheless assures consumers that their intentions remain the same:
"Consumer trust is paramount to Fitbit. Strong privacy and security guidelines have been part of Fitbit's DNA since day one, and this will not change. Fitbit will continue to put users in control of their data and will remain transparent about the data it collects and why. The company never sells personal information, and Fitbit health and wellness data will not be used for Google ads."
How realistic is this? Google's business revolves around selling private data. The affirmation that Fitbit doesn't do that is reassuring (for now) and will come back to haunt them if this policy changes.
Fitbit carries a lot of private data, but Google already has more. This acquisition is a concern—and certainly something users need to keep an eye on—but these assurances should tide us over for a while.
Right now, the best thing you can do is limit what data Fitbit has about you. Don't limit its functionality, but question which details are actually needed. To review who can see what information, sign into the app, then click Profile > Privacy and Manage Data.
Does This Dissuade You from Buying a Fitbit?
Fitbit has over 28 million active users. That's a lot of data. The number of consumers normally rises around Black Friday and the festive period, when an influx of presents and deals means a lot of new users. People normally go on a health drive after Christmas too.
Will Fitbit remain one of the most popular health tracker brands after Google's acquisition? The service has its problems, but still has a lot going for it—so we'll just have to wait and see…
Read the full article: Google Buys Fitbit: What Does This Mean for Your Privacy?