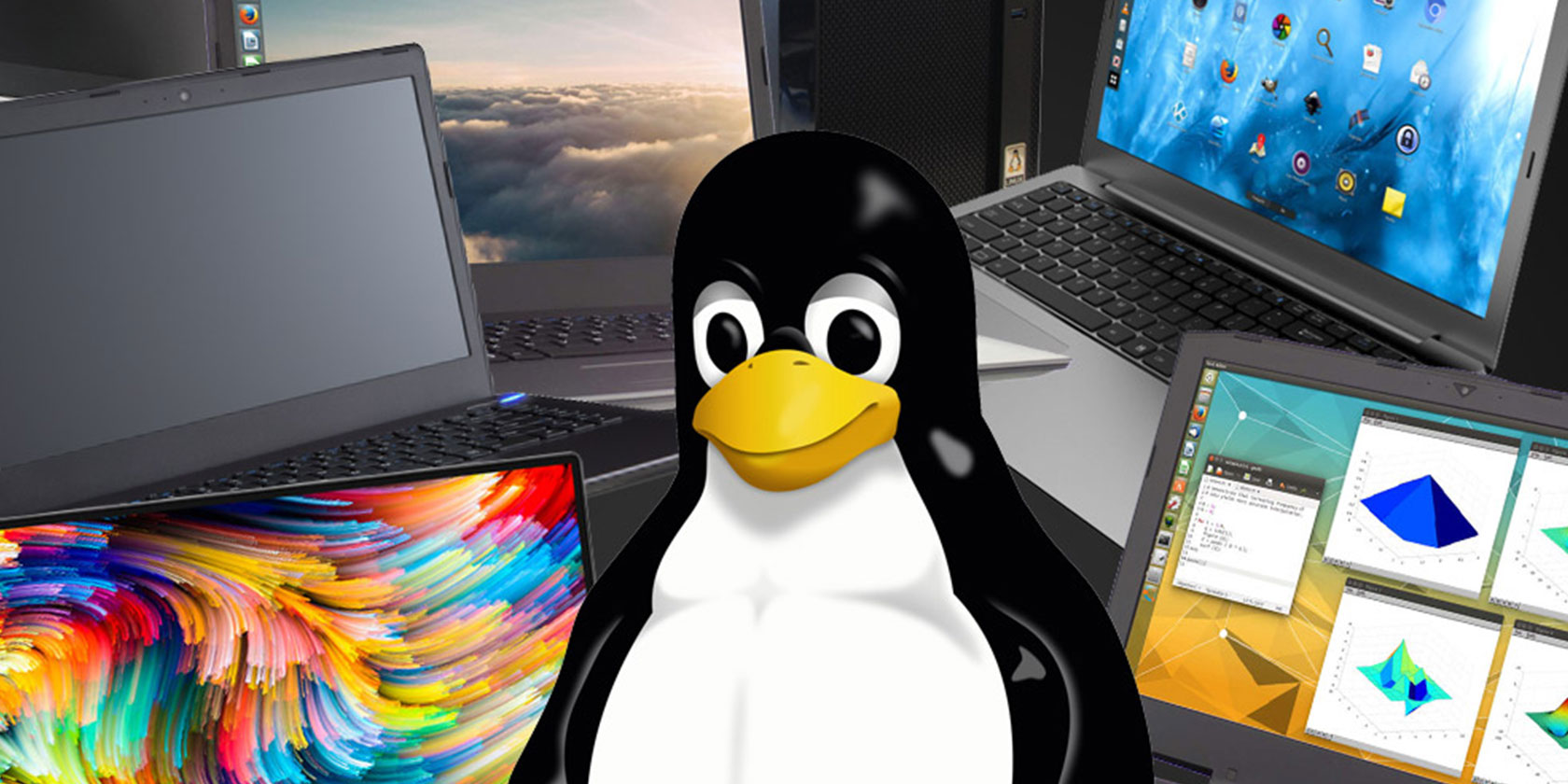 The most common way to use Linux is to replace Windows or macOS on an existing computer, or to build one from scratch.
Times have changed.
While Linux-powered PCs are not yet widely available in stores, they're easy to find online. Several companies specialize in making Linux hardware, too. Here are some of the best Linux desktops and laptops available today.
Linux isn't actually an entirely open-source operating system. Throughout the kernel, there are bits of proprietary binary firmware that enable the device to run on less open hardware (as in, most consumer devices you buy off the shelf). If you want a powerful modern machine that runs with entirely free code at the OS level, then you should consider the Purism Librem 13.
Purism makes hardware with an emphasis on privacy. Each laptop comes with physical privacy kill switches that enable you to disable access to your microphone, camera, Wi-Fi, and Bluetooth and severe the connection. Librem laptops also come with virtually no branding. Purism computers come with PureOS, a Linux distribution endorsed by the Free Software Foundation.
They also have an open-source BIOS and Intel CPUs with much of the management engine removed and disabled. Purism's hardware is priced at a premium. If you're only comparing specs, you can find cheaper or more powerful computers on this list. But no other option provides a similar focus on privacy and free software.
If you want to know more about the laptop before you make a decision, check out our review of the Purism Librem 13.
Best Linux Laptop Overall:
Dell XPS 13
If you want an eye-catching laptop from a conventional PC manufacturer, look no further than the Dell XPS 13. It's the Linux-powered laptop most comparable, hardware-wise, to the Windows 10 laptops you find in stores . This is, in no small part, because the XPS 13 is also available with Windows preinstalled. This machine offers you an aluminum body that comes in several colors.
The 13-inch inch display starts at 1080p, but 4K touchscreen options are available if you so desire. Bezels don't stand out to everyone, but those of you who find them irritating will appreciate the thinness found here. The hardware here is compelling, and the battery life far exceeds most of the competition. That makes this a solid Linux computer for professional use.
Best Budget Linux Laptop: Pinebook Pro
The original Pinebook from Pine Microsystems made headlines for being a Linux laptop you could buy for under $ 100. Was it intended to serve as your everyday go-to? Not quite. But it was a well-built and functional achievement. The Pinebook Pro doubles the price, but in exchange, you get a Linux machine that you can consider instead of a Chromebook.
It's not a powerful laptop, but it can handle office work, stream videos, and browse the web comfortably enough. Pinebooks go out in batches, so you may have to wait before you can order one or for said order to ship.
You can install Linux yourself, but you get something extra when you buy from a company that specializes in Linux machines (and I don't just mean the special feeling that comes from doing a good thing). You get customer support and access to technicians who likely know both the hardware and the code better than you do.
System76 has gained a reputation for offering some of the best support in the Linux world. Its Pop_OS! Linux distribution has also earned respect for being fast to adapt to the issues users face from day-to-day use. The Galago Pro is the thinnest and most portable laptop you can buy from the company.
The specs won't necessarily blow you away, but it comes at a competitive price when you consider the support factor. Technically, you could extend this argument to any laptop that System76 sells, so take your pick.
You can replace a desktop with any laptop and call it a replacement, but you will probably have to swallow a reduction in power (unless you're upgrading from a pretty old desktop). True desktop replacements are laptops designed with desktop components in a mobile chassis.
The System76 Serval WS is a beast of a machine with a desktop Intel processor and NVIDIA GeForce GPUs. This is a laptop that is over an inch and a half thick but likely to chew through whatever game or processing-intense task you toss at it.
As with any desktop replacement, though, don't expect to stay unplugged from the wall for long. Given the weight, this is also probably not a PC you will want to carry around throughout the day.
It's not particularly difficult to build your own PC if you have the right guide, but it can take some research to know which components don't require additional proprietary binary firmware. Viking's D8 Workstation is a fully-assembled desktop rig that saves you the effort. This is thoroughly modern hardware that has received the FSF's "Respect Your Freedom" certification.
You can choose between Libreboot and coreboot BIOS firmware. While the processor comes from AMD, and the graphics card comes from NVIDIA, you can choose to go without a discrete GPU if you would rather install one yourself. Trisquel is the default operating system.
Desktop computers used to require a great deal of desk real estate, regardless of whether you were a casual user or a dedicated gamer. Now, if you don't need all the extra power, you don't need to take up all the extra space. Capable PCs can now fit in the palm of your hand.
The Zini 1880 is an Intel NUC that comes with Linux pre-installed. ZaReason's version is pricey, but the company is willing to preinstall whichever Linux distro you wish. Like all the other Linux desktops here, keyboards and monitors do not come included.
Most of the hardware that System76 sells aren't custom-designed. The company is one of many in the Linux world that takes Clevo machines and repackages them with open-source software. But the System76 Thelio is the company's first effort at custom-designed hardware, and to most reviewers' eyes, it's a beauty.
The Thelio line comes in three models: Thelio, Thelio Major, and Thelio Massive. The smallest model is more than enough for most of us, while the largest option is ready for big tasks like machine learning. With 28-core CPU options and up to 768GB of RAM, you can order a Thelios PC that costs more than a new car.
System76 sources the wood and aluminum for the case from the US. The design is OSHWA certified open-source hardware licensed under GPL v3 and CC-BY-SA. You can even find the design files on GitHub.
The Best Linux Computers for You
Although you can install Linux on almost any computer, there are benefits to buying a device specifically designed for the operating system. You minimize the risk of errors, and usually end up with a faster, more integrated Linux computer.
While we chose some of the best Linux computers and laptops here, you may still be interested in what else is available. In which case, check out the most reputable Linux hardware makers.
Read the full article: The 8 Best Linux Desktop Computers and Laptops You Can Buy